KEMUNGKINAN PENERAPAN SISTEM JUST IN TIME PRODUKSI PADA HOME INDUSTRY "IXXES" KUPANG
Ali Hardin Balich

Nusa Cendana University

Karmila Dwi Lestari Mutia

Nusa Cendana University
Abstract
The purpose of this study was to determine whether the Just In Time system might be applied in Home Industry "IXXES", a UMKM engaged in the food industry. This research focuses on the part of production that is in accordance with the requirements of applying the Just In Time production system, namely (1) factory organization, (2) training or team or skills, (3) forming flow or simplification, (4) kanban pull system, (5) visual visibility or control, (6) bottleneck elimination, (7) lot size and set up time measurement, (8) total productive maintenance, (9) process capability and continuous improvement, and (10) suppliers. Data collection methods used in this study are interviews, observation and documentation. The data analysis technique used is comparative analysis, which is a method used to compare research objects with theory as a comparison concept. The results of this study are that the Just In Time production system is possible for Home Industry "IXXES" because there are three conditions that have not been fulfilled and can be fulfilled in the future.
Keyword : Just In Time Production System.
Downloads
Download data is not yet available.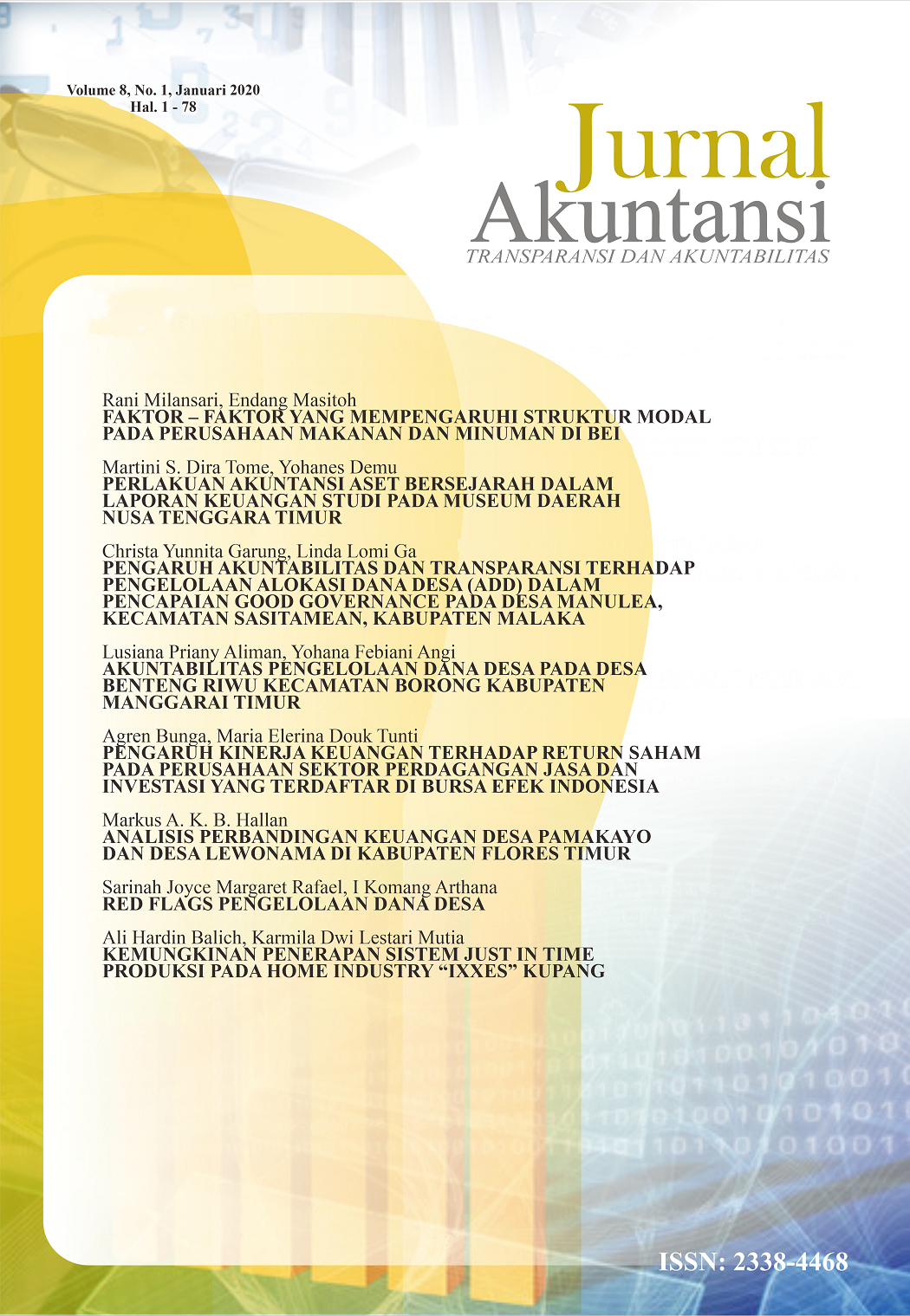 How to Cite
Balich, A., & Mutia, K. (2020). KEMUNGKINAN PENERAPAN SISTEM JUST IN TIME PRODUKSI PADA HOME INDUSTRY "IXXES" KUPANG. JURNAL AKUNTANSI : TRANSPARANSI DAN AKUNTABILITAS, 8(1), 73-78. https://doi.org/10.35508/jak.v8i1.2360