PERLAKUAN AKUNTANSI ASET BERSEJARAH DALAM LAPORAN KEUANGAN STUDI PADA MUSEUM DAERAH NUSA TENGGARA TIMUR
Martini S. Dira Tome

Nusa Cendana University

Yohanes Demu

Nusa Cendana University
Abstract
Historic assets are interpreted as a legacy of the past that has its own uniqueness and has artistic, cultural and historical values that deserve to be preserved and preserved, and utilized for science, cultural, environmental, and historical interests. This study aims to analyze the accounting treatment in the financial statements of historic assets in the NTT Regional Museum. The research method used in this study is descriptive qualitative. Data obtained through interviews, observation, and documentation, as well as secondary data relating to this study.The results of this study indicate that in terms of recognition, the NTT Regional Museum will recognize collections/findings as historic assets based on considerations from conservators. Whereas in accounting practice, there is no assessment method agreed upon in the assessment of historical assets, as well as the NTT Province Cultural Service as the agency in charge of the NTT Regional Museum, in accordance with Government Regulation No. 71 of 2010 concerning Government Accounting Standards(SAP), not fulfilling the standard No. 07, because it has not made the presentation and disclosure of historic assets in the notes to the financial statements (CaLK).
Keywords: Heritage assets, recognition, valuation, disclosure.
Downloads
Download data is not yet available.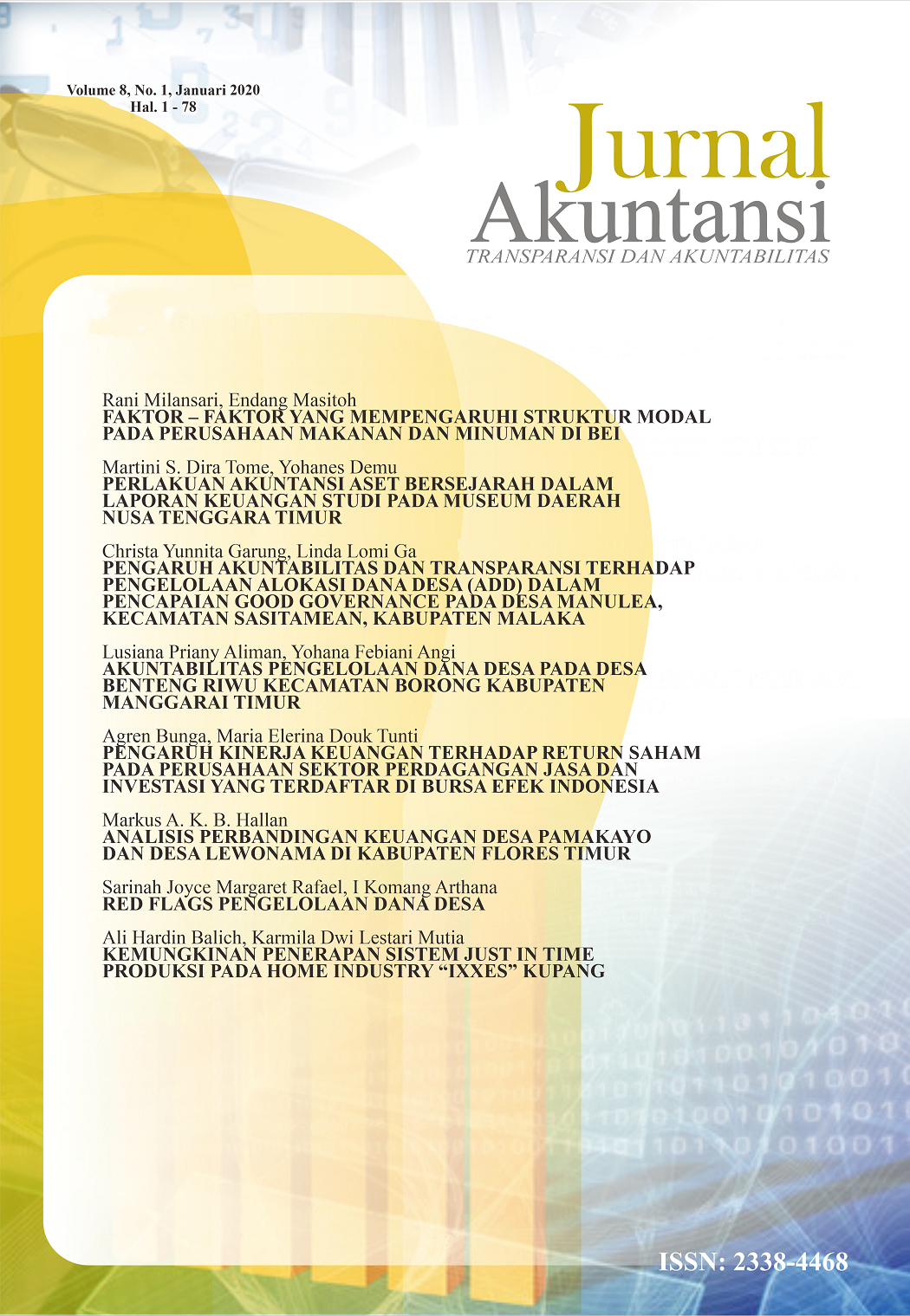 How to Cite
Tome, M., & Demu, Y. (2020). PERLAKUAN AKUNTANSI ASET BERSEJARAH DALAM LAPORAN KEUANGAN STUDI PADA MUSEUM DAERAH NUSA TENGGARA TIMUR. JURNAL AKUNTANSI : TRANSPARANSI DAN AKUNTABILITAS, 8(1), 11-18. https://doi.org/10.35508/jak.v8i1.2362