Implementasi Komunikasi Pemasaran Tentang Citra Merek Brizzi Sebagai Uang Elektronik PT. Bank Rakyat Indonesia, Tbk Cabang Kupang
Alfonsius Efraim Dikky

Mahasiswa

Mas'Amah Mas'Amah

University of Nusa Cendana

Silvania S.E. Mandaru

University of Nusa Cendana
Keywords:
Komunikasi Pemasaran, BRIZZI, Brand Image
Abstract
ABSTRAK
Penelitian ini bertujuan untuk mengetahui implementasi komunikasi pemasaran tentang citra merek BRIZZI sebagai uang elektronik PT. Bank Rakyat Indonesia, Tbk. Cabang Kupang. Jenis penelitian ini adalah penelitian kualitatif dengan menggunakan metode deskriptif kualitatif. Teori yang digunakan adalah teori marketing mix, yang memiliki 4 unsur P : Product, Price, Place dan Promotion. Informan pada penelitian ini berjumlah 6 orang yang terdiri dari Asisten Menejer Pemasaran Dana BRI Cabang Kupang, Relationship Manajer BRI Cabang Kupang, Costumer Service BRI Cabang Kupang, Konsumen yang menggunakan BRIZZI dan  masyarakat yang tidak menggunakan BRIZZI. Teknik analisis data yang digunakan adalah analisis data kualitatif. Teknik pengumpulan data menggunakan observasi, wawancara dan dokumentasi. Hasil penelitian menunjukan bahwa PT. Bank Rakayat Indonesia, Tbk Cabang Kupang telah berupaya dalam memperkenalkan produk BRIZZI agar dapat dikenal oleh masyarakat Kota Kupang, dengan kegiatan yang dilakukan adalah menjadi sponshorship dalam turnamen Developmental Basketball League (DBL), program sosialisasi BRIZZI di instansi-instansi, bekerja sama dengan SPBU dan Pemerintah Kota Kupang, memuat iklan pada majalah, koran, radio, media sosial khususnya facebook dan instagram milik Bank BRI, dan mengedukasi masyarakat melalui media-media yang telah bekerja sama dengan Bank BRI Cabang Kupang. Penelitian ini juga menemukan faktor yang menghambat dalam pengenalan kartu BRIZZI kepada masyarakat Kota Kupang adalah kurangnya pengetahuan masyarakat tentang kegunaan dan fungsi dari BRIZZI dan juga BRIZZI tidak dilengkapi dengan PIN keamanan.
Kata Kunci : Komunikasi Pemasaran, BRIZZI, Branding, Brand Image
Implementation of Marketing Communication About BRIZZI Brand Image as Electronic Money PT. Bank Rakyat Indonesia, Tbk Kupang Branch
ABSTRACT
This study aims to determine the implementation of marketing communications about the BRIZZI brand image as electronic money of PT. Bank Rakyat Indonesia, Tbk. Kupang Branch. This type of research is a qualitative study using qualitative descriptive methods. The theory used is the marketing mix theory, which has 4 elements of P: Product, Price, Place and Promotion. Informants in this study amounted to 6 people consisting of Assistant Manager of BRI Branch Fund Marketing, BRI Branch Relationship Manager BRI Branch, Customer Service BRI Branch Kupang, , Consumers who use BRIZZI and people who do not use BRIZZI. The data analysis technique used is qualitative data analysis. Data collection techniques using observation, interviews and documentation. The results showed that PT. Bank Rakyat Indonesia, Tbk Kupang Branch has made an effort to introduce BRIZZI products to be known by the people of Kupang City, the activities carried out were to become sponsorships in the Developmental Basketball League (DBL) tournament, the BRIZZI socialization program in agencies, in collaboration with the SPBU and the Kupang City Government, placing advertisements on magazines, newspapers, radio, social media especially facebook and instagram owned by the Bank BRI, and educating the public through the media that has been working with BRI Bank Kupang Branch. This study also found that the inhibiting factor in the introduction of the BRIZZI card to the people of Kupang City was the lack of public knowledge about the use and function of BRIZZI and also that BRIZZI was not equipped with a security PIN.
Keywords: Marketing Communication, BRIZZI, Branding, Brand Image
Downloads
Download data is not yet available.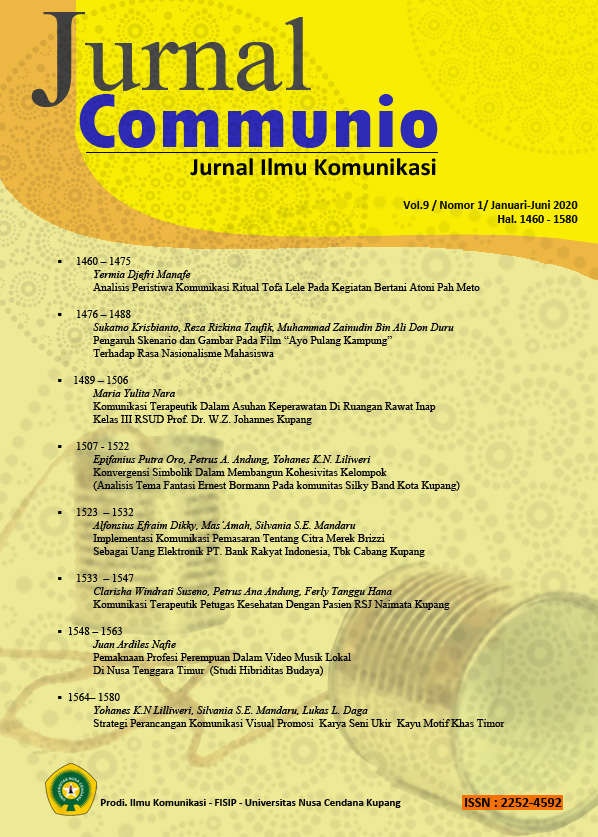 How to Cite
Dikky, A., Mas'Amah, M., & Mandaru, S. (2020). Implementasi Komunikasi Pemasaran Tentang Citra Merek Brizzi Sebagai Uang Elektronik PT. Bank Rakyat Indonesia, Tbk Cabang Kupang. Jurnal Communio : Jurnal Jurusan Ilmu Komunikasi, 9(1), 1523-1532. https://doi.org/10.35508/jikom.v9i1.2246
Copyright (c) 2020 Jurnal Communio : Jurnal Jurusan Ilmu Komunikasi
This work is licensed under a Creative Commons Attribution-ShareAlike 4.0 International License.