Pemaknaan Profesi Perempuan Dalam Video Musik Lokal Di Nusa Tenggara Timur
Studi Hibriditas Budaya
Juan Ardiles Nafie

Universitas Nusa Cendana
Keywords:
Profesi Perempuan, Video Musik Lokal, Hibriditas Budaya
Abstract
The appearance of women in music videos is a site that shows various ideologies which influence the thinking of a society about the construction of women, including the construction of the profession of women. The appearance of women is inseparable from values and is not solely in the interests of women but there are certain interests.
This study wants to see whether the representation of the women's profession in the local music video shows strength in women or leads to a new repression for local women in East Nusa Tenggara. The aims of this study are to provide an overview of the meaning of the women's profession through local music videos of East Nusa Tenggara and to provide a description of the hybridity discourse in the depiction of the women's profession through the NTT Local music video. The type of this research is descriptive qualitative research uses the approach of feminism, the women's profession, public space and cultural hybridization theory to see how the meaning of the women's profession in local music videos in East Nusa Tenggara.
This study uses the analysis of semiotics of Carol Vernalis. The data in this study were analyzed in 3 stages, namely: (1) structural analysis created in the music video, (2) reading the video chronology and analysis of two specific parts, and (3) understanding the women's profession in terms of cultural hybridity.
The results of this study indicate that women who are teachers are not professionally interpreted as attached to the teaching profession but emphasize the symbols of modern women through space and fashion. Hybridity between the appearance of modern women but still bound by local patriarchal culture. Women who are midwives are interpreted by the domestication of women. Women are shown with an ideal picture of women. The meaning of the women's profession experienced repression, where the women's profession featured in this local music videos is the result of a tug-of-war on various discourses in which the appearance is more concerned with modernity that leads to industrial interests. Hybridity is not only related to the fusion of culture but the consequences of domination that arise when there is fusion of culture. In the end, this music videos do not fully show the female profession but the interests of modernity, global, patriarchy are prioritized.
Downloads
Download data is not yet available.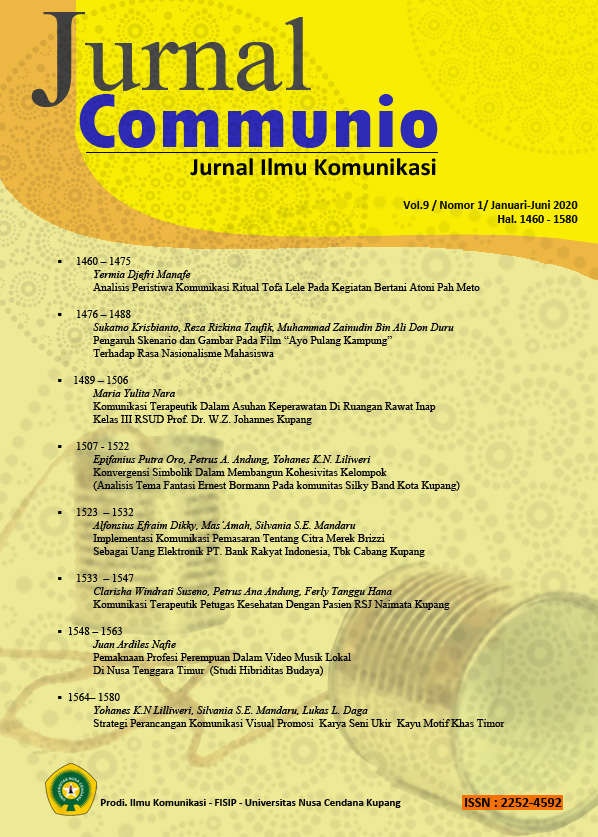 How to Cite
Nafie, J. (2020). Pemaknaan Profesi Perempuan Dalam Video Musik Lokal Di Nusa Tenggara Timur. Jurnal Communio : Jurnal Jurusan Ilmu Komunikasi, 9(1), 1538-1563. https://doi.org/10.35508/jikom.v9i1.2311
Copyright (c) 2020 Jurnal Communio : Jurnal Jurusan Ilmu Komunikasi
This work is licensed under a Creative Commons Attribution-ShareAlike 4.0 International License.