PENGARUH INFRASTRUKTUR TERHADAP PRODUKTIVITAS EKONOMI DI PROVINSI NTT
Elisabeth C. Gunita

Universitas Nusa Cendana

Maria Yashinta Luruk

Universitas Nusa Cendana

Nikson Tameno

Universitas Nusa Cendana
Abstract
ABSTRACT

Economic productivity is one indicator measure the success of economic development
in a region. Adequate infrastructure can reduce production costs will also increase economic
productivity. This study aims to determine whether the factors of production represented by
infrastucture (roads, electricity, and water) have a significant influence and contribution to
the output represented by the Gross Domestic Regional Product, for the government to set
policy direction in the development of infrastructure in Nusa Tenggara Timur (NTT)
province. This study used time series data from 1990 to 2016 for 22 District/City in NTT. To
find the result of the BLUE Best Linear Unbiased Estimator), then do the test assumptions
such as Autocorrelation, Heterocedasticity, and Multicolinearity. Multiple linear regression
analysis done using application eViews 3.0 .Rregression result show that infrastructure have
significant effect to economic productivity. So the policy implications of the result of this
study is that the government should pay more attention to road, electricity, and water
development because of infrastructure will greatly contribute in the economic productivity of
NTT province.

Keywords: Productivity, Infrastructure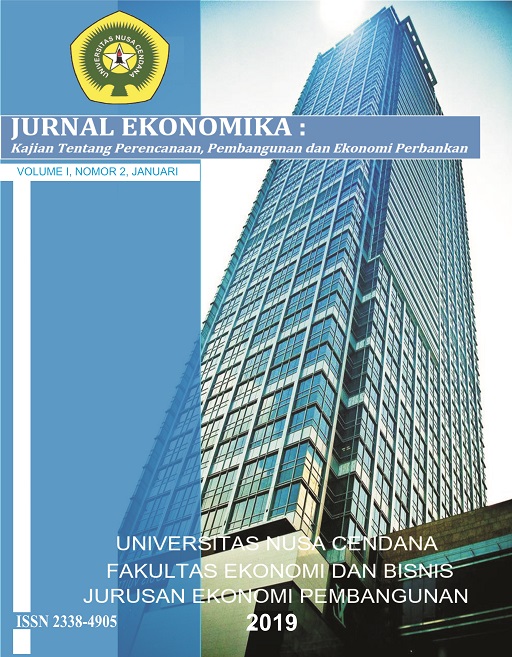 Copyright (c) 2019 Nusa Cendana University
This work is licensed under a Creative Commons Attribution-NonCommercial-ShareAlike 4.0 International License.