EFEKTIVITAS PELAYANAN DALAM MENINGKATKAN PENERIMAAN RETRIBUSI AIR MINUM PADA PDAM TIRTA KOMODO KABUPATEN MANGGARAI
Maria O. M. Peo

Universitas Nusa Cendana

Jhon D. Lalang

Universitas Nusa Cendana

Nikson Tameno

Universitas Nusa Cendana
Abstract

Abstract
The title of this research is "Effectiveness of Service in Increasing Water Levy
Drainage Receipt at PDAM Tirta Komodo Kabupaten Manggarai". Services provided by the
government should prioritize service to the community is no exception government apparatus
Regional Water Company (PDAM) Tirta Komodo. This study aims to find out how Service
Evektifitas In Improving Reception of Water Levies on PDAM Tirta Komodo Manggarai
Regency. This research uses qualitative method with descriptive data assessment. In data
collection, researchers used interview and observation techniques. Informants in this study
amounted to 42 where PDAM customers amounted to 38 informants and PDAM officers
amounted to 4 people consisting of the Director, the service, the financial administration and
technical section. The results of this study indicate that in 2015 Service Effectiveness in
Improving Water Levies Drainage at PDAM Tirta Komodo Manggarai Regency categorized
less effective with the average presentation of 79.84%.
Keywords: Effectiveness, Service, Levy.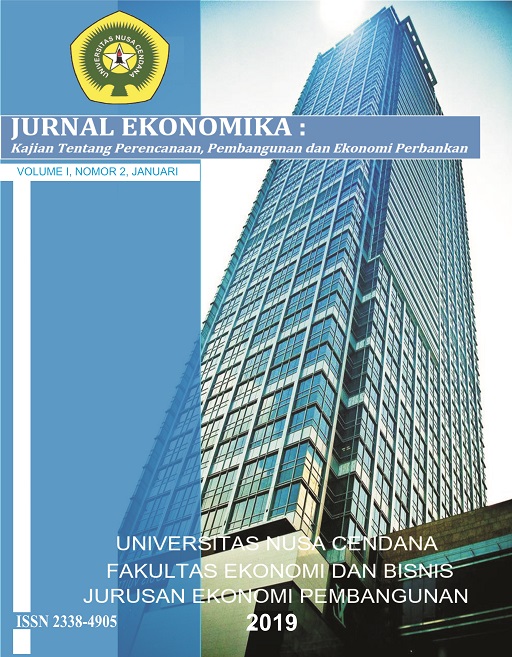 Copyright (c) 2019 Nusa Cendana University
This work is licensed under a Creative Commons Attribution-NonCommercial-ShareAlike 4.0 International License.