SEKTOR BASIS DAN IMPLIKASINYA TERHADAP PERTUMBUHAN EKONOMI DI KABUPATEN KUPANG
Ariyanto Tafui

Universitas Nusa Cendana

Marselina Ratu

Universitas Nusa Cendana

Fransina W. Ballo

Universitas Nusa Cendana
Abstract

ABSTRACT
Base Sector And Its Implication In Kupang Economic Growth: Economic growth in the region is
the increase of people's income as a whole is happening in the region, which is the entire value
added (added value) happened. In view accretion from one period to the next period of time, it
must be stated in real value expressed in constant prices. The analysis used in this research is
the Location quotient (LQ), Shift share and Typology Klasen to analyze the sector Basis and
Implications of economic growth kupang district. The results obtained in this study, the basic
sector district mussels are agriculture, mining and quarrying, processing industry, sectors
procurement of electricity, gas, construction sector, trade sector and retail: repair of cars and
motorcycles and sector yanng positive implications to economic growth kupang district is
agriculture, wholesale and retail trade: repair of cars and motorcycles, transportation and
warehousing, construction sector and the sector of government administration, defense and
compulsory social security.
Keywords: Location quotient (LQ), Shift share and Typology Klasen, the basic sector and
economic growth.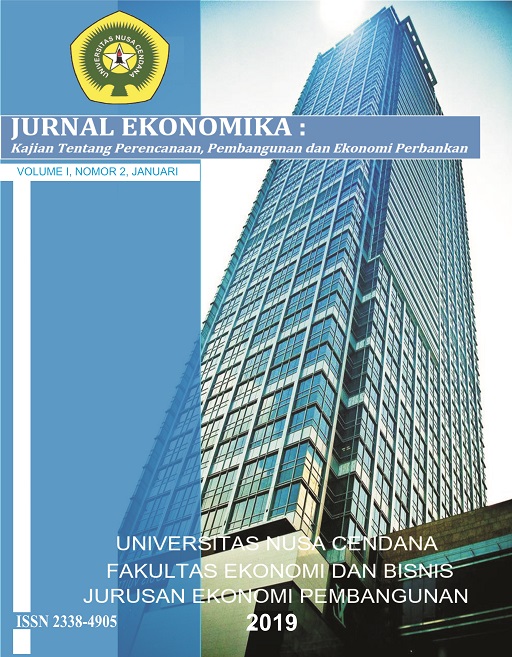 Copyright (c) 2019 Nusa Cendana University
This work is licensed under a Creative Commons Attribution-NonCommercial-ShareAlike 4.0 International License.