Studi Anatomi Lambung Kelelawar Buah (Pteropus vampyrus) Dengan Pewarnaan Histokimia Periodic Acid Shiff (PAS)
George Marthienz do Hage

Fakultas Kedokteran Hewan Universitas Nusa Cendana

Yulfia Nelymalik Selan

Laboratorium Anatomi, Fisiologi, Farmakologi dan Biokimia Fakultas Kedokteran Hewan Universitas Nusa Cendana

Filphin Adolfin Amalo

Laboratorium Anatomi, Fisiologi, Farmakologi dan Biokimia Fakultas Kedokteran Hewan Universitas Nusa Cendana
Keywords:
fruit bats (Pteropus vampyrus), stomach/gastric, AB (Alcian blue), PAS (Periodic acid Shiff)
Abstract
Timor Island, East Nusa Tenggara (NTT) has a large enough population of bats. A fruit bat (Pteropus vampyrus) is one of such species. Gastric in mammals consist of three region that is fundus, cardia and pylorus. This study aims to determine whether there are differences in the distribution pattern of constituent cells of gastric in Pteropus vampyrus to other mammals. Pteropus vampyrus is anaesthetized with ketamine 20 mg/kg and xylazine 2 mg/kg intramuscularly. In the anesthetized state, the perfusion of the heart is done by opening the chest cavity. Further observation is to the gastric in macroanatomy and then gastric organs were fixed by 10% formalin and then stain with histochemical staining (PAS). Region of Fundus of the stomach area occupies most of the region compared to the cardia and pylorus. Cardia and pyloric region are dominated by the parietal cells and mucous neck cells on the surface, but the pyloric region has begun to form gastric pits. Fundus region is dominated by the constituent cells such as gastric chief cells and parietal cells. Based on the results of the study, it is concluded that the distribution pattern in Pteropus vampyrus chief cells, parietal and mucous neck cells are different from other mammals.
References
Adnyane, M. I. K., Agungpriyono, S., dan Ermansyah, L. 2007, Morfologi Kelenjar Mandibularis dan Lingualis Ayam (Gallus sp) dan Burung Puyuh (Coturnix coturnix): dengan Tinjaun Khusus pada Distribusi dan Kandungan Karbohidrat, Departemen Anatomi, Fisiologi dan Farmakologi, Fakultas kedokteran hewan, Institut Pertanian Bogor. Jl. Agatis wing 5, Lt 3 kampus IPB Darmaga Bogor 16680. Jurnal veteriner.
Akers, R, M., dan Denbow, M, D. 2008. Anatomy and physiology of domestic animals First Edition. Blackwell publishing prof. 2121 state avenue, Ames, Lowa 50014, USA.
Amalo, F. A. 2013, Studi Anatomi Catecholamine Mesolimbic Pathway Pada Kalong Kapauk (Pteropus vampyrus) Asal Pulau Timor. Program Studi Magister Sain Veteriner, Fakultas Kedokteran Hewan, Universitas Gadjah Mada, Yogyakarta (Tesis).
Aswegen. G. V., Schoeman. J. H., Vos. V.D.,dan Noorden. S. V. 1994. The oesophagusand stomach of the African elephant: a histological, immunocytochemical and immunofluorescence study. Onderstepoort Journal of Veterinary Research, 61:223- 229.
Banks, J. W. 1993. Applied veterinary histology 3rd edition. Mosby INC 11830 westline industrial drive, st Louis. Philapdelfia London.
Danguy, A., F. Afik., B. Pajak., dan H. J. Gabius. 1994. Contribution of carbohydrate histochemistry to glycobiology. Histol. And histopathol. 9:155-171.
Dellman, H. D., dan Brown, E. M. 1992, Buku Teks Histologi Veteriner II. UI-Press, Salemba 4, Jakarta.
Evarts, J. L., Rasweiler. J. J., Behninger. R. R., Hennighausen. L., dan Robinson. W. G. 2004, A Morphological and Immunohistochemical Comparison of Mammary Tissuesfrom the Short-Tailed Fruit Bat (Carollia perspicillata) and the Mouse. Biology of Reproduction, 70(6):1573-1579.
Goodwin, R. E. 1979. The bats of Timor. Bulletin of the American Museum of Natural History. Pp 75-122.
Greger, R. 1996, Gastric Function. Comprehensive Human Physiology. Springer - Verlag berlin Heidelberg. Pp 1239.
Kusumastuti. A. 2013. Morfologi Esofagus dan Lambung Musang Luak (Paradoxurus hermaphroditus). Fakultas Kedokteran Hewan. Institut Pertanian Bogor (skripsi).
Novelina, S., Satyaningtijas, S. A., Agungpriyono, S., Setijanto, H., dan Sigit, K. 2010, Morfologi dan Histokimia Kelenjar Mandibularis Walet Linchi (Collocolia linchi) Selama Satu Musim Berbiak dan Bersarang. Bagian Anatomi, Histologi dan Embriologi, Bagian Fisiologi dan Farmakologi. Dapertemen Anatomi, Fisiologi dan Farmako, Fakultas Kedokteran Jewan, Institut Pertanian Bogor. Jl. Agatis, Fakultas Kedokteran Hewan IPB Wing 8 lantai 1, Kampus IPB Dramaga Bogor 16680. Jurnal veteriner.
Nzalak, J. O. 2010, Gross Anatomical, Histological and Histochemical Studies of the Esophagus of the African Giant Rat (AGR) (Cricetomys gambianus- Waterhouse). Dept of Veterinary Anatomy, Ahmadu Bello University, Zaria, Nigeria.
Okon, E. E. 1976. Functional Anatomy of the Alimentary Canal in the Fruit Bat,Eidolon helvum and the Insect Bat, Tadarida nigeriae.Department of Biology, University of Ife, Ile-Ife, Nigeria.
Prasetyo, P. N., Noerfahmy, S dan Tata, H. L. 2011, Jenis-jenis Kelelawar Agroforest Sumatera. Bogor. Indonesia. World Agroforestry Centre - ICRAF, SEA Regional Office. Pp 75.
Rahmi, E. 2008, Distribusi Glikogen Pada Lambung Monyet Ekor Panjang (Macaca fasicularis) Selama Periode Sebelum dan Setelah Lahir. Laboratorium Histologi fakultas kedokteran hewan universitas syiah kuala, Darussalam, Banda Aceh. Jurnal veteriner.
Sahjuti, D., T.L. Yusuf, I. Mansjoer, A.R.P. Lelana, dan I.H. Suparto. 1997. Kursus singkat penanganan satwa primate sebagai hewan laboratorium. Makalah. PSSP Lembaga Penelitian IPB. Bogor.
Scillitani. G., Zizza. S., Liquori. E. G., Ferri. D. 2007. Lectin histochemistry of gastrointestinal glycoconjugates in the greater horseshoe bat (Rhinolophus ferrumequinum). Dipartimento di Zoologia, Laboratorio di Istologia e Anatomia comparata, Universita` degli Studi di Bari, via Orabona 4/a, I-70125 Bari, Italy.
Selan, Y. N. 2013, Morfologi dan Morfometri Saluran Pencernaan Kalong Kapauk (Pteropus vampyrus) Berserta Distribusi sarafnya. Program Studi Magister Sain Veteriner, Fakultas Kedokteran Hewan, Universitas Gadjah Mada, Yogyakarta (Tesis).
Siswanti, O. 2001, Studi Histokimia Lektin Pada distribusi Glikokonjugat Kelenjar Parotis dan Kelenjar Submandibularis Tupai (Tupaia Glis). Fakultas Kedokteran Hewan. Institut Pertanian Bogor (skripsi).
Snell, S. R. 1995. Clinical Anatomy for medical students. Perpustakaan Nasional. Jakarta EGC
Suyanto, A. 2001, Kelelawar di Indonesia. Seri Panduan Lapangan. Bogor. Pusat Penelitian dan Pengembangan Biologi LIPI. PT Ghalia Indonesia.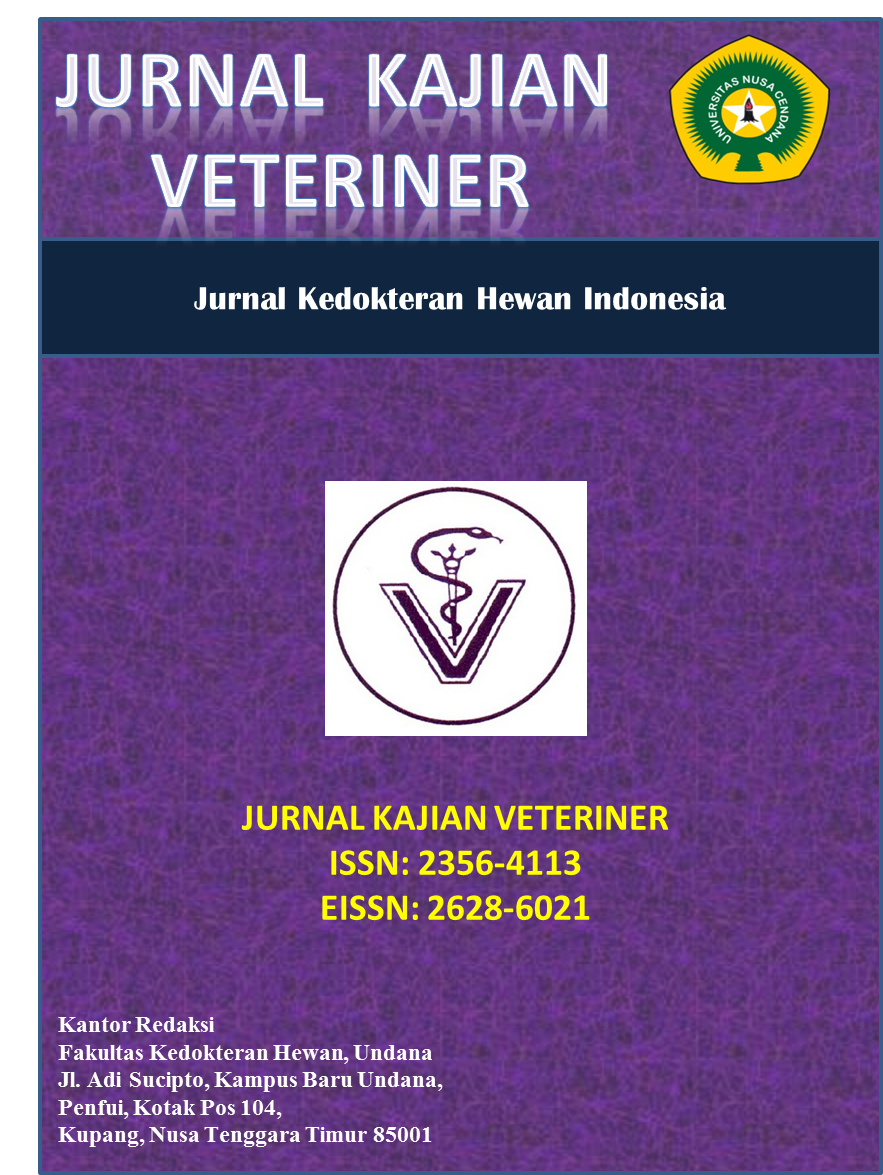 How to Cite
do Hage, G., Selan, Y., & Amalo, F. (2019). Studi Anatomi Lambung Kelelawar Buah (Pteropus vampyrus) Dengan Pewarnaan Histokimia Periodic Acid Shiff (PAS). JURNAL KAJIAN VETERINER, 2(2), 194-201. https://doi.org/10.35508/jkv.v2i2.1004