Pengaruh Klimat terhadap Infeksi Nematoda Saluran Pencernaan pada Sapi Potong di Kabupaten Bojonegoro, Provinsi Jawa Timur
Aji Winarso

Bagian Ilmu Penyakit Hewan dan Kesehatan Masyarakat Veteriner Fakultas Kedokteran Hewan Universitas Nusa Cendana

Fadjar Satrija

Departemen Ilmu Penyakit Hewan dan Kesehatan Masyarakat Veteriner Fakultas Kedokteran Hewan Institut Pertanian Bogor

Yusuf Ridwan

Departemen Ilmu Penyakit Hewan dan Kesehatan Masyarakat Veteriner Fakultas Kedokteran Hewan Institut Pertanian Bogor
Keywords:
gastrointestinal nematode, cattle, Bojonegoro, season
Abstract
This study aims to determine the effect of season on the prevalence of gastrointestinal nematode infections in beef cattle in Bojonegoro Regency. The study was conducted in the coverage area of the Sekolah Peternakan Rakyat (SPR) Mega Jaya, Kasiman District, Bojonegoro Regency. Fecal samples were taken from 263 heads cattle in the dry season and 270 headsin the rainy season. The local climatic data obtained from the One Stop Service Office of the Agency for Meteorology, Climatology and Geophysics (BMKG). Results showed significant differences in the prevalence of nematodosis between the dry season to the rainy season. Prevalence of nematodosis in the dry season by 50.98%, significantly lower than the prevalence in the rainy season, which reached 67.78%.
References
Anderson RC. 2000. Nematode Parasites of Vertebrates, Their Development and Transmission. 2nd ed. Wallingford Oxon: CABI Publishing.
Laha R, Das M, Goswami A. 2013. Gastrointestinal parasitic infections in organized cattle farms of Meghalaya. Vet World. 6(2): 109-112. doi: 10.5455/vetworld.2013.109-112.
Pfukenyi DM, Mukaratirwa S. 2013. A review of the epidemiology and control of gastrointestinal nematode infections in cattle in Zimbabwe. Onderstepoort J Vet Res. 80(1): 1-12.
Seó HLS, Pinheiro Machado Filho LC, Honorato LA, da Silva BF, do Amarante AFT, Bricarello PA. 2015. The Effect of Gastrointestinal Nematode Infection Level on Grazing Distance from Dung. PLoS ONE. 10(6): e0126340. doi:10.1371/journal.pone.0126340.
Urquhart GM, Armour J, Duncan JL, Dunn AM, Jennings FW. 1996. Veterinary Parasitology. 2nd ed. Oxford: Blackwell Science Ltd.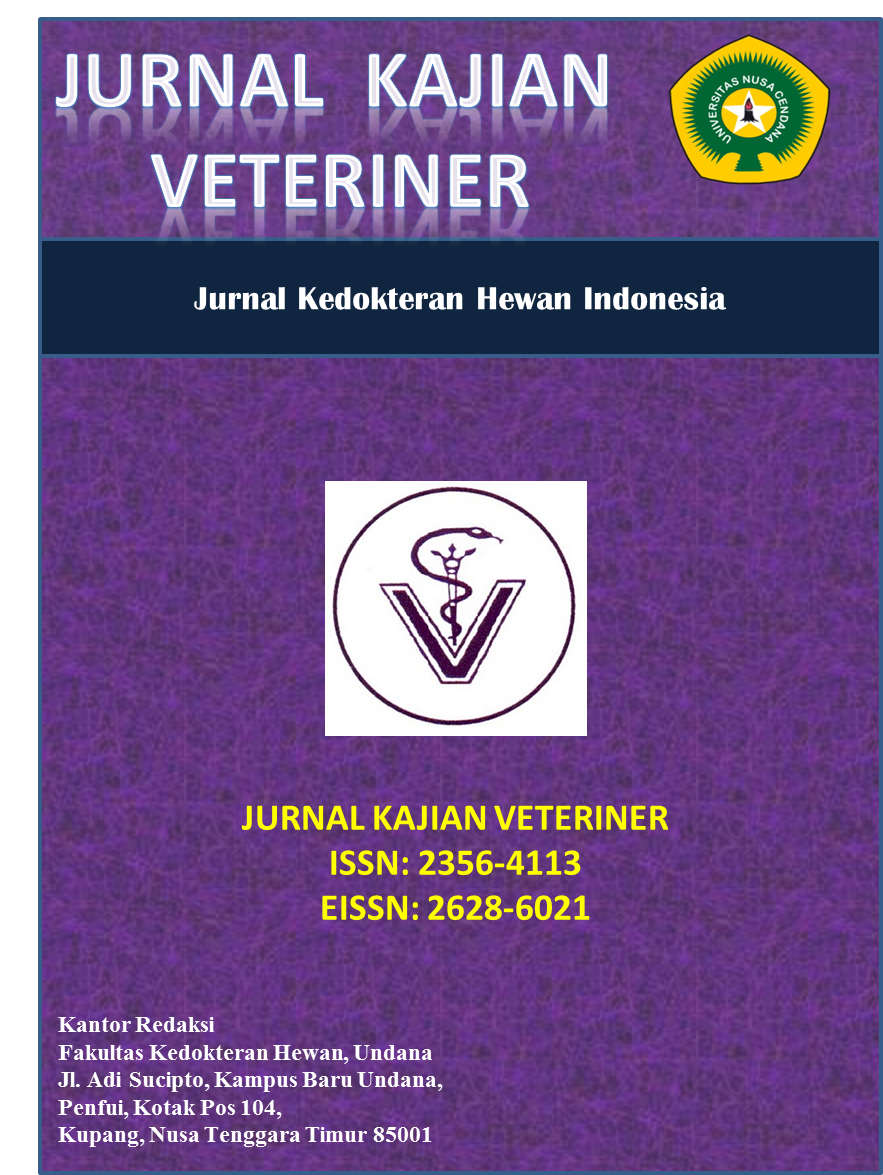 How to Cite
Winarso, A., Satrija, F., & Ridwan, Y. (2019). Pengaruh Klimat terhadap Infeksi Nematoda Saluran Pencernaan pada Sapi Potong di Kabupaten Bojonegoro, Provinsi Jawa Timur. JURNAL KAJIAN VETERINER, 4(1), 1-4. https://doi.org/10.35508/jkv.v4i1.1009