Aktivitas Antimikroba Sopi Terhadap Bakteri Patogen Salmonella Typhimurium dan Salmonella Enteritidis
Annytha Ina Rohi Detha

Bagian Ilmu Penyakit Hewan dan Kesehatan Masyarakat Veteriner Fakultas Kedokteran Hewan Universitas Nusa Cendana

Frans Umbu Datta

Bagian Biokimia, Fakultas Kedokteran Hewan, Universitas Nusa Cendana
Keywords:
sopi, antimicrobial, Salmonella Typhimurium, Salmonella Enteritidis
Abstract
Sopi is a traditional drink from East Nusa Tenggara, made through a fermentation process that is derived from palm trees (Borassus flabellifer L.) which also has the potential to be used as an antimicrobial agent. The purpose of this study was to identify the antimicrobial activity of Sopi against pathogenic bacteria. Identification of the antimicrobial activity conducted in two stages, testing the alcohol content and acidity from sopi; and bioassay testing using pathogenic bacteria Salmonella Typhimurium and Salmonella Enteritidis. The results showed that the Sopi has antimicrobial activity against pathogenic bacteria Salmonella Typhimurium and Salmonella Enteritidis. Results of this research may be basic research to the development of Sopi as an antimicrobial agent.
References
Adila R, Nurmiati, Agustien A. 2013. Uji Antimikroba Curcuma spp. Terhadap Pertumbuhan Candida albicans, Staphylococcus aureus dan Escherichia coli. Jurnal Biologi Universitas Andalas 2(1) : 1-7.

Brooks G.F., Butel J.S., Morse S.A. 2001. Medical Microbiology. 22nd ed. USA: Appleton & Lange. p. 219, 225 – 227.

Carneiro, A. Couto, J.A., Mena, C.dan Queiroz, J. 2008, Activity of wine against Campylobacter jejuni. Food Control :19: 800-805.

García-Ruiz A, Bartolome B, Martínez-Rodríguez AJ, Pueyo E, Martín-Álvarez PJ, Moreno-Arribas MV. 2008. Review Potential of phenolic compounds for controlling lactic acid bacteria growth in wine. Food Control Volume 19(9): 835-841.

Murray PR, Rosenthal KS, Pfaller MA (2009). Medical Microbiology (6th ed.). Philadelphia, PA: Mosby Elsevier. p. 307.

Myers, Richard L.; Myers, Rusty L. (2007). The 100 most important chemical compounds: a reference guide. Westport, Conn.: Greenwood Press. p. 122. ISBN 0313337586.

Pan, X., Chen, F., Wu, T., Tang, H., and Zhao, Z. 2009. The acid, Bile Tolerance and Antimicrobial property of Lactobacillus acidophilus. J. Food Control 20: 598-602.

Santos, Renato L.; Shuping Zhang; Renee M. Tsolis; Robert A. Kingsley; L. Gary Adams; Adreas J. Baumler (2001). "Animal models od Salmonella infections: enteritis versus typhoid fever". Microbes and Infection 3: 1335–1344.

Vas M, Hogg T, Couto JA. 2012. The antimicrobial effect of wine on Bacillus cereus in simulated gastro-intestinal conditions. Food Control Volume 28(2): 230-236.

Waite, J.G. and Daeschel, M.A. 2007,Contribution of wine components to inactivation of food-borne pathogens. J Food Sci.72(7): 286-291.

Weisse, M.E., Eberly, B. and Person, D.A. 1995, Wine as a digestive aid: comparative antimicrobial effects of bismuth salicylate and red and white wines. Br Med J 311:1657-1660.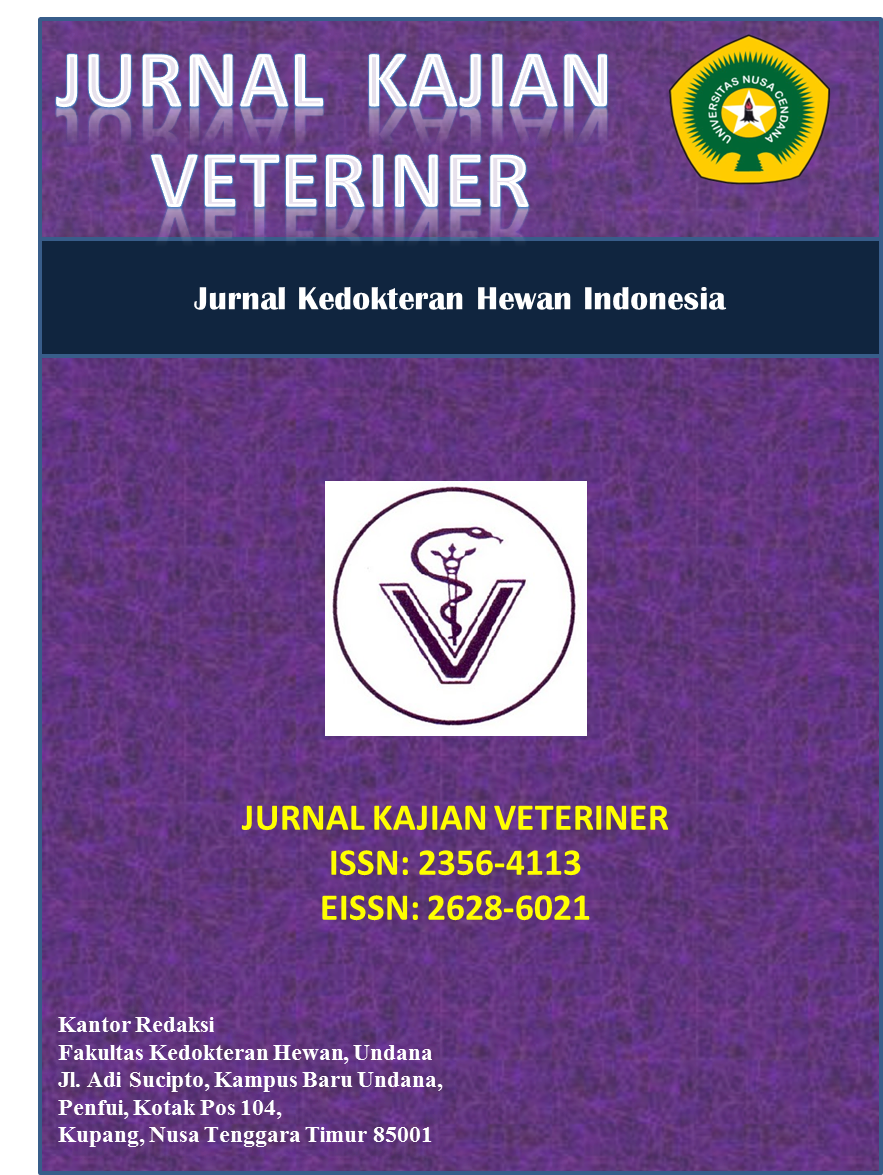 How to Cite
Detha, A., & Datta, F. (2019). Aktivitas Antimikroba Sopi Terhadap Bakteri Patogen Salmonella Typhimurium dan Salmonella Enteritidis. JURNAL KAJIAN VETERINER, 3(1), 17-21. https://doi.org/10.35508/jkv.v3i1.1026