Pengaruh Corpus Luteum Dan Folikel Dominan Terhadap Kualitas Morfologi Oosit Sapi Bali-Timor
Hermilinda Parera

Program Studi Kesehatan Hewan Jurusan Peternakan Politeknik Pertanian Negeri Kupang

Victor Lenda

Program Studi Kesehatan Hewan Jurusan Peternakan Politeknik Pertanian Negeri Kupang
Keywords:
bali-timor cattle, reproductive status, the morphology of oocyte quality, aspiration
Abstract
Improvement of cattle production can be obtained by the application of feed and breeding technology. One of the breeding technologies that are rapidly growing is in vitro fertilization, which is part of In vitro embryo production The source of oocytes influence the success of in vitro embryo production The quality of the oocyte were determined by Ovarian follicular environment and followed the follicular growth that were characterized by the presence of a dominant follicle (DF) and corpus lutem (CL). The purpose of this study was to determine the influe nced of dominant follicles and corpus luteum on oocyte morphology of
Bali Timor cattle, that were collected by aspiration method. Oocytes were obtained postmortem from the ovaries of Bali Timor cows slaughtered at an Oeba slaughterhouse Ovarian then class ified into 3 groups : I ) ovarian with CL without DF; (II) ovarian with DF, without CL; and (III) ovarian without both DF and CL. The results showed that the number of oocytes with good quality from group III (12.5%) was higher than group I (9.83%), but no significant differently (P> 0.05). The number of oocytes from group II that showed several layers of cells and has a cytoplasm (good quality) was very low.
References
Bilodeau Goeseels, S. and P. Panich 2002. Effects of oocyte quality on development and transcriptional activity in early bovine embryos. Journal Animal Reproduction Science 71 (3 4): 143 155.

Boediono A, Rajamahendran R, Saha S, Sumantri C, Suzuki T. 1995. Effect of the presence of a CL in the ovary on oocyte number, cleavage rate and blastocyst production in vitro in cattle. Theriogenology 43 (1): 169.

Darmadja, D. 1980. Setengah abad peternakan sapi tradisional dalam ekosistem pertanian di Bali. Thesis. Universitas Padjadjaran : Bandung.

De Wit, A.A., Y.A. Wurth, T.A. Kruip. 2000. Effect of ovarian phase and folliclequality on morphology and developmental capacity of the bovine cumulus oocyte complex. Journal Animal Reproduction Science 78(5): 1277 1283.

Evans AC, Flynn JD, Duffy P, Knight PG, Boland MP. 2002. Effects of ovarian follicle ablation on FSH, oestradiol and inhibin A concentrations and growth of other follicles in sheep. Reproduction. 123: 59-66.

Gonzalez-Bulnes A, Souza CJH, Campbell BK, Baird DT. 2004. Systemic and intraovarian effects of dominant follicles on ovine follicular growth. Journal Animal Reproduction Science 84 (1-2): 107-119.

Kune, P dan Solihat. N,2007, Tampilan Berahi dan Tingkat Kesuburan Sapi Bali Timor yang Diinseminasi , Jurnal Ilmu Ternak 7 1 5

Lonergan, P., H. Sharif, and I. Gordon. 1992. Effect of time to transfer to granulosa cells monolayer on bovine oocyte developmental following IVM/IVF/IVC. Proceeding of the 8th Conference of the European EmbryoTransfer Association. 178.

McLaughlin M and Evelyn E. Telfer. 2010. Oocyte development in bovine primordial follicles is promoted by activin and FSH within a two-step serum-free culture system. Society for Reproduction and Fertility 1741–7899

Payne WJA. 1970. Cattle Production in the Tropics. Tropical Agriculture Series, 1 Breeds and Breeding, Longman, 117-118.

Souza CJH, Campbell BK, Baird DT. 1998. Follicular waves and concentrations of steroid and inhibin A in ovarian venous blood during the luteal phase of the oestrous cycle in ewes with an ovarian autotransplant. Journal Endocrinology 156: 563-572.

Taylor C, Rajamahendran R. 1991. Follicular dynamics and corpus luteum growth and function in pregnant versus nonpregnant dairy cows. Journal Dairy Science 74:115-123.

Varis haga MD, Sumantri C, Murakami M, Fahrudin M, Suzuki T. 1998. Morphologi classification of the ovaries in relation to the subsequent oocyte quality for IVF-produced bovine embryos. Theriogenology 50: 1015-1023.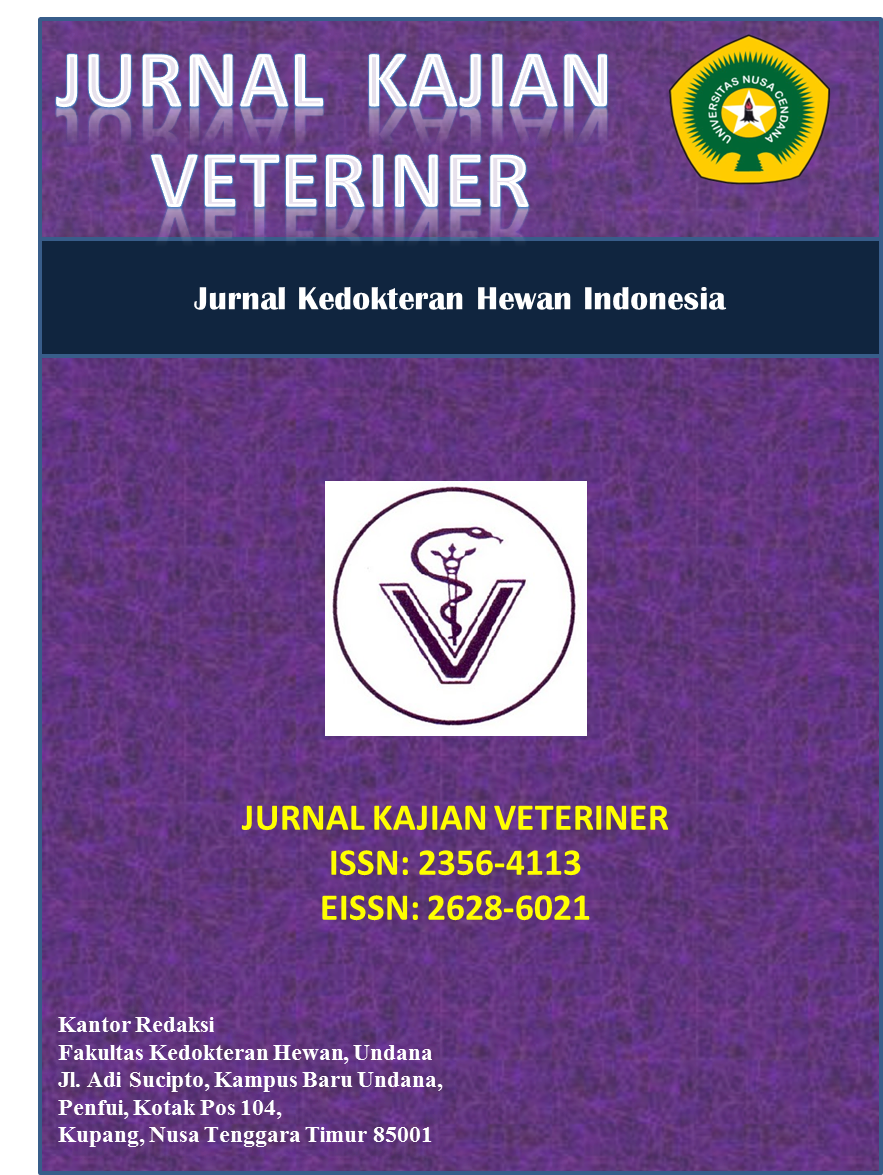 How to Cite
Parera, H., & Lenda, V. (2019). Pengaruh Corpus Luteum Dan Folikel Dominan Terhadap Kualitas Morfologi Oosit Sapi Bali-Timor. JURNAL KAJIAN VETERINER, 3(1), 63-70. https://doi.org/10.35508/jkv.v3i1.1031