Gambaran Hematologi pada Rusa Timor (Cervus timorensis)
Yanse Yane Rumlaklak

Program Studi Kesehatan Hewan Jurusan Peternakan Politeknik Pertanian Negeri Kupang

Novianti Neliyani Toelle

Program Studi Kesehatan Hewan Jurusan Peternakan Politeknik Pertanian Negeri Kupang
Keywords:
hematology values, timor deer, erythrocytes, leukocytes
Abstract
Timorensis deer, an endangered species, is one of the native wildlifes in Nusa Tenggara Timur Province. Therefore, it is important to protect the Timorensis deer population in this province. The purpose of this study is to determine haematology value of the Timor deer (Cervus timorensis). Blood samples were taken from four captive deers, owned by Kupang Forestry Research Institute, in Sonbai which are clinically health based on the general physical examination namely temperature and heart frequence. Hematological examination includes the number of blood cells, hemoglobin concentration, hematocrit value, erythrocyte indices, and the calculation of leukocytes. Results of this study showed that there were significant increasing the number of leukocytesis 8.42x103/μl and erythrocytes index is 8.24x106/μl.
References
Bush, B. M. 1991. Interpretation of Laboratory Results for Small Animal Clinicians. Blackwell Scientific Publication, London. :515pp

Coles, E. H. 1980. Veterinary Clinical Pathology. 3rd Ed. W. B. Saunders and Co, Toronto-USA.

Duncan, R. J. Dan K. W. Prasse. 1977. Veterinary Laboratory Medicine : Clinical Pathology. The Iowa State University Press, Ames-Iowa. :234pp.

Effendi Z. 2003. Peranan leukosit sebagai anti inflamasi alergik dalam tubuh. terhubung berkala]. http://library.usu.ac.id/download/fk/histologizukesti2.pdf. [04 Agustus 2015].

Frandson RD. 1996. Anatomi dan Fisiologi Ternak. Ed ke-4. Yogyakarta: Gadjah Mada Universitiy Press.

Guyton AC. 2008. Buku Ajar Fisiologi Kedokteran. Ed ke-11. Tengadi AK, Penerjemah. Jakarta: Penerbit Buku Kedokteran EGC. Terjemahan dari: Textbook of Medical Physiology.

Hoppe, E. G. L., E. M. dos Santos Schmidt., F. S. Zanuzzo., and J. M. B. Duarte. 2010. Haematology of captive grey-brocket deer Mazama gouazoubira.

Jain NC. 1993. Essential of Veterinary Hematology. Philadelphia: Lea and Febiger.

Maceda-Veiga, A., et al. (2015). "Inside the Redbox: Applications of haematology in wildlife monitoring and ecosystem health assessment." Science of The Total Environment514(0): 322-332.

Peinado, V. I., et al. (1999). "Basic hematological values in some wild ruminants in captivity." Comparative Biochemistry and Physiology Part A: Molecular & Integrative Physiology124(2): 199-203.

Shanthi, G., et al. (2012). "Hematological Studies in Indian Deer – Axis axis. Tamilnadu J. Veterinary & Animal Sciences 8 (6) 351-355, India.

Tjendradjaja, TM. 2011. Leukosit sebagai Salah Satu Parameter Kesehatan Rusa Timor (Cervus timorensis) di Usaha Penangkatan Rusa Timor Kecamatan Dawe KAbupaten Kudus [Thesis]. Bogor : Program Pasca sarjana Institut Pertanian Bogor.

Weiss DJ, Wardrop KJ. 2010. Schalm's Veterinary Hematology. Ed ke-6. USA: Blackwell Publishing Ltd.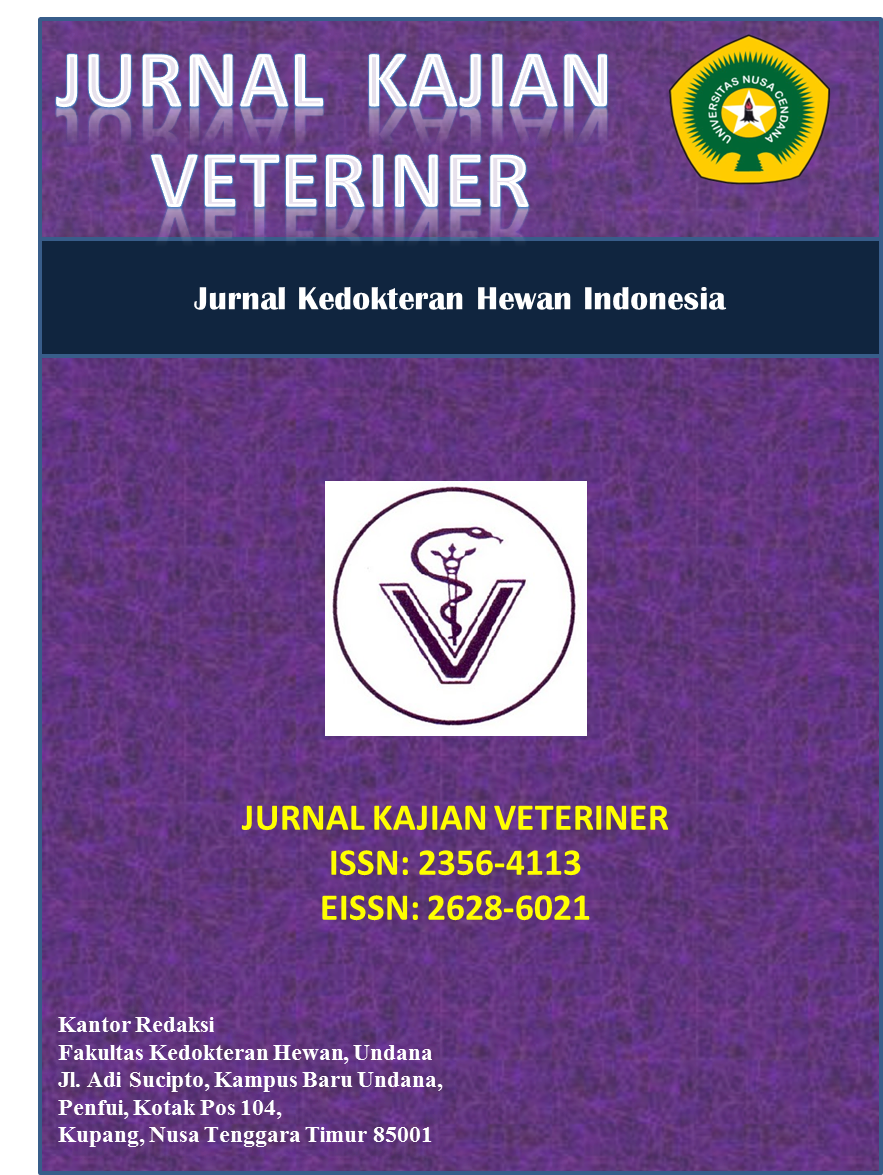 How to Cite
Rumlaklak, Y., & Toelle, N. (2019). Gambaran Hematologi pada Rusa Timor (Cervus timorensis). JURNAL KAJIAN VETERINER, 3(1), 77-82. https://doi.org/10.35508/jkv.v3i1.1033