PENGARUH EKSTRAK DAUN C.ODORATA TERHADAP PROSES KESEMBUHAN LUKA INSISI PADA TIKUS SPRAGUE-DAWLEY
Ni Sri Yuliani

Program Studi Kesehatan Hewan Jurusan Peternakan Politeknik Pertanian Negeri Kupang

Victor Lenda

Program Studi Kesehatan Hewan Jurusan Peternakan Politeknik Pertanian Negeri Kupang
Keywords:
Sprague Dawley, wound healing, Chromolaena odorata
Abstract
Chromolaena odorata (kirinyu/sufmuti) is a species of weed which utilized as traditional medicine especially for wound healing. This research was conducted to study the histological effect of C.odorata leaf extract to healing process of incision wound in Sprague-Dawley rats. A total of 45 males - 6 weeks of Sprague Dawley rats at 150-200g body weight were utilized in this study. Those rats were divided into five groups, basis ointment, Betadine 10%, C.odorata 5%, C.odorata 10%, and C.odorata 20%. All groups of rats were given a 3 cm long linear incision at dermal depth on the backs. The extract and medication were topically applied once a day for ten days. 3 rats of each group were euthanized in day 2, 6, and 10 after incision. Subsequently, skin tissue was obtained and fixated in 10% buffer formalin for Hematocixylin - Eosin staining. The measured variables were wound healing both macroscopical and microscopical figures from day 0 to day 10 after incision. Data were analyzed descriptively. Microscopic observation showed that various concentrations of C.odorata extracts affected wound healing process. C.odorata Extract is allegedly able to stimulate wound healing by increasing fibroblasts for re-epithelization.
References
Alimohammad, A., Paknegad, M., Ahmad, A., Mohammadzadeh, M., Mohagheghi, M., and Ghiaci, S., 2009. A Study of The Effect of HESA-A on The Wound Healing Process in Rats. Medical Journal of Islamic World Academy of Sciences 17:1, 17-22.

Diegelmann, R.F. And Evans, M.C., 2004. Wound Healing : an Overview of Acute, Fibrotic and Delayed Healing. Frontiers in Bioscience 9, 283-289.

Gal, P., Kilik, R., Mokry, M., Vidinsky, B., Vasilenko, T., Mozes, S., Bobrov, N., Tomori, Z., and Lenhardt, L., 2008. Simple Method of Open Skin Wound Healing Model in Corticosteroid-treat and Diabetic Rats: Standardization of Semi-quantitative and Quantitative Histological Assessments. Veterinarni Medicina, 53. pp 652-659.

Hyoung-Woo, B., and Bao,T. Z., 2010. Myricetin and Quercetin are Naturally Occurring co-substrats of Cyclooxygenases in vivo. Prostaglandins, Leukotrienes and Essential Fatty Acids, 82 : 45-50.

Jarrahi, M., and Vafaei, A.A., 2004. Effect of Topical Phenytoin Cream on Linier Incisional Wound Healing in Albino Rats. DARU Vol. 12, No. 4,156-158.

Owoyele, V.B., Adediji, J.O., and Soladoye, A.O., 2005. Short Communication Anti-inflammatory Activity of Aqueous Leaf Extract of Chromolaena odorata. Inflammopharmacology, Vol. 13. No. 5-6. pp. 479-484.

Panda, P., and Ghosh, A., 2010. Formulation and Evaluation of Topical Dosage Form of Eupatorium odoratum Linn. and Their Wound Healing Activity. International Journal of Pharma and Bio Scieces. 2;1 – 13.

Regan, M.C., and Barbul, A., 1994. The Cellular Biology of Wound Healing in Fibrin Sealing in Surgical and Nonsurgical Fields.

Robson, M.C., Steed, D.L., and Franz, M.G., 2001. Current Problems in Surgery, Wound Healing; Biologic Features and Approaches to Maximize Healing Trajectories. Vol. 38; 72 – 81.

Singer, J.A. and Clark, R.A.F., 1999. Cutaneous Wound Healing. Departements of Emergency and Dermatology. State University of New York. Stony Brook. New York. The New England Journal of Medicine; Vol 341.

Thang, T.P., Hughes, M.A., and Cherry, G.W.,1998. Enhanced Proliferation of Fibroblast and Endothelial Cells Treated with an Extract of the Leaves of Chromolaena odorata (Eupolin), an Herbal Remedy for Treating Wound. Plasttic Recontr. Surgery. 101.

Thang, T.P., Patrick, S., Teik L.S., and Yung, C.S., 2001. Anti-oxidant Effects of the Extract from the Leaves of Chromolaena odorata on Human Dermal Fibroblast and Epidermal Keratinocytes Against Hydrogen Peroxide and Hypoxanthine-xanthine Oxidase Induced Damage. Burns. 27; 319- 327.

Wollenweber, E., Dorr M., and Muniappan, R., 1995. Exudate Flavonoids in a Tropical Weed, Chromolaena odorata (L.) R.M. King et H. Robinson. p 873 – 874.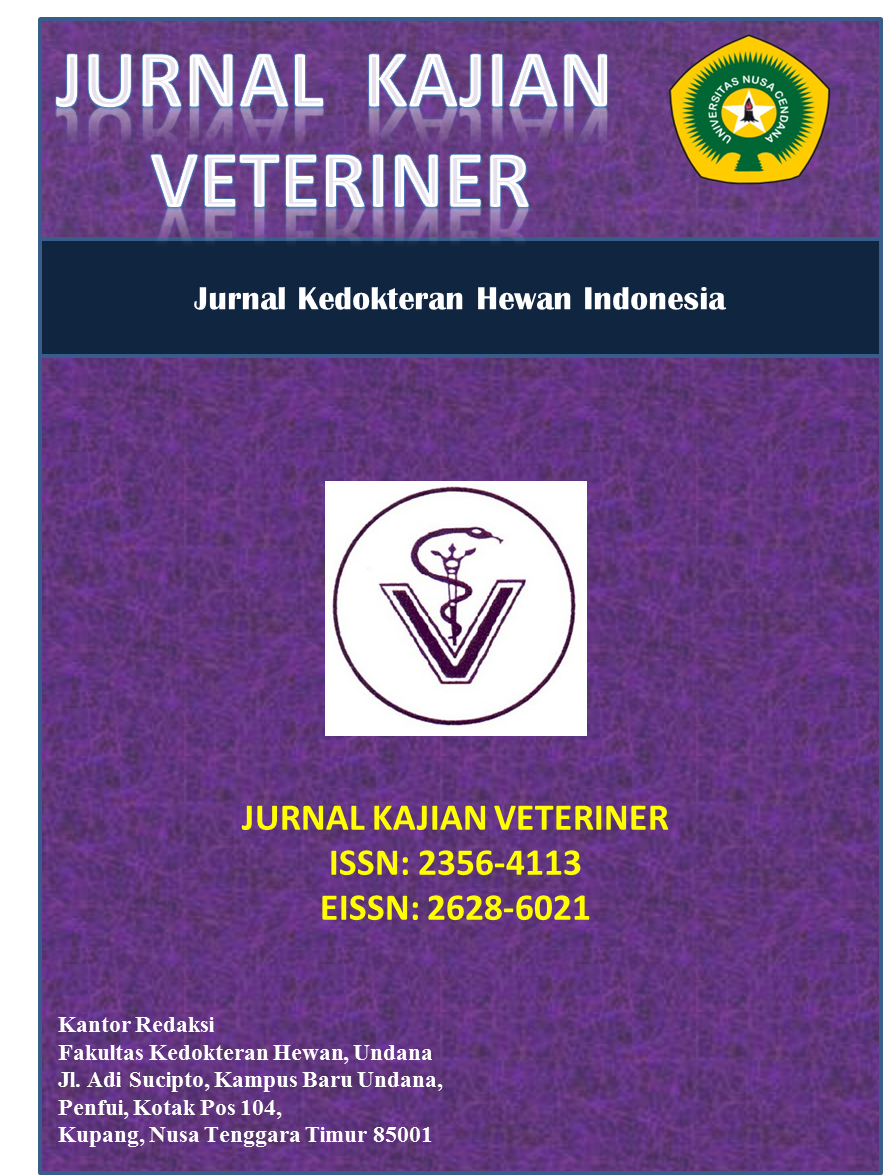 How to Cite
Yuliani, N., & Lenda, V. (2019). PENGARUH EKSTRAK DAUN C.ODORATA TERHADAP PROSES KESEMBUHAN LUKA INSISI PADA TIKUS SPRAGUE-DAWLEY. JURNAL KAJIAN VETERINER, 3(2), 93-99. https://doi.org/10.35508/jkv.v3i2.1034