TELAAH INFESTASI LIPAS (INSECTA: DICTYOPTERA) PADA BUS DAN KAITANNYA DENGAN PENGELOLAAN MODA TRANSPORTASI
Ari Tjahyadi Rafiuddin

Fakultas Kedokteran Hewan Institut Pertanian Bogor

Upik Kesumawati

Fakultas Kedokteran Hewan Institut Pertanian Bogor

Susi Soviana

Fakultas Kedokteran Hewan Institut Pertanian Bogor
Keywords:
cockroach, Bogor, public bus
Abstract
The purpose of this research was to identify the cockroach species infesting public buses, determining its distribution and its infestation degree, and analyze the factors causing its infestation. The observation of the existence of cockroach was performed on 30% of buses found in 6 bus pool in Bogor City. Observations was focused on 6 sites inside the bus: 1) seats, 2 floor), 3) gaps, 4) shelves, 5) window, and 6) toilets. Cockroach were manually colletcted put in a labeled plastic pouchs. Observations was done within 30 minutes each bus. The degree of cockroach infestation was scored as zero, light, moderate, high, and very high infestation. The factors causing cockroach infestation in public buses measured using an enclosed questionnaire. A total number of 1626 individuals were collected identified as Blattella germanica cockroach (1353 individuals) and Periplaneta americana cockroach (273 individuals). The highest infestation of Blattella germanica was found in the buses in the pool-6 area with with average amount of 66.4 individuals per bus (very highly infested). While Periplaneta americana was found very highly infesting buses in the pool-5 area with average amount 25.3 individuals per bus. The cockroach infestation spreading in the gap (48.68%) with the highest number for the presence of both species. The shelves found as site with lowest infestation (12.60%). There was a weak correlation between cockroach infestation in the pool bus area with personal biosecurity (r = -0.116), medium relationship with places/equipment biosecurity (r = -0.406), and strong correlation with environmental biosecurity (r = -0.841).
References
Bala AY, Sule H. 2012. Vectorial potential of cockroaches in transmitting parasites of medical importance in Arkilla, Sokoto, Nigeria. Nigerian Journal of Basic and Applied Science. 20(2): 111-115.

Baumholtz MA, Parish LC, Witkowski JA, Nutting WB. 1997. The medical importance of cockroaches. International Journal of Dermatology. 36: 90-96.

Cochran DG. 1999. Cockroaches; their biology, distribution and control. WHO/CDS/CPC/WHOPES. 99(3): 1-83.

Dini AMV, Fitriany RN, Wulandari RA. 2010. Faktor Iklim dan Angka Insiden Demam Berdarah Dengue di Kabupaten Serang. Makara, Kesehatan. 14(1): 31-38.

Hadi UK. 2011. Lipas atau Kecoak Jerman, Blatella germanica. Laboratorium Entomologi FKH IPB, Bogor. Hal 1-2.

Hadi UK. 2012. Serangga Pengganggu Kesehatan (Nyamuk, Lalat, Lipas, Semut, Laba-Laba). Prosiding Pelatihan DPD ASPPHAMI Jawa Timur dan Dinas Kesehatan Kota Surabaya "Pelatihan Penjamah Pestisida (Teknisi) dan Penanggung Jawab Teknis (Supervisor)". Surabaya, 20-23 Nov 2012. Hal: 1-7.

Hadi UK, Rusli VL. 2006. Infestasi caplak anjing Rhipicephalus sanguineus (Parasitiformes: Ixodidae) di Daerah Kota Bogor. Jurnal Medis Veteriner Indonesia. 10(2): 55-60.

Hadi UK, Sigit SH, Koesharto FX, Gunandini DJ, Soviana S, Wirawan IA, Chalidaputra M, Rivai M, Priyambodo S, Yusuf S. 2006. Hama Permukiman Indonesia. Pengenalan, Biologi, dan Pengendalian. Indonesia: Bogor. Edisi I. Hal 73-96.

Kassiri H, Kazemi S. 2012. Cockroaches Periplaneta americana (L.), (Dictyoptera; Blattidae) as carriers of bacterial pathogens, Khorramshahr Country, Iran. Jundishapur J Microbiol. 5(1): 320-322.

Ogg B, Ogg C, Ferraro D. 2006. Cockroach control manual. Institute of Agriculture and Natural Resources, University of Nebraska – Lincoln and the United States Department of Agriculture. 2: 1-64.

Pratt HD. 1953. Cockroaches pictorial key to some common species. Public Health Service Communicable Disease Center. 26: 6-13.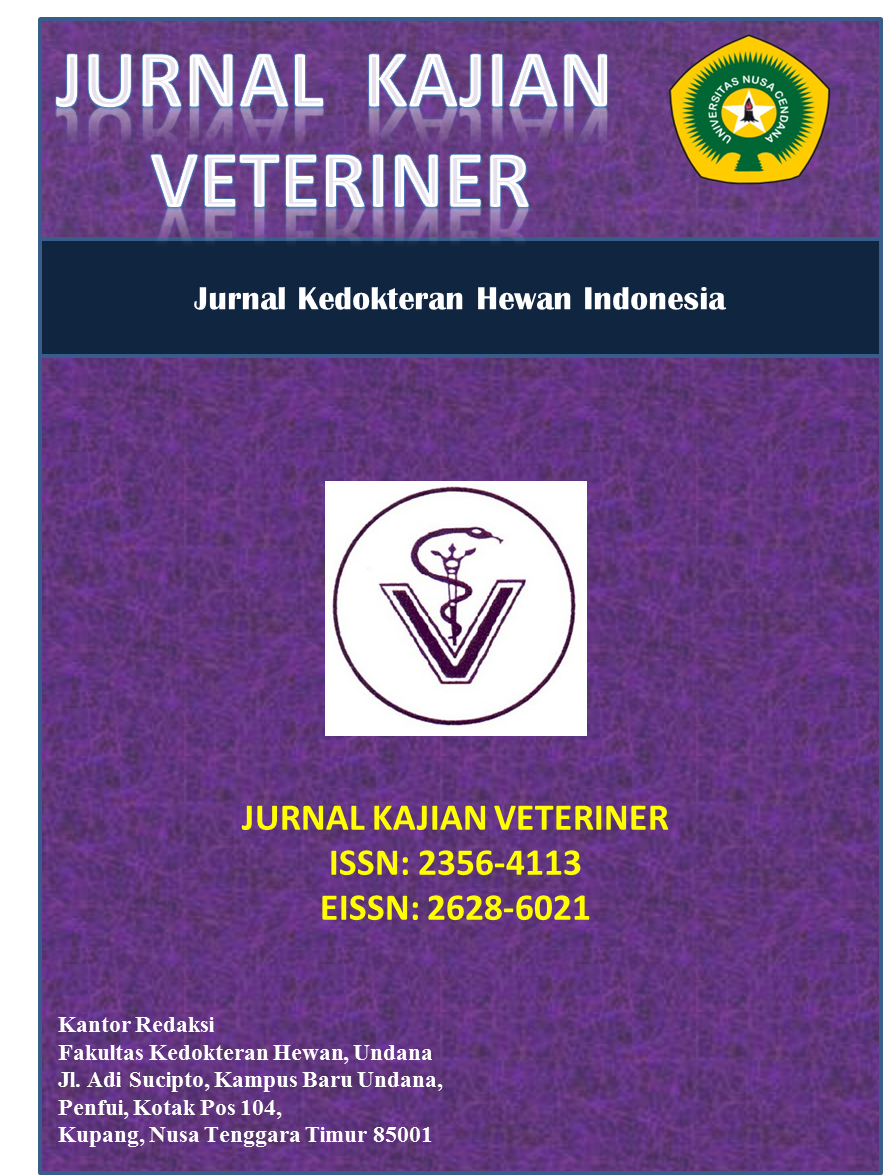 How to Cite
Rafiuddin, A., Kesumawati, U., & Soviana, S. (2019). TELAAH INFESTASI LIPAS (INSECTA: DICTYOPTERA) PADA BUS DAN KAITANNYA DENGAN PENGELOLAAN MODA TRANSPORTASI. JURNAL KAJIAN VETERINER, 3(2), 101-111. https://doi.org/10.35508/jkv.v3i2.1035