PERBANDINGAN NILAI TOTAL PLATE COUNT (TPC) DAN CEMARAN Salmonella sp. PADA IKAN TONGKOL (Eutynnus sp.) YANG DIJUAL DI TEMPAT PELELANGAN IKAN (TPI), PASAR TRADISIONAL DAN PEDAGANG IKAN ECERAN DI KOTA KUPANG
Priska Clayu Apelabi

Fakultas Kedokteran Hewan Universitas Nusa Cendana

Diana A. Wuri

Bagian Ilmu Penyakit Hewan dan Kesehatan Masyarakat Veteriner Fakultas Kedokteran Hewan Universitas Nusa Cendana

Maxs Urias E Sanam

Laboratorium Mikrobiologi, Fakultas Kedokteran Hewan Universitas Nusa Cendana
Keywords:
tuna fish, TPC, Salmonella sp., Kupang City
Abstract
Tuna is one of the fishery products which has a high level of consumption in the city of Kupang but are easily damaged. One of the pathogenic bacteria in fish that cause food-borne disease is Salmonella sp. The contamination of Salmonella sp. is caused by inadequate sanitation, poor hygiene and contaminated water used by the merchant. This study aims to determine both the differences in the value of TPC and whether there is the contamination of Salmonella sp. or not. Moreover, this study was to examine quantification of contamination level and different levels of Salmonella sp contamination the difference level of Salmonella sp. contamination in tuna fishes which has been sold in the fish auction place (TPI), traditional markets and retail fish market in Kupang. 54 samples of Tuna were collected from three locations. This research was also supported by the water quality testing which consisted of 15 water samples. The result showed that there was a significant difference on the TPC values with an average level of contamination from the highest to the lowest, started from the fish retailers as many as 1,35 x 105 CFU/g, followed by the traditional markets as many as 5 x 104 CFU/g and TPI as many as 3,5 x 103 CFU/g. The differences of TPC values were due to the personal higyene and sanitation, locations, the equipments as well as the materials used in the post-arrest process, the distribution and the sales. The results from TPC analysis showed that 4 samples were contaminated by the Salmonella sp. The average level of Salmonella sp contamination was from the Tuna sold by the fish relailers as many as 1,6 x 102 followed by the traditional fish markets as many as 1 x 102 and in the TPI as many as 4x10. This study also showed that based on water quality test, positive results were found in 1 sample in TPI, 3 samples in the traditional markets and 4 samples in the fish retailers. In conclusion, the Tunas sold by the fish retailers have the highest TPC value and the highest level of Salmonella sp contamination compare to the Tunas sold in the traditional markets and TPI.
References
Afrianto, E. dan Liviawaty, E. 1989, Pengawetan dan Pengolahan Ikan, Kasinius Yogyakarta.

Arifah, I.N. 2010, 'Analisis Mikrobiologi pada Makanan', Skripsi, Universitas Sebelas Maret, Surakarta.

Astawan, M. 2007, Pengantar Teknologi Perikanan, Gramedia, Jakarta.

Aziz, I. 2009, 'Isolasi Salmonella sp. pada Tiga Jenis Ikan di Wilayah Bogor serta Uji Ketahanannya Terhadap Pengaruh Proses Pengukusan', Skripsi, Institut Pertanian Bogor, Bogor.

Badan Pusat Statistik. 2012, Nusa Tenggara Timur dalam angka, BPS NTT.

Badan Standardisasi Nasional. 2006, Standar Nasional Indonesia No. 01-3554-2006, Cara Pengujian Air Minum, Jakarta.

Badan Standardisasi Nasional. 2009, Batas Maksimum Cemaran Mikroba dalam Pangan. SNI 7388:2009.

Del-Portillo, F. G. 2000, Moleculer and Celluler Biology of Salmonella Pathogenesis. Microbial Foodborne Disease Mechanisms of Pathogenesis and Toxin Synthesis. Techonomic Publishing Company, Inc. Cancaster, Pennsylvania, USA.

Dzen, M. 2003, Bakteriologi Medik, Tim Mikrobiologi Fakultas Kedokteran Universitas Brawijaya, Banyumedia Publishing, Malang.

Handoko, J. dan Kuntoro. 2012, Identifikasi Bakteri Eschericia coli dan Coliform pada Daging Sapi yang di Jual di Pasar Tradisional dan Pasar Modern, Laporan Hasil Penelitian, Fakultas Peternakan UIN Suska Riau, Pekanbaru.
Heymann DL. 2008, Salmonellosis In: Control of Communicable Diseases Manual 19th ed, American Public Health Association, Washington 18: 534-540.

Hosnan, M.H. 2013, 'Penanganan Ikan Basah Melalui Proses-Proses Penanganan Guna Menjaga Kandungan Nilai Gizi Dan Mutu pada Ikan', Skripsi, Universitas Trunojoyo, Madura.

Humphrey, T.J. 2006, Growth of Salmonella in intact shell eggs: influence of storage temperature,Vet Rec, 126:292.

Huss, H.H. Reilly, A. and Embarek, P.K.B. 2000, Prevention and control of hazard in seafood. Food Control 11: 149–156.

ICMSF. 1996, Microorgnism in Foods. 5th Edition. Microbiological Spesification of Food Pathogens, Blackie Academic & Professional, London.

Jay, J.M. 2000, Modern Food Microbiology, 6th Edition. Aspen Publisher, Inc. Gaithersburg, Maryland.
Junianto. 2003, Teknik Penanganan Ikan, Penerbit Swadaya, Jakarta.

KKP (Kementrian Kelautan dan Perikanan Idonesia). 2011, Sarana pengangkutan berpendingin untuk hasil perikanan, KKP, Jakarta.

Kusuma, F.A.S. 2009, Uji biokimia pada bakteri, Jurnal Farmasi, Universitas padjajaran. Levine, M. 2001, On the significance of the Voges-Proskauer reaction. J. Bacteriol. 1:153–164.

Lubis, E., Wiyono, S. E., Nirmalanti, M. 2010, Penangana selama transportasi terhadap hasil tangkapan didaratkan di pelabuahan perikanan Samudra Nizam Zasman, Jurnal Mangrove dan pesisir 10 (1): 1-7.

Metusalach, Kasmiati, Fahrul dan Ilham Jaya. 2012, Analisis Hubungan antara Cara Penangkapan, Fasilitas Kapal Penangkap dan Cara Penanganan dengan Kualitas Ikan yang Dihasilkan. Laporan Penelitian Bernasis Program Studi. Lembaga Penelitian dan Pengabdian Masyarakat, Universitas Hasanuddin, Makassar.

Narumi, E.H., Zuhriansyah, Mustofa I. 2009, Deteksi Pencemaran Bakteri Salmonella sp pada udang putih (penaeus merguiensis) segar di pasar tradisional Kotamadya Surabaya, 1 : 89-90.

Sariadji, K., Melati, W., Syamsidar, Novi, A., Sundari, Khariri, dkk. 2015, Waktu Regenerasi Bakteri Vibrio cholerae pada Medium APW, Ejournal. Litbang, 43(1):35-40.

Soeparno. 2002, Ilmu Nutrisi dan Gizi Daging. Gajah Mada University Press, Yokyakarta. Indonesia.

Suriawiria. 2005, Pengujian Mutu Hasil perikanan yang aman bagi Kesehatan, Jasa Boga, Jakarta.

Taher, N. 2010, Penilaian mutu organoleptik ikan mujair (Tilapia mussambica) segar dengan ukuran yang berbeda selama penyimpanan dingin. Jurnal Perikanan dan Kelautan 4 (1): 8-12.

Waltman. 1999, Xilosa Lisin Deoxycholate Agar medium pertumbuhan selektif, Hazard, risk analysis and control, Woodhead Publishing Limited, Cambrige, England.

White, D. G., S. Zhao, R. Sudler, S. Ayers, S. Friedman, S. Chen, P. F. McDermott, S. McDermott, D. D. Wagner, and J. Meng. 2001. Salmonella from retail ground meats. Engl. J. Med. 345: 1147–1154.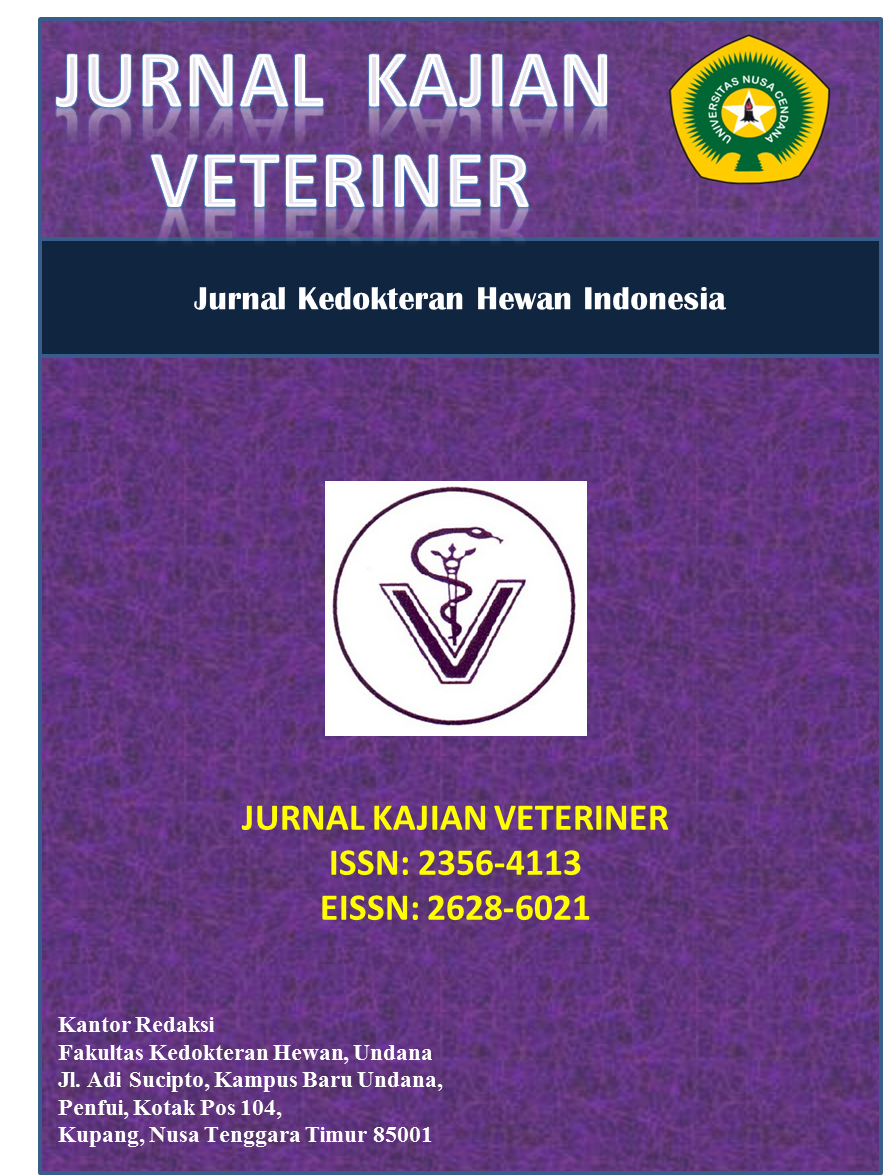 How to Cite
Apelabi, P., Wuri, D., & Sanam, M. (2019). PERBANDINGAN NILAI TOTAL PLATE COUNT (TPC) DAN CEMARAN Salmonella sp. PADA IKAN TONGKOL (Eutynnus sp.) YANG DIJUAL DI TEMPAT PELELANGAN IKAN (TPI), PASAR TRADISIONAL DAN PEDAGANG IKAN ECERAN DI KOTA KUPANG. JURNAL KAJIAN VETERINER, 3(2), 121-137. https://doi.org/10.35508/jkv.v3i2.1037