UJI SENSITIVITAS ANTIBIOTIKA TERHADAP Staphylococcus aureus YANG DIISOLASI DARI LUKA KULIT ANJING DI DESA MERBAUN, KECAMATAN AMARASI BARAT KABUPATEN KUPANG
Eky Melyani Sanu

Fakultas Kedokteran Hewan Universitas Nusa Cendana

Maxs Urias E Sanam

Laboratorium Mikrobiologi, Fakultas Kedokteran Hewan Universitas Nusa Cendana

Elisabet Tangkonda

Laboratorium Mikrobiologi, Fakultas Kedokteran Hewan Universitas Nusa Cendana
Keywords:
dog wound, Staphlycoccus aureus, antibiotic resistance
Abstract
Staphylococcus aureus is one causes of wound infection in dogs, occured as secondary infection or trauma. One of the obstacles in the treatment of Staphycoccal infection is their resistance to antibiotics. This study aims to isolate and identify the Staphylococcus aureus in the cases of dog wound as well as testing the bacterial resistance to the antibiotics namely amoxicillin, tetracycline and ampicillin. There are total of 18 samples of dog wound taken by sterile swab and put in a closed test tube containing sterile physiological NaCl and stored in a ice jar. Swab is applied to the surface on Mannitol Salt Agar and observed morphology of the bacterial colonies that grow after incubated for 24 hours at 37 0C. Furthermore, the Gram staining, hemolysis test, biochemical tests including the catalase and coagulation were also tested. Suspect Staphylococcus aureus colonies were further tested for antibiotics sensitivity test using the Kirby Bauer's method. Results of this experiment showed 8 isolates (44.44%) were positive to Staphylococcus aureus. The isolation of Staphylococcus aureus in the culture of Blood Agar showed that 8 isolates are Beta hemolytic strain. Antibiotics sensitivity test done in duplo revealed that there are 7 isolates of Staphylococcus aureus sensitive and 1 isolate resistant to ampicillin. The sensitivity test to the antibiotic tetracycline showed that 6 isolates sensitive and 2 isolates resistant. The sensitivity test to the antibiotic amoxicillin showed that 7 isolates sensitive and 1 isolates resistant. It can be suggested that in the treatment of wound infection in the dog's skin, antibiotic sensitivity test should be done, because some strains of Staphylococcus aureus has developed resistance to antibiotics.
References
Bandar Standarisasi Internasional. 2011, National Committee of Clinical Laboratory Standards (NCCLS): Performance standards for antimicrobial disc susceptibility tests. Approved Standard ASM-2, Pennsylvania: Clinical and Laboratory Diseases Standards Institute. Vol 31, no. 70.

Christoforus. 2010, 'Pembuktian Transfer Resistensi Horizontal melalui Uji Sensitivitas Antibiotik Beta-Laktam antar Bakteri Staphylococcus spp. dari Kulit Anjing yang Luka', Skripsi, S.KH, Fakultas Kedokteran Hewan, Universitas Airlangga, Surabaya.

Dewi, A.K. 2013, Isolasi, Identifikasi dan Uji Sensitivitas Staphylococcus aureus terhadap Amoxicillin dari Sampel Susu Kambing Peranakan Ettawa (PE) Penderita Mastitis Di Wilayah Girimulyo, Kulonprogo, Yogyakarta, Journal of Sain Veterinary, 138-150.

Djide, M. N. 2008, Dasar-dasar Mikrobiologi. Universitas Hasanuddin, Makasar.

Forbes, B. A., Sahm, D. F. and Weissfeld, A. S. 2007, Bailey and Scott's Diagnostic Microbiology, 12th ed., Mosby Publisher: St. Louis, PP. 187-214.

Jawetz, E., Melnick, J.L. and Adelberg, E.A. 2005, Mikrobiologi kedokteran. Buku 1. Penerbit Salemba Medika: Jakarta.

Lay. 1994, Analisis Mikrobiologi di Laboratorium, PT Raja Grafindo Persada. Jakarta.

Moch, N. 2003, Metode Penelitian, Salemba Empat: Jakarta, hlm 63.

Muttaqein, E.Z. dan Soleha, T.U. 2012, Pola Kepekaan Staphylococcus aureus Terhadap Antibiotik Penisilin Periode Tahun 2008-2012 di Bandar Lampung, Fakultas Kedokteran, Universitas Bandar Lampung : Lampung.

Nonong, Y. H. dan Satari, M.H. 2013, Tetrasiklin Sebagai Salah Satu Antibiotik yang Dapat Menghambat Pertumbuhan Staphylococcus aureus Resisten-Metisilin (MRSA), Fakultas Kedokteran Gigi, Universitas Padjadjaran.

Okarina, Z., Kurnia, D., Rasul, A. dan Sahiman, K. A. 2013, 'Memilih Hewan Kesayangan', diakses pada tanggal 20 April 2015, URL:http//www.vet02ugm.com.

Roos, R. 2013, 'Consumer Reports Finds Bacteria Common on Chicken Breasts', Center for Infectious Disease Research and Policy University of Minnesota, diakses pada tanggal 26 Oktober 2015, http://www.cidrap.umn.edu/news-perspective/2013/12/consumer-reportsfinds-bacteria-common-chicken-breasts.

Ryan, K. J., Champoux, J. J., Falkow, S., Plonde, J. J., Drew, W. L., Neidhardt, F. C. and Roy, C. G. 1994, Medical Mikrobiology An Introduction to Infectious Diseases, 3rd ed. Connecticut : A Pleton & Lange, PP. 254.

Saepudin., Sulistiawan R.H. dan Hanifah, S. 2007, Perbandingan Penggunaan Antibiotika pada Pengobatan Pasien Infeksi Saluran Kemih yang Menjalani Rawat Inap di Salah Satu RSUD di Yogyakarta Tahun 2004 dan 2006, Fakultas Mipa Jurusan Farmasi, Universitas Islam Indonesia, Yogyakarta.

Salamena, R.P. 2015, 'Deteksi dan Resistensi Staphylococcus aureus Patogen Pada Daging Ayam', Skripsi, S.KH, Fakultas Kedokteran, Universitas Hasanuddin, Makassar.

Santosaningsih, Dewi., Zuhriyah, L., dan Martha , N. P. 2011, Staphylococcus aureus pada Komunitas Lebih Resisten terhadap Ampisilin dibandingkan Isolat Rumah Sakit, Jurnal Kedokteran Brawijaya, vol 26, no. 4.

Sharp, S. E. And Cidy, S. 2006, Comparison of Mannitol Salt Agar and Blood Agar Plates for Identification and Susceptibility Tesing of Staphylococcus aureus In Specimens From Cystic Fibrosis Patients, J. Clin. Microbiol. 44 (12) : 4545 – 4546.

Todar, K. 2005, Bacteriology 330 Lecture Topics: Staphylococcus, Kenneth Todar University of Wisconsin Department of Bacteriology, Wisconsin, USA.

Todar, K. 2002, Staphylococcus Bacteriology at UW-Bacteriology, 330 (1), hlm 1-7.

Trzcinski, K., Cooper, B.S., Hryniewicz, W. and Dowson, C.G. 2000, Expression of Resistance to Tetracyclines in Strains of Methicillin-Resistant Staphylococcus aureus, Journal of Antimicrobial Chemotherapy, 45, 763-770.

World Health Organization. 2001, WHO Global Strategy for Containment of Antimicrobial Resistence. PP. 1–55.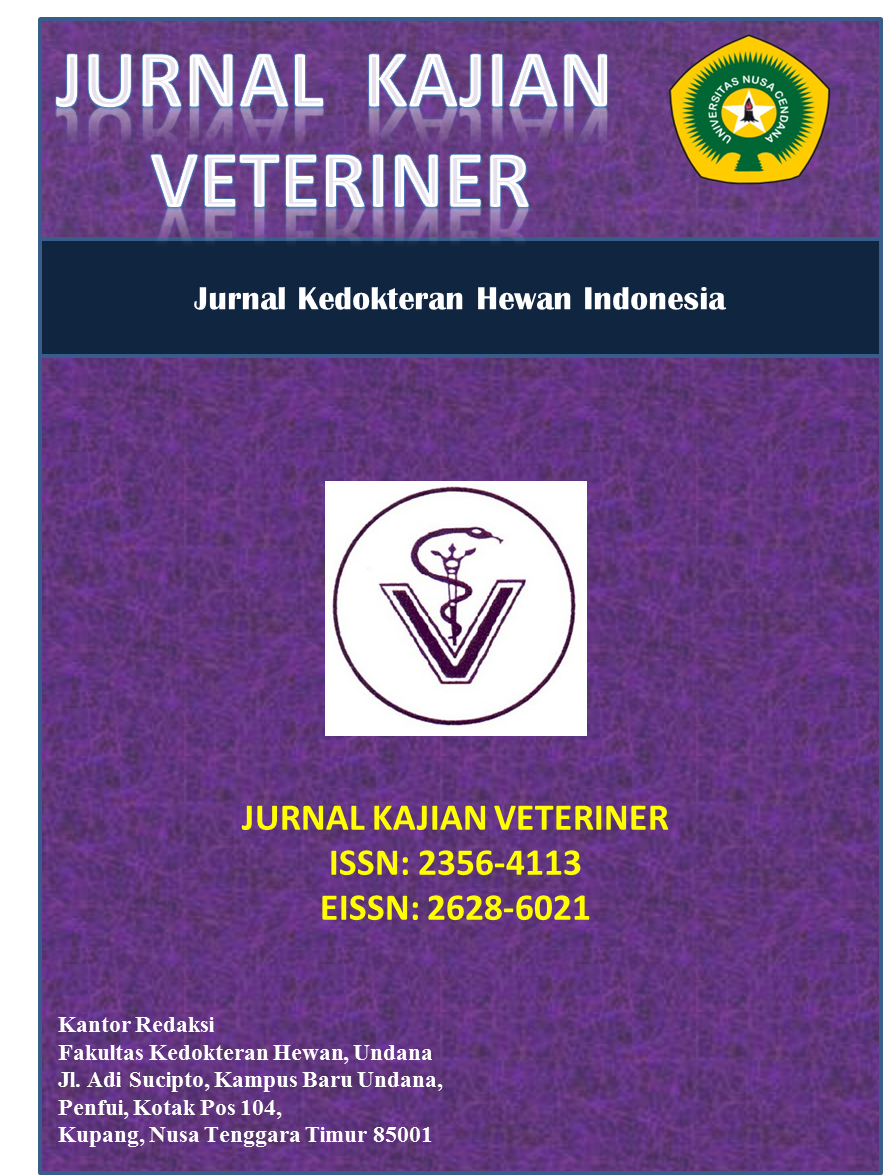 How to Cite
Sanu, E., Sanam, M., & Tangkonda, E. (2019). UJI SENSITIVITAS ANTIBIOTIKA TERHADAP Staphylococcus aureus YANG DIISOLASI DARI LUKA KULIT ANJING DI DESA MERBAUN, KECAMATAN AMARASI BARAT KABUPATEN KUPANG. JURNAL KAJIAN VETERINER, 3(2), 175-189. https://doi.org/10.35508/jkv.v3i2.1041