PREVALENSI TRICHUROSIS PADA SAPI POTONG DI KECAMATAN KASIMAN, KABUPATEN BOJONEGORO, JAWA TIMUR
Aji Winarso

Bagian Ilmu Penyakit Hewan dan Kesehatan Masyarakat Veteriner Fakultas Kedokteran Hewan Universitas Nusa Cendana

Fadjar Satrija

Departemen Ilmu Penyakit Hewan dan Kesehatan Masyarakat Veteriner Fakultas Kedokteran Hewan Institut Pertanian Bogor

Yusuf Ridwan

Bagian Ilmu Penyakit Hewan dan Kesehatan Masyarakat Veteriner Fakultas Kedokteran Hewan Universitas Nusa Cendana
Keywords:
Trichuris, beef cattle, Bojonegoro
Abstract
A cross-sectional studie was conducted to determine prevalence and risk factors of trichurosis in beef cattle in Kasiman Subdistrict, the regency of Bojonegoro. A total of 263 and 270 head of local beef cattle with various age were taken for fecal sample during dry season (August-October 2014) and wet season (February-March 2014), respectively. Feces were processed for McMaster's method. The prevalences of trichurosis were 7.22% and 5.19% in the dry season and rainy season, respectively. Seasonal factors did not significantly affect the prevalence (p=0329). During the dry season and the rainy season, the prevalence between age groups and between the sexes did not show significant differences (p>0.05). However, young cattle had a tendency to be more susceptible than older age. Cattle of age >6-12 months were more likely four times get trichurosis than adult cows (> 2 years).
References
Adedipe OD, Uwalaka EC, Akinseye VO, Adediran OA, Cadmus SIB. 2014. Gastrointestinal Helminths in Slaughtered Cattle in Ibadan, South-Western Nigeria. Hindawi J Vet Med. 2014: 1-6.

Anderson RC. 2000. Nematode Parasites of Vertebrates, Their Development and Transmission. 2nd ed. Wallingford Oxon: CABI Publishing.

Awraris T, Bogale B, Chanie M. 2012. Occurrence of Gastro Intestinal Nematodes of Cattle in and Around Gondar Town, Amhara Regional State, Ethiopia. Acta Parasitologica Globalis. 3 (2): 28-33.

Bilal MQ, Hameed A, Ahmad T. 2009. Prevalence of gastrointestinal parasites in buffalo and cow calves in rural areas of Toba Tek Singh, Pakistan. J Anim Plant Sci. 19(2): 67-70.

Gul N, Tak H. 2014. Prevalence of Trichuris spp. in small ruminants slaughtered in Srinagar District (J&K). J Parasit Dis. 4pp. doi: 10.1007/s12639-014-0570-z.

Hiko A, Wondimu A. 2011. Occurrence of nematodiasis in Holstein Friesian dairy Breed. J Vet Med Anim Health. 3(1): 6-10.

Jiménez AE, Fernández A, Alfaro R, Dolz G, Vargas B, Epe C, Schnieder T. 2010. A cross-sectional survey of gastrointestinal parasites with dispersal stages in feces from Costa Rican dairy calves. Vet Parasitol. 173: 236–246.

Jittapalapong S, Sangwaranond A, Nimsuphan B, Inpankaew T, Phasuk C, Pinyopanuwat N, Chimnoi W, Kengradomkij C, Arunwipat P, Anakewith T. 2011. Prevalence of Gastro-Intestinal Parasites of Dairy Cows in Thailand. Kasetsart J. 45: 40-45.

Tshering G, Dorji N. Prevalence of Gastrointestinal Parasites in Free Range Cattle; a Case Study in Haa District, Bhutan. J Anim Health Prod. 1 (4): 36-37.

Urquhart GM, Armour J, Duncan JL, Dunn AM, Jennings FW. 1996. Veterinary Parasitology. 2nd ed. Oxford: Blackwell Science.

Wideman GN. 2004. Fatal Trichuris spp. infection in a Holstein heifer persistently infected with bovine viral diarrhea virus. Can Vet J. 45:511–512.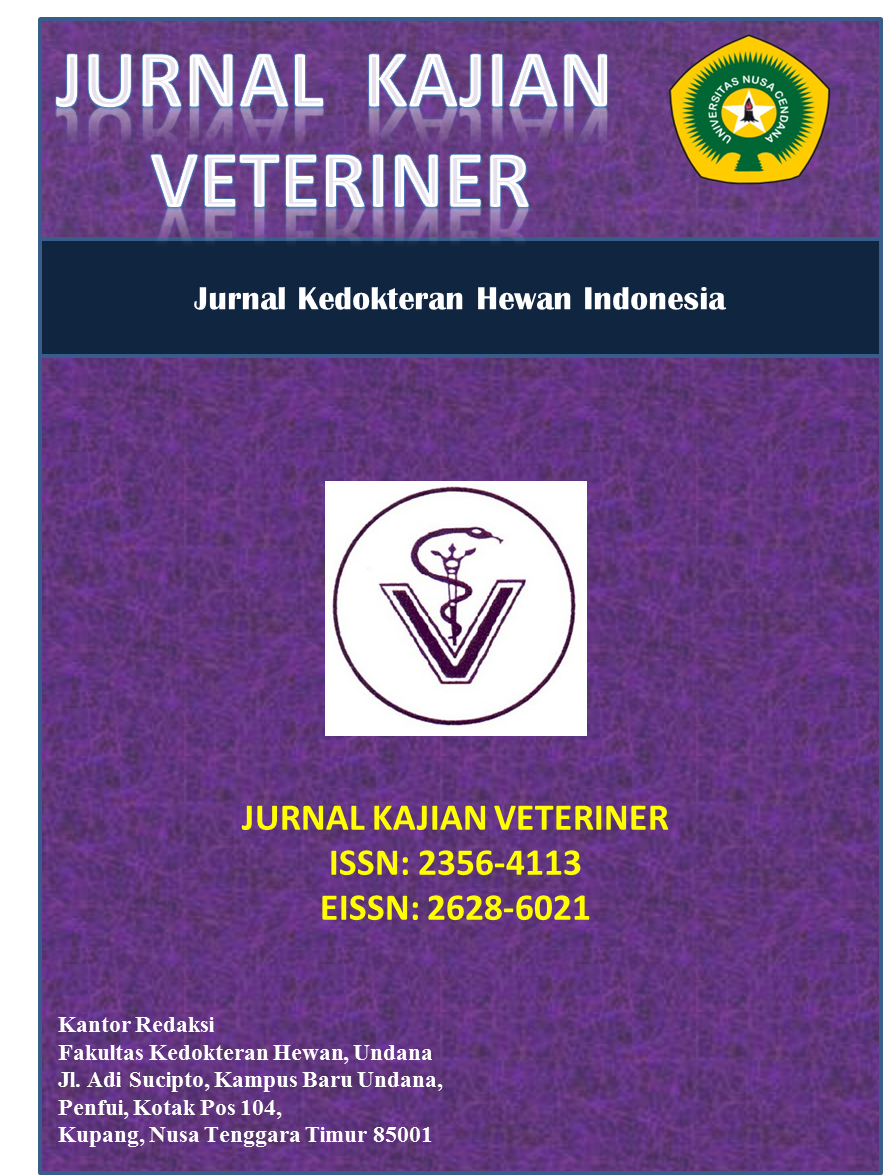 How to Cite
Winarso, A., Satrija, F., & Ridwan, Y. (2019). PREVALENSI TRICHUROSIS PADA SAPI POTONG DI KECAMATAN KASIMAN, KABUPATEN BOJONEGORO, JAWA TIMUR. JURNAL KAJIAN VETERINER, 3(2), 225-230. https://doi.org/10.35508/jkv.v3i2.1045