EFEKTIVITAS BAKTERI ASAM LAKTAT YANG DIISOLASI DARI SUSU KUDA SUMBA TERHADAP KUALITAS SILASE JERAMI PADI
Annytha Ina Rohi Detha

Bagian Ilmu Penyakit Hewan dan Kesehatan Masyarakat Veteriner Fakultas Kedokteran Hewan Universitas Nusa Cendana

Frans Umbu Datta

Laboratorium Anatomi, Fisiologi, Farmakologi dan Biokimia Fakultas Kedokteran Hewan Universitas Nusa Cendana

Elisabet Beribe

Fakultas Kedokteran Hewan Universitas Nusa Cendana

Nancy D. F. K. Foeh

Laboratorium Klinik, Reproduksi, Patologi dan Nutrisi Fakultas Kedokteran Hewan Universitas Nusa Cendana

Nemay Ndaong

Laboratorium Anatomi, Fisiologi, Farmakologi dan Biokimia Fakultas Kedokteran Hewan Universitas Nusa Cendana
Keywords:
sumba mares milk, lactic acid bakteria, silage
Abstract
This study aims to evaluate the ability of lactic acid bacteria isolated from Sumba horse milk as a starter in improving the quality of rice straw silage. Determination of the quality of rice straw silage through organoleptic tests, measurement of percentage of silage damage and silage pH. there are 7 treatments based on silage compositions and lactic acid bacteria. The results showed the presence of golden color in all treatments as the original color, the texture was very soft to soft and not slimy, and the presence of a distinctive silage odor or close to the typical smell of silage in all treatments. The presentation of silage damage to rice straw in the positive control group showed the highest percentage of damage that was equal to 43.58%, while the percentage of damage in the treatment group ranged from 28.57% to 41.02%. The pH results showed the control group had a pH of 3.6 and the P1-P6 group had an average pH ranging from 5.7 to 6.5. The addition of lactic acid bacteria in the manufacture of silage in rice straw provides good quality silage results.
References
Asngad, A. 2005, Perubahan Kadar Protein pada Fermentasi Jerami Padi dengan Penambahan Onggok untuk Makanan Ternak. Jurnal Penelitian Sains dan Teknologi. 6(1):65-74.

Cappuccino, J.G. and Sherman, N. 2001, Microbiology; a Laboratory Manual.6th edition. New York: State University of New York.

Datta FU, Detha A, Foeh N. 2017. Laporan Penelitian Produk Terapan : Isolasi bakteri asam laktat dari minuman berfermentasi asal NTT sebagai bahan campuran silase. Lembaga Penelitian Universitas Nusa Cendana.

Detha A, Sudarwanto M, Latif H, Datta FU, Latif P. 2013. Fractionation and Identification Antimicrobial Activity of Sumba Mare's Milk Protein Against Subclinical Mastitis Bacteria in Dairy Cattle. Global Veterinaria 11(5): 674-680.

Detha A. Sudarwanto M, Latif H, Datta FU. 2014. Kajian Komposisi Kimiawi dan Fraksinasi Protein Susu Kuda Sumba. Jurnal Veteriner 15 (4) : 506-514.

Hidayat, N., Widiyastuti, T. and Suwarno. 2012, The Usage of Fermentable Carbhydrates and Level of Lactic Acid Bacteria on Physical and Chemical Characteristics of Silage. Prosiding Seminar Nasional "Pengembangan Sumber Daya Pedesaan dan Kearifan Lokal Berkelanjutan II". Purwokerto.

Jasin, I. 2014, Pengaruh Penambahan Molases dan Isolat Bakteri Asam Laktat dari Cairan Rumen Sapi PO terhadap Kualitas Silase Rumput Gajah (Pennisetum purpureum). Jurnal Agri Peternakan 14 (1) :50-55.

Kurniawan, D., Erwanto, dan Fathul, F. 2015, Pengaruh Penambahan berbagai Starter pada Pembuatan Silase terhadap Kualitas Fisik dan pH Silase Ransum Berbasis Limbah Pertanian. Jurnal Ilmiah Peternakan Terpadu 3(4): 191-195.

Rattanachaikunsopon P, Phumkhachorn P. 2010. Lactic acid bacteria: their antimicrobial compounds and their uses in food production. Annals of Biological Research, 1(4): 218-223.

Sujaya, N., Ramona, Y., Widarini, N. P., Suariani, N. P., Dwipayanti, N. M. U., Nocianitri, K. A. dkk 2008, Isolasi dan Karakterisasi Bakteri Asam Laktat dari Susu Kuda Sumbawa. Jurnal Veteriner 9 (2) :52-59.

Thalib. A., Bestari J., Widiawati Y., Hamid H., dan Suherman, D. 2000, Pengaruh Perlakuan Silase Jerami Padi dengan Mikroba Rumen Kerbau terhadap Daya Cerna dan Ekosistem Rumen Sapi . Jumal Ilmu Temak Dan Veteriner 5(1): 1-6.

Utomo, R. 2015, Konservasi Hijauan Pakan dan Peningkatan Kualitas Bahan Pakan Berserat Tinggi. Cetakan ke-1. Gadjah Mada University Press, Yogyakarta.

Wahjuni, R S., Bijanti, R. dan Sidik, R. 2010, Produk Metabolit Cairan Rumen Domba yang diberi Starter Bakteri Asam Laktat dan Yeast pada Rumput Gajah dan Jerami Padi. Veterinaria Medika. 3 (1):35-40.

Wibowo MS. 2012, Pertumbuhan dan Kontrol Bakteri. Gajah Mada University Press. Yogyakarta.

Widyastuti, Y. 2008, Fermentasi Silase dan Manfaat Probiotik Silase bagi Ruminansia. Media Peternakan 31 (3):225-232.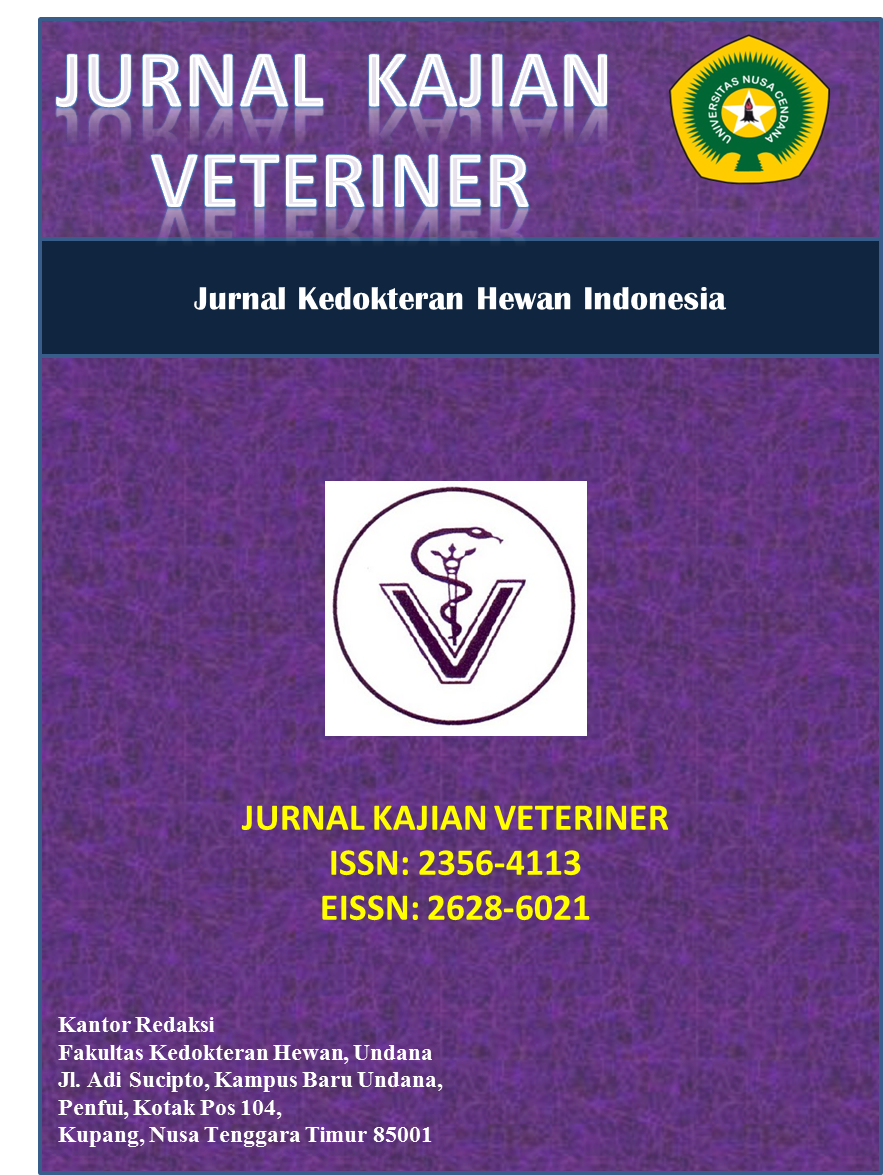 How to Cite
Detha, A., Datta, F., Beribe, E., Foeh, N., & Ndaong, N. (2019). EFEKTIVITAS BAKTERI ASAM LAKTAT YANG DIISOLASI DARI SUSU KUDA SUMBA TERHADAP KUALITAS SILASE JERAMI PADI. JURNAL KAJIAN VETERINER, 6(1), 31-37. https://doi.org/10.35508/jkv.v6i1.1053