PENDEKATAN DIAGNOSA ENDOCARDITIS PADA ANJING MINI POMERANIAN
Awang Teja Satria

Praktisi Hewan Kecil, Kota Malang
Keywords:
Congestive Heart Failure, X-ray, Echocardiography, Right Ventricle, Left Ventricle
Abstract
Endocarditis is one of the causes of heart disease and as a major cause of congestive heart failure (CHF), namely a pathological condition due to the heart can not carry out its function to pump blood adequately in to sufficient the body's metabolic needs, including oxygen and nutrients. The clinical symptoms of endocarditis vary from mild to severe and often lead to death. This study aims to prove the existence of impaired heart function in a Pomeranian dog in determining the diagnosis of endocarditis through physical, hematological, X-ray and echocardiography/ultrasound. Reliability and accuracy in diagnosing endocarditis are important factors in therapeutic efforts that can improve clinical conditions and extend the life span of dogs.
       A 4-year-old male Pomeranian dog suspected of suffering from Endocarditis since 2 months ago, with clinical manifestations of dyspnea, cough, fever, pale and decreased or lost appetite. Physical examination of dogs followed by blood tests showed Leukocytosis (37.5 µL), Thrombocytosis (686 µL), Granulocytosis (30.3 µL) and Lymphocytosis (6.1 µL) which indicated inflammation or chronic infection. While on the results of the blood chemistry examination, an increase in Alkaline Phosphatase / ALP (115 цL) showed a dysfunction of non-specific organs such as the pancreas, liver, bone, kidney. Furthermore, the accuracy of diagnosis is done by X-ray examination in the left dorsal, right dorsal and dorsoventral positions. Ventrodorsal position is not recommended because of shortness of breath dog consideration. X-ray results showed Cardiomegaly which showed an enlargement of the right atrial area with a rounded heart apex, and vasodilation in the pulmonary arteries and veins.  While on echocardiography/ultrasound examination showed tricuspidalis valve thickening and a bit slow closing, giving a tachycardia effect with the Right Ventricular / RV diameter ratio when diastole (1.30 cm) is greater than the Left Ventricel / LV diameter ratio (0.96 cm).    
       Based on the results of ultrasound which is supported by the results of clinical examination, blood chemistry and X-ray, provides an interpretation of the diagnosis of Endocarditis so that treatment can be carried out appropriately and accurately.
References
Anonim. 2006. The Merck Veterinary Manual. Http//merck.co.inc.
Aupperle H, März I, Thielebein J, Kiefer B, Kappe A, Schoon HA. 2009. Immunohistochemical characterization of the extracellular matrix in normal mitral valves and in chronic valve disease (endocardiosis) in dogs. https://www.ncbi.nlm.nih.gov/pubmed/19246062
Bates, Barbara. 1998. Pemeriksaan Fisik dan Riwayat Kesehatan. Jakarta. EGC.
Borgarelli, M dan Haggstrom, J. 2010. Canine Degenerative Myxomatous Mitral Valve Disease: Natural History, Clinical Presentation and Therapy.Vet Clin Small Animal. 1ˢᵗ Edition. Iowa : Blackwell Publishing
Brevitz, 2009. The Complete Healthy Dog Handbook: The Definitive Guide to Keeping Your Pet. New York.USA
Brown DJ, et al. 2005. Quantitative echocardiographic evaluation of mitral endocardiosis in dogs using ratio indices. J Vet Intern Med
Jain NC. 1993. Essential of Veterinary Hematology. Philadelphia : Lea & Febiger. USA
Kevin, A. 2019. Mengetahui Kondisi Tubuh Dengan Pemeriksaan X-ray. https://www.alodokter.com/mengetahui-kondisi-tubuh-dengan-bantuan-x-ray
Mahmud, A., 2010. Congestive Heart Failure In Dog. Clinical Concept. JB Media. Jawa Barat

Mannion P. 2006. Diagnostic Ultrasound in Small Animal Practice. United Kingdom: Blackwell Publishing.
Maylina, L. 2013. Profil Hematologi dan Kimia Darah Anjing Yang Terinfeksi Kombinasi Babesia sp dan Haemobartonella.IPB Press. Bogor
Morgan, et al. 2002. Lecture Notes:Kardiologi. Edisi Ke Empat. Penerbit Erlangga
Muhlisin, A. 2019. Penyebab Trombosit Tinggi dan Akibatnya. https://www.honestdocs.id/penyebab-trombosit-tinggi-akibatnya
Nelson, R.W. and Couto, C.Guilermo, 2014. Small Animal Internal Medicine. 5ᵗʰ Ed.Canada.
O'Sullivan ML, O'Grady MR. 2010. Clinical Evaluation of Heart Disease. http://vetgo.com/cardio/concepts/concsect.php?sectionkey=2&section=Clinical%20Evaluation%20of%20Heart%20Disease
Pedersen HD. 2000. Mitral Valve Prolapse in the Dog: Pathogenesis, Pathophysiology, Diagnosis and Comparative Aspects of Early Myxomatous Mitral Valve Disease. The Royal Veterinary and Agricultural University. Copenhagen, Denmark.
Poteet BA. 2008. Radiology of the Heart. Didalam Tilley LP, Smith FWKJr, Mark AO, & Meg MS. Manual of Canine and Feline Cardiology.Canada: Saunders
Root CR, Robert JB. 2002. The heart and Great Vessels. Di dalam Thrall DE. Teksbook of Vetrinary Diagnostic Radiology. 4ᵗʰedition. London: W. B.Saunders Company
Rubenstein D, et al. 2003. Lecture Notes : Kedokteran Klinis. Edisi ke-6. Jakarta (ID) : Erlangga Medical Series.
Schille S, Skrodzki M. 1999. M-mode Echocardiographic Reference Value in Cats in The First Three Months of Life. Veterinary Radiology and Ultrasound. Saunders, Canada
Schober KE, et al. 2010. Detection of congestive heart failure in dogs by Doppler echocardiography. J Vet Intern Med. Saunders, Canada
Smith FWK. 2009. Thoracic Radiography of Cardiac Disease. 81ᵗʰ Western Veterinary Conference. Saunders. Philadelphia
Speicher EC, Smith WJ. 1983. Pemilihan Uji Laboratorium yang Efektif. Jakarta (ID): EGC.
Thrall, DE. 2002. Teksbook of Vetrinary Diagnostic Radiology. 4 edition. London: W. B. Saunders Company.
Tilley, Larry.P and Smith, F.W.K, 2015. Blackwell's Fife-Minute Veterinary Consult : Canine and Feline. 6. Iowa: Blackwell Publishing
Ware WA. 2007. Cardiovascular Disease in Small Animal Medicine. London: Manson publishing Ltd
Widodo, S. 2011. Diagnostik Klinik Hewan Kecil. IPB Press.Bogor.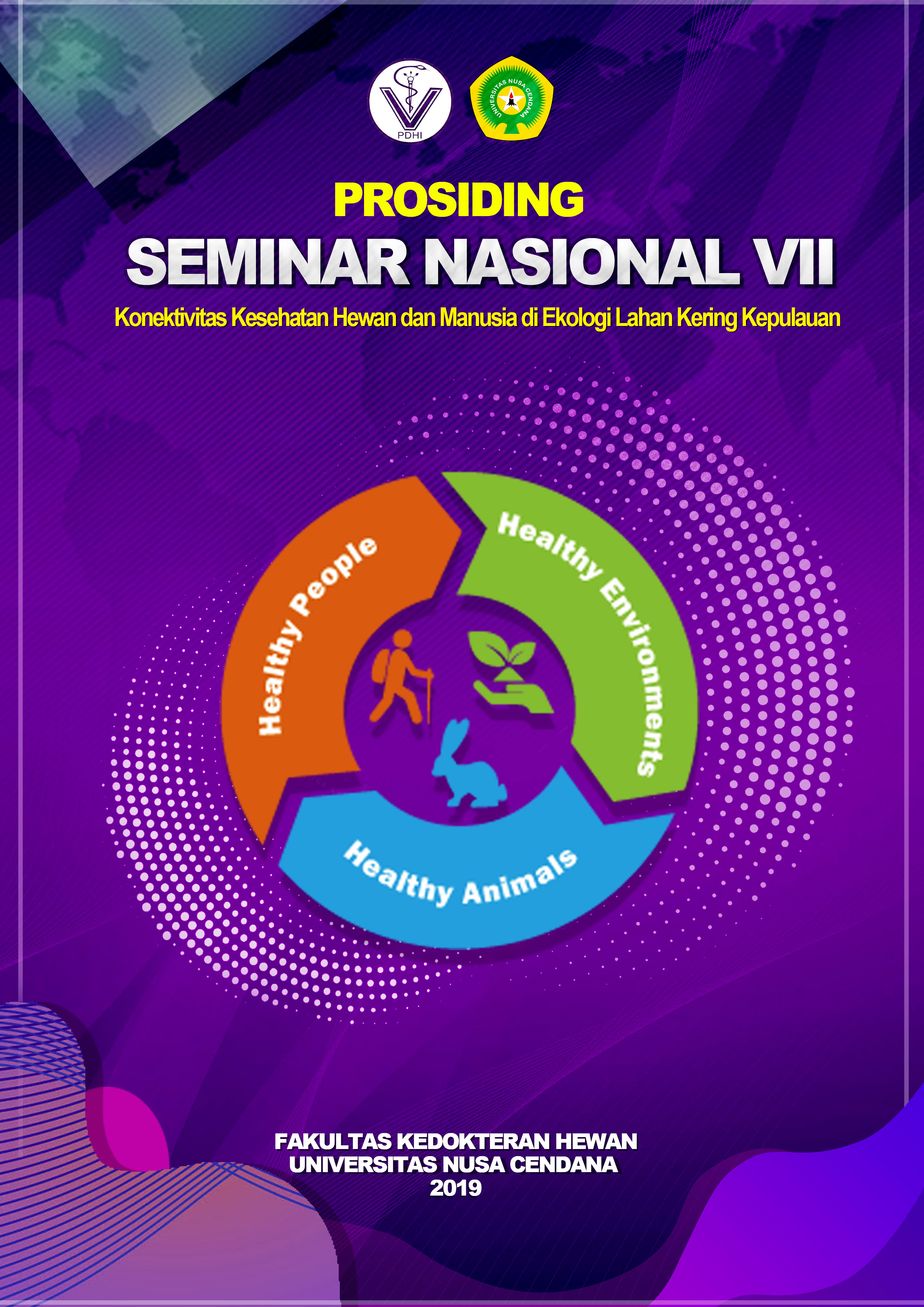 How to Cite
Satria, A. (2019). PENDEKATAN DIAGNOSA ENDOCARDITIS PADA ANJING MINI POMERANIAN. JURNAL KAJIAN VETERINER, 86-97. https://doi.org/10.35508/jkv.v0i0.1591