PENGARUH GEL EKSTRAK DAUN AKASIA (Acacia auriculiformis) TERHADAP PROSES PENYEMBUHAN LUKA SAYAT PADA MENCIT (Mus musculus)
Sriyanti Aoetpah

Fakultas Keguruan Dan Ilmu Pendidikan Universitas Kristen Artha Wacana

Alan Ch. Sabuna

Fakultas Keguruan Dan Ilmu Pendidikan Universitas Kristen Artha Wacana

Sonya Titin Nge

Fakultas Keguruan Dan Ilmu Pendidikan Universitas Kristen Artha Wacana
Keywords:
Acacia Leaf, Gel, Wound Cut, Wound Healing
Abstract
Acacia plant (Acacia auriculiformis) contains chemical compounds they are saponin, tanin and flavonoid. These compounds potentially in healing cut. This research used acacia leaf extract (Acacia auriculiformis) making in form of gel for the process of wound healing cut on mouse (Mus musculus). The purpose of this research are to know the influences of extract gel acacia leaf (Acacia auriculiformis) and to know the optimum concentracion  extract gel acacia leaf that affective in wound healing cut on mouse (Mus musculus). Concentration variation of extract acacia leaf are 7%, 9% and 11%. The method used in research is experimental method with the complete random desing (CRD). Physical test supply gel that doing including pH test  and homogenitas. Effective test gel in healing cut doing on 15 mice which separated became three treatments and two controls. Each treatment and control contains three mice which get cut with size 1,5 cm. The first  treatment give 7% gel cocentration, the second treatment give 9% gel concentration, the first treatment give 11%, negative control give base gel and positive control give bioplacenton. Data analyze used Anova test one way and continue test LSD. Research result showed that extract gel acacia leaf with concentration variation 7%, 9% and 11% fulfill physic test gel supply that are pH test and homogenitas. Analysis result Anova one way showed that extract gel acacia leaf (Acacia auriculiformis) influence in the process of wound healing cuts on miouse (mus musculus). Based on the continue test LSD then known optimum concentration extract gel acacia leaf (Acacia auriculiformis) that effective of wound healing cuts on mouse (Mus musculus) that are 11%.
References
Ayanati A. 2011. Sediaan Gel. Farmasi Universitas Jendral Ahmad Yani. Bandung.
Dalimartha S. 2006. Atlas Tumbuhan Obat Idonesia Jilid 4. Puspa Swara. Jakarta.
Dewantri R. D, Sugiahartini N. 2015. Formulasi Dan Uji Aktivitas Gel Ekstrak Daun Petai Cina (Leucaena Glauca, Benth) Sebagai Sediaan Obat Luka Bakar. Jurnal farmasi sains. Universitas Ahmad Dahlan. Yogyakarta.
Handayany N.G, Mukhriani, Halim M. R. 2015. Uji Efek Penyembuhan Luka Sayat Ekstrak Etanol Daun Kecombrang (Etlingera elatior) Dalam Bentuk Sediaan Gel Terhadap Kelinci (Oryctolagus cuniculus). Jurnal farmasi. Universitas Islam Negeri Alauddin. Makasar.
Hendrati R. L, Nurrohmah S. H, Susilawati S, Budi S.2014. Budidaya Acacia auriculiformis Untuk Kayu Energi. IPB Press. Bogor.
Hornok, L.1992. General Aspects Of Medicinal Plants. Di Dalam: Hornok L.Editor. Cultivationand Processing Of Medicinal Plants. Jhon Wiley dan Kuntjoro, dan I. B. I Gotama (ed). New York.
Mappa T. , Hosea Jaya Edy., Novel Kojong. 2013. Formulasi Gel Ekstrak Daun Sasaladahan (Peperomia pellucida (L.) H.B.K) Dan Uji Efektivitasnya Terhadap Luka Bakar Pada Kelinci (Oryctolagus cuniculus). Jurnal Ilmiah Farmasi.Unsrat Manado. Manado.
McMeniman, Beale IF, Murphy GM. 1986. Nutritional Evaluation Of South West Queesland Pastures 2. The Intake And Digestion Of Organic Matter And Nitrogen By Sheep Grazing On Mitchell Grass And Mulga Grassland Association. Australian Journal of Agricultural Research. Australia.
Nur. N. Nabilah. 2017. Perbedaan Penyembuhan Luka Sayat Secara Makroskopis Antara Pemberian Topikal Ekstrak Sel Punca Mesenkimal Tali Pusat Manusia Dengan Gel Bioplacenton Pada Tikus Putih Jantan (Rattus norvegicus) Galur Sprague Dawley. Skripsi. Fakultas Kedokteran Universitas Bandar Lampung. Lampung.
Perdanakusuma D. S. 2007. Anatomi Fisiologi Kulit Dan Penyembuhan Luka. Fakultas Kedokteran Universitas Airlangga. Surabaya.
Pusponegoro A. D. 2005. Luka. Dalam Buku Ajar Ilmu Bedah Edisi ke-2. EGC, Penyunting: Sjamsuhidajat R, De Jong W. Jakarta.
Rahayu T. I. 2016. Aktivitas Ekstrak Kasar Tanin Daun Pepaya Dalam Mengurangi Ekspresi Gen Pembentuk Staphyococcal enterotoxin. Skripsi. Institut Pertanian Bogor. Bogor.
Rohmah, M. S. dan Fuadah Z. D. 2016. Efektivitas Daun Petai Cina (Leucaena leucocephala) Dan Daun Jarak Pagar (Jatropha curcas) Dalam Proses Penyembuhan Luka Bakar Grade II Pada Tikus Putih (Rattus norvegicuss). Jurnal Keperawatan Stikes Karya Husada. Kediri.
Setyningrum D. E, Kartika R, Simanjuntak P. 2017. Uji Skrining Fitokimia Dan Uji Aktivitas Antioksidan Dari Ekstrak Daun Akasia (Acacia auriculiformis). Karya Tulis Ilmiah. Universitas Mulawarman. Samarinda.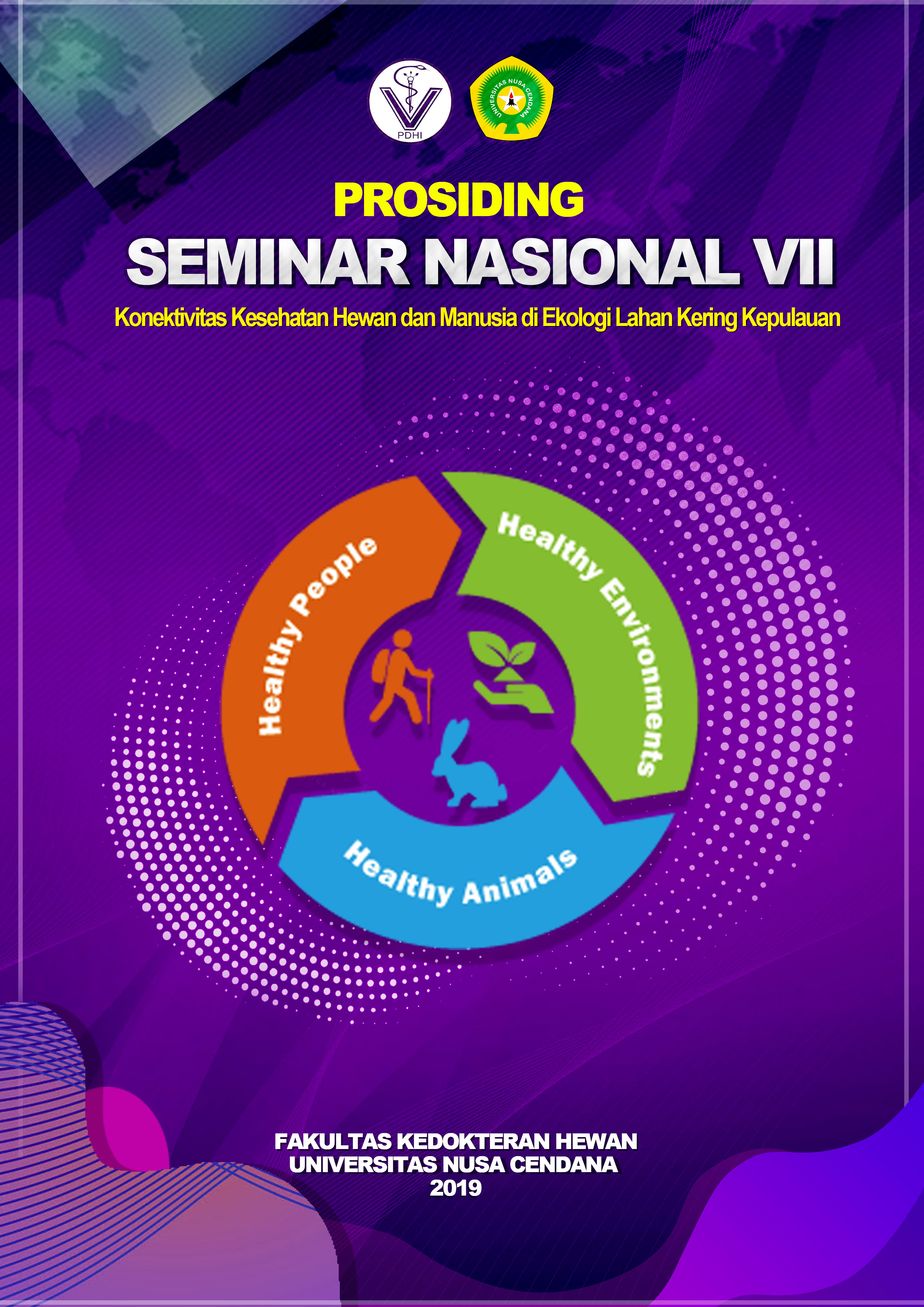 How to Cite
Aoetpah, S., Sabuna, A., & Nge, S. (2019). PENGARUH GEL EKSTRAK DAUN AKASIA (Acacia auriculiformis) TERHADAP PROSES PENYEMBUHAN LUKA SAYAT PADA MENCIT (Mus musculus). JURNAL KAJIAN VETERINER, 167-176. https://doi.org/10.35508/jkv.v0i0.1601