KEBERADAAN SALMONELLA SP. PADA SUSU OLAHAN ASAL KEDAI SUSU DI SEKITAR PERMUKIMAN MAHASISWA INSTITUT PERTANIAN BOGOR
Ulfa Apriliana Annisa

IPB University Student

Mirnawati B Sudarwanto

Divisi Kesehatan Masyarakat Veteriner dan Epidemiologi, Departemen Ilmu Penyakit Hewan dan Kesehatan Masyarakat Veteriner, Fakultas Kedokteran Hewan, Institut Pertanian Bogor

Susi Soviana

Divisi Parasitologi dan Entomologi Kesehatan, Departemen Ilmu Penyakit Hewan dan Kesehatan Masyarakat Veteriner, Fakultas Kedokteran Hewan, Institut Pertanian Bogor

Herwin Pisestyani

Divisi Kesehatan Masyarakat Veteriner dan Epidemiologi, Departemen Ilmu Penyakit Hewan dan Kesehatan Masyarakat Veteriner, Fakultas Kedokteran Hewan, Institut Pertanian Bogor
Keywords:
milk, Salmonella sp., student settlement area of IPB University
Abstract
Nowadays, milk is one of the favorite drinks for Indonesian people. This relates to the awareness of society about healthy food is increasing. At the same time, there are many milk retail that are appearing. The purpose of this study was to detect the presence and level of contamination of Salmonella sp. in processed milk from milk retail around the students settlement area of ​​IPB University. In Indonesia the standard for identifying Salmonella sp. refer to Indonesian National Standard 2897: 2008. This method consists of 5 stages: pre-enrichment, enrichment, selective media planting, confirmation based on biochemical and serological tests. Milk samples in this study came from 14 milk retail in the students settlement area of the IPB University. The milk samples were taken are plain milk (milk that has not added flavor (flavorings), sugar, and ice). The selection of milk retail is taken within a radius of 2 km from the midpoint of the IPB campus in the Dramaga and Cilibende areas. Based on the results of this study, it was found that all milk samples examined showed negative results which means no Salmonella sp. contamination was found. From this study it can be concluded that the quality of processed milk sold in milk retail around the student settlement area of IPB University is good.
References
Anjung, M.U.K. (2016). Identifikasi cemaran Salmonella sp. dan isolasi bakteriofage sebagai biokontrol dalam penanganan pasca panen udang vannamei (Litopennaus vannamei). Thesis. Fakultas Pertanian Universitas Lampung, Bandar Lampung.
http://digilib.unila.ac.id/

Arifin, I.M. (2015). Deteksi Salmonella sp. pada daging sapi di pasar tradisional dan pasar modern di Kota Makassar. Skripsi. Fakultas Kedokteran Hewan Universitas Hasanuddin, Makassar.
http://repository.unhas.ac.id/

AOAC (Association of Official Analytical Chemist). (1995). Official Methods of Analysis, 16th Ed. Association of Official Analytical Chemist. AOAC International, Geithersburg Md.

Badan Ketahanan Pangan. (2019). Direktori Perkembangan Konsumsi Pangan. Kementrian Pertanian, Jakarta.
http://bkp.pertanian.go.id/

[BSN] Badan Standarisasi Nasional. (2000). Batas Maksimum Cemaran Mikroba dan Batas Maksimum Residu dalam Bahan Makanan Asal Hewan SNI 01-6366 2000. Badan Standarisasi Nasional, Jakarta.

Cita. Y.P. (2011). Bakteri Salmonella Typhi dan demam typhoid. Jurnal Kesehatan Masyarakat. 6 (l): 42-46.
http://jurnal.fkm.unand.ac.id/

Cox, N.A., Berrang, M.E., and Cason, J.A. (2000). Salmonella penetration of egg shell and proliferation in broiler hatching eggs-a review. Poult Sci. 79 (11): 1571-1574.
https://www.ncbi.nlm.nih.gov/pubmed

Crump, J.A., Luby, S.P., and Mintz, E.D. (2004). The global burden of typhoid fever. Bull World Health Organ. 82 (5): 346–353.
https://www.ncbi.nlm.nih.gov/pubmed

Eng, A.K., Pusparajah, P., Ab Mutalib, N.S., Ser, H.L., Chan, K.G., and Lee, L.H.. (2015). Salmonella: A review on pathogenesis, epidemiology, and antibiotics resistance. Front Life Sci. 8 (3): 284-293.
https://www.tandfonline.com/

Giannella, R.A. (1996). Salmonella. Medical Microbiology 4th edition. The University of Texas Medical Branch, Galveston.

Hyeon, J.Y., Chon, J.W., Hwang, I.G., Kwak, H.S., Kim, M.S., Kim, S.K., Choi, I.S., Song, C.S., Park, C., and Seo, K.H. (2011). Prevalence, antibiotic resistance, and molecular characterization of Salmonella serovars in retail meat products. J Food Prot. 74 (1): 161–166.
https://www.ncbi.nlm.nih.gov/pubmed

Isyana, F. (2012). Studi tingkat higiene dan cemaran bakteri Salmonella sp. pada pembuatan dangke susu sapi di Kecamatan Cendana Kabupaten Enrekang. Skripsi. Fakultas Peternakan Universitas Hasanuddin, Makassar.
http://repository.unhas.ac.id/

Karon, A.E., Archer, J.R., Sotir, M.J., Monson, T.A., and Kazmierczak, J.J. (2007). Human multidrug-resistant Salmonella newport infections, Wisconsin, 2003–2005. Emerging Infect Dis. 13 (11): 1777–1780.
https://wwwnc.cdc.gov/eid/article/13/11/06-1138_article

Noor, S.M., Masniari, P., and Andriani. (2006). Kepekaan Isolat Salmonella Entiritidis dan Salmonella Hadar yang Diisolasi dari Daging Ayam Terhadap Antibiotika. Prosiding Seminar Nasional Teknologi Peternakan dan Veteriner. Puslitbang Peternakan. pp. 743-748.
http://balitnak.litbang.pertanian.go.id/

Motarjemi, Y., Moarefi, M., and Jacob, M. (2006). Penyakit Bawaan Makanan Fokus Pendidikan Kesehatan. EGC, Jakarta.

Poeloengan, M., Komala, I., and Noor, S.M. (2005). Bahaya Salmonella terhadap kesehatan. Di dalam: Bahri SS, Diwyanto K, Inounu I, Sendow I, Priyanti A, Noor SM, Handiwirawan E, editor. Lokakarya Nasional Penyakit Zoonosis. Pusat Penelitian dan Pengembangan Peternakan. pp 216-224.

Suwito, W. (2010). Bakteri yang sering mencemari susu: deteksi, patogenesis, epidemiologi, dan cara pengendaliannya. Jurnal Litbang Pertanian. 29 (3): 96-100.
http://ejurnal.litbang.pertanian.go.id/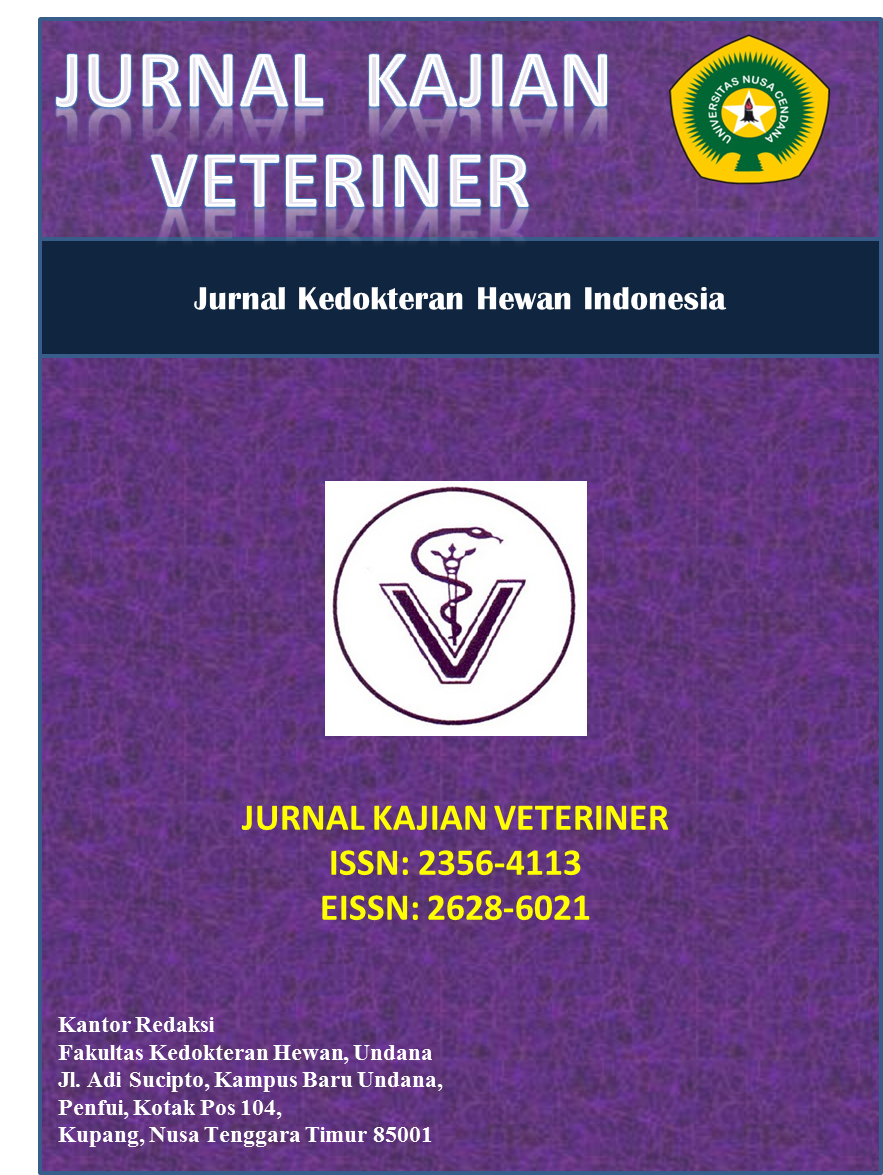 How to Cite
Annisa, U., Sudarwanto, M., Soviana, S., & Pisestyani, H. (2020). KEBERADAAN SALMONELLA SP. PADA SUSU OLAHAN ASAL KEDAI SUSU DI SEKITAR PERMUKIMAN MAHASISWA INSTITUT PERTANIAN BOGOR. JURNAL KAJIAN VETERINER, 8(1), 34-42. https://doi.org/10.35508/jkv.v8i1.2229
Copyright (c) 2020 JURNAL KAJIAN VETERINER
This work is licensed under a Creative Commons Attribution-NonCommercial-NoDerivatives 4.0 International License.