EFEKTIVITAS PEMBERIAN SALEP EKSTRAK ETANOL DAUN ANTING – ANTING (Acalypha indica Linn.) TERHADAP KESEMBUHAN LUKA INSISI PADA MENCIT (Mus musculus)
The Effectiveness of Topical Ointment Containing Ethanolic Extract of Acalypha Indica Leaves on Wound Healing on Mice (Mus Musculus)
Meity Marviana Laut

Bagian Farmakologi dan Toksikologi Fakultas Kedokteran Hewan Universitas Nusa Cendana

Nemay Ndaong

Bagian Farmakologi dan Toksikologi Fakultas Kedokteran Hewan Universitas Nusa Cendana

Tri Utami

Bagian Bedah dan Radiologi Fakultas Kedokteran Hewan Universitas Nusa Cendana

Maria Junersi

Fakultas Kedokteran Hewan Universitas Nusa Cendana

Yovita Bria Seran

Fakultas Kedokteran Hewan Universitas Nusa Cendana
Keywords:
fibroblas, kolagen, salep betadin, daun anting-anting
Abstract
Regenerasi dan pemulihan jaringan luka merupakan proses fisiologi normal tubuh dalam merespon perlukaan untuk mengembalikan integritas dan fungsi normal kulit. Kesembuhan luka dapat dipercepat dengan pemberian obat kimia maupun obat alami. Salep betadine 10% adalah obat kimia yang sering digunakan dalam perawatan luka untuk menstimulasi penyembuhan luka. Sedangkan, tanaman anting – anting (Acalypha indica) diketahui memiliki aktivitas antiinflamasi, antibakteri, antioksidan, dan antiulser. Daun anting – anting telah lama digunakan oleh masyarakat lokal di NTT untuk mengobati luka dan gangguan kulit lainnya pada ternak peliharaannya. Penelitian ini bertujuan untuk mengetahui gambaran makroskopik dan jumlah fibroblas pada kesembuhan luka insisi pada mencit yang diberi terapi salep ekstrak etanol daun anting – anting (EEDAA), sekaligus sebagai bukti empiris fitofarmaka ini bagi masyarakat lokal di NTT. Penelitian ini bersifat eksperimental laboratorik, menggunakan 30 ekor mencit jantan sehat, berumur 3-4 bulan dengan berat badan berkisar 30-40g. Mencit dibagi dalam 5 kelompok yaitu kelompok kontrol negatif (KN) dan positif (KP) yang masing – masing diaplikasikan basis salep vaselin album dan salep betadine 10%; serta tiga kelompok perlakuan yang masing – masing diberikan salep EEDAA konsentrasi 5%, 10% dan 20%. Setiap kelompok dibuat luka sayat pada area dorsum, dengan ukuran panjang 1.5 cm dengan kedalaman 2 mm. Bahan topikal diberikan sebanyak 2 kali/hari. Pengampilan sampel jaringan luka dilakukan pada hari ke-3, ke-7 dan ke-14. Hasil penelitian menunjukkan bahwa pemberian salep EEDAA konsentrasi 10% menunjukkan kesembuhan luka yang lebih cepat dan optimal dibandingkan dengan salep betadine 10%, salep EEDAA 5% dan 20%.
References
Ajizah, A. 2004, Sensitivitas Salmonella Typhimurium Terhadap Ekstrak Daun Psidium Guajava L, Bioscientiae, 1(1).
Ayyanar M, Ignacimuthu S. 2009. Herbal medicines for wound healing among tribal people in Southern India: Ethnobotanical and Scientific Evidences. International Journal of Applied Research in Natural Products 2 (3) 99-42
Azaria C, Achadiyani, Farenia R. 2017. Topical effect of pineapple (Ananas comosus) juice in combustio healing process measured by granulation process, reepitelisation and angiogenesis. Journal of Medicine and Health 1 (5): 432 – 444.
Fisher, N. M., Marsh, E., Lazova, R. 2003, Scar-Localized Argyria Secondary to Silver Sulfadiazine Cream, Journal of the American Academy of Dermatology, 49(4): 730-2.
Gunawan, S.G., (2008). Farmakologi dan Terapi. Edisi Kelima. Jakarta: FK Universitas Indonesia.
Hayes, E. R., Kee, J. L. 1996, Farmakologi: Pendekatan Proses Keperawatan, Alih Bahasa Peter Anugerah. EGC, Jakarta, hal 140-151.
Li, J, Juan, C, Kirsner, R. 2007. Pathophysiology of acute wound healing. Clinics in Dermatology. 25:9-18.
Mallefet, P., and Dweck, A.C. (2008). Mechanism of Wound Healing Examined, Personal Care, 9 (3), 75 – 83.
Marwah RG, Fatope MO, Mahrooqi RA, Varma GB, Al Abadi H, Al-Burtamani SKS. 2006. Antioxidant capacitiy of some edible and wound healing plants in Oman. J.foodchem 02 (001) doi:10.1016
Mohideen SK, Selvan T, Sheriff MA, Azmathullah Md. 2010. Phytochemical Screening of Acalypha Indica L. Leaf Extracts. International Journal of Applied Biology and Pharmaceutical Technology. Vol 3 (2), pp. 158-161. ISSN: 0976-4550.
Patil, M. V. K., Kandhare, A. D., Bhise, S. D. 2012, Pharmacological evaluation of ethanolic extract of Daucus carota Linn root formulated cream on wound healing using excision and incision wound model, Asian Pacific Journal of Tropical Biomedicine, S646-S655.
Pebri IG, Rinidar, Amiruddin. 2017. Pengaruh pemberian ekstrak daun binahong (Anrendera cordifolia) terhadap proses penyembuhan luka insisi (Vulnus incisivum) pada mencit (Mus musculus). JIMVET-E ISSN: 2540-9492. 2 (1): 01-11.
Perdanakusuma DS. 2007. Anatomi fisiologi kulit dan penyembuhan luka. Surabaya: Airlangga University School of Medicine.
Prasetyo, B. F., Wientarsih, I., Priosoeryanto, B. P. 2010, Aktivitas Sediaan Gel Ekstrak Batang Pohon Pisang Ambon Dalam Proses Penyembuhan Luka Pada Mencit, Jurnal Veteriner, 11(2): 70-73.
Rahman MA, Bachar SC, Rahmatullah M. 2010. Analgesic and Antiinflammatory Activity of Methanolic Extract of Acalypha Indica Linn. Pak. J. Pharm. Sci. 23 (3) 256-258
Raja RV, Ramanathan T, Savitha S. 200. Studies on wound healing property of coastal medicinal plants J Biosci Tech 1 39.
Robinson, T. 1995, Kandungan Organik TumbuhanTinggi, diterjemahkan Padnawinata K, Edisi ke-6, Institute Technology Bandung, Bandung, hal 191-216.
Saranraj P, Stella K, Stella D, Sathiyaseelan K, Samuel S. 2010. Antibacterial Potentiality of Ethanol and Ethyl Acetate Extract of Acalypha indica against Human Pathogenic Bacteria. Journal of Ecobiotechnology 2 (7) 23-27. ISSN 2077-0464.
Setyoadi dan Sartika, D. D. 2010, Efek Lumatan Daun Dewa (Gynura segetum) Dalam Memperpendek Waktu Penyembuhan Luka Bersih Pada Tikus Putih, Jurnal Keperawatan Soedirman (The Soedirman Journal of Nurcing), 5(3): 127-135.
Singer AJ, Clark RA. 1999. Cutaneous wound healing. NEJM, 341(1).
Sirait, M. 2007, Penuntun Fitokimia Dalam Farmasi, ITB Press, Bandung
Suprapto, A. K. 2012, Efek Salep Ekstrak Metanol dan Salep Serbuk Daun Sosor Bebek (Kalanchoe pinnata (Lamk)) Terhadap Penyembuhan Luka Sayat Pada Mencit, Karya Tulis Ilmiah, Bandung, Fakultas Kedokteran Universitas Kristen Maranatha.
Tariq AL, Priya U, Lone RA. 2015. Medicinal Plants Acalypha indica and Prosopis gladulosa an Alternative Medication for Candidiasis. Int.J.Curr.Microbiol.App.Sci Vol. 4 (8), pp. 343-351.
Theoret C. 2017. Chapter 1 Physiology of wound healing in Equine Wound Management. 3thEd. John Wiley and Sons Inc.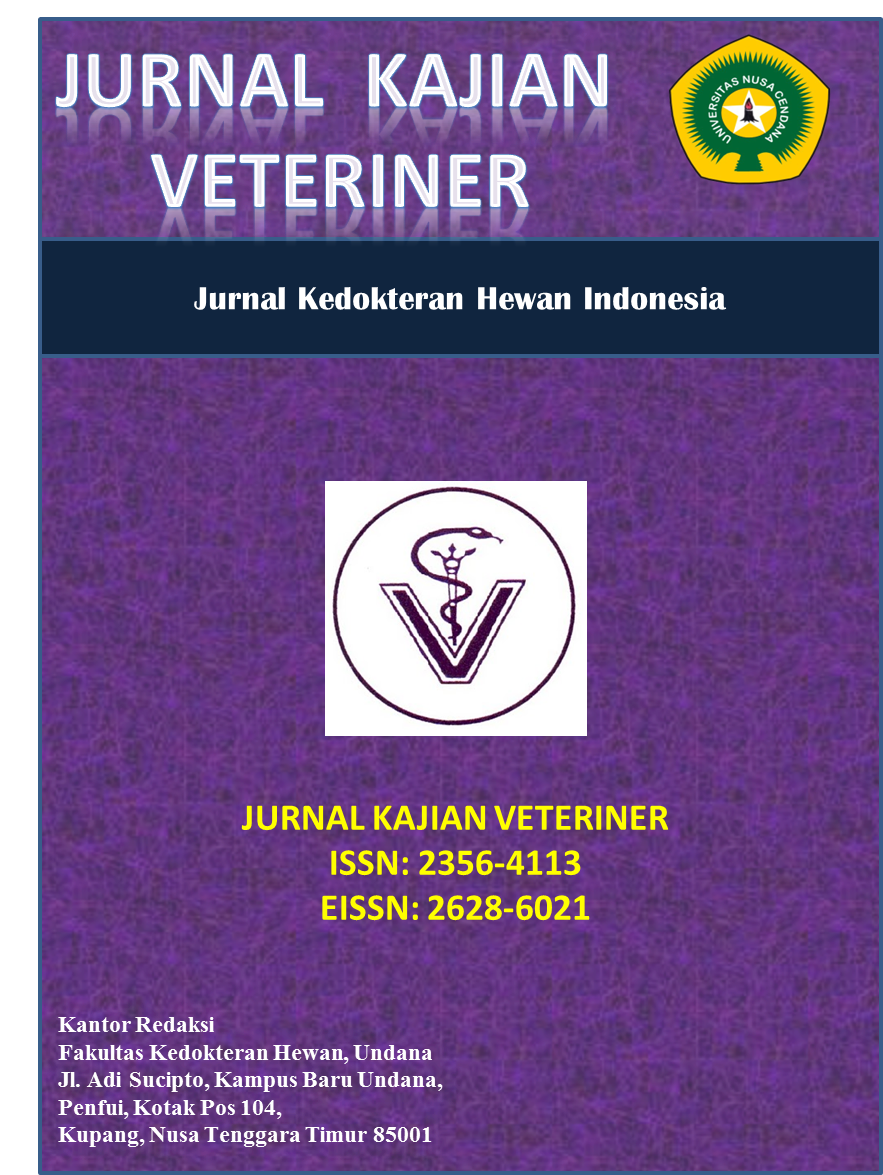 How to Cite
Laut, M., Ndaong, N., Utami, T., Junersi, M., & Bria Seran, Y. (2019). EFEKTIVITAS PEMBERIAN SALEP EKSTRAK ETANOL DAUN ANTING – ANTING (Acalypha indica Linn.) TERHADAP KESEMBUHAN LUKA INSISI PADA MENCIT (Mus musculus). JURNAL KAJIAN VETERINER, 7(1), 1-11. https://doi.org/10.35508/jkv.v7i1.377
Copyright (c) 2019 JURNAL KAJIAN VETERINER
This work is licensed under a Creative Commons Attribution-NonCommercial-NoDerivatives 4.0 International License.