LAPORAN KASUS : PENANGANAN OBSTRUKSI USUS PADA ANJING DI BALI VETERINARY CLINIC
Putri F. Ludji Pau

Program Studi Pendidikan Profesi Dokter Hewan Fakultas Kedokteran Hewan Universitas Nusa Cendana

Yohanes T. R. M. R. Simarmata

Laboratorium Ilmu Penyakit Dalam, Fakultas Kedokteran Hewan Universitas Nusa Cendana

Ni Made Restiati

Bali Veterinary Clinic, Badung, Bali
Keywords:
Dog, Enterotomy, Intestinal obstruction
Abstract
A local breed dog was brought to the veterinary clinic with signs of vomiting and decreased appetite. Physical examination revealed a pale mucosa of the eye and nose, 2 seconds of CRT, abdomen distention and stiffness. A haematology examination indicated WBC drop into 4.9, lymphocyte into 5.4, MCV to into 55.42 and Plate Distribusi Wide 8.1. The X-ray test showed the presence of an unknown mass around the intestine. Therefore, the dog was then diagnosed with intestinal obstruction.  A laparotomy exploration with an enterotomy technique was performed to treat the condition. The surgery procedure found a mass of stone-like faeces that also consist of a mix of grass. The stone-like faeces were then removed from the intestine. Post-surgery monitoring was performed routinely and the dog received Cefotaxime Sodium (Claforan®) 22 mg/kg, Odansentron HCl (Zofran®) 0.2 mg/kg, Sucralfate (Carafate®) 0.8 gram, Lactulose (Cephulac®) 25 mL,  Dexamethasone (Dexasone®) 1 mg/kg,  Diphenhydramine HCl (Benadryl®) 3mg/kg, along with antiseptic treatment for the surgical incision.  3 days after the operation the dog began to show signs of recovery where the dog appeared to start moving and showed the desire to eat food. This condition can be prevented by not giving the dog food that bones. Lastly, the dog should be only released in a safe and knowledgeable environment.
References
Allenspach K. 2015. Diagnosis of small intestinal disorders in dogs and cats. Clinics in Laboratory Medicine 35(3): 521-534.
Balqis U. 2007. Purifikasi Dan Karakterisasi Protease Dari Ekskretori/sekretori Stadium L3 Ascaridia Galli Dan Pengaruhnya Terhadap Pertahanan Dan Gambaran Histopatologi Usus Halus Ayam Petelur. Disertasi. Institut Pertanian Bogor: Bogor.
Boothe HW. 2012. Instrument and tissue handling techniques. Dalam: Tobias KM, Johnston SA, eds. Veterinary Surgery: Small Animal. St. Louis, MO: Elsevier Saunders. Pp. 201-213.
Capak D, Brkic A, Harapin I, Maticic D, Radisic B. 2001. Treatment of the foreign body induced occlusive ileus in dogs. Vet Arhiv 71(6): 345-359.
Eker T, Genc Y, Sevim Y, Cumaogullari O, Ozcelik M, Kocaay AF, Ensari CO, Pasaoglu OT. 2015. The effects of ventilation with high-density oxygen on the strength of gastrointestinal anastomosis. Ann Surg Treat Res 89(1): 17-22.
Erwin, Gunanti, Handharyani E, Noviana D. 2016. Subjective and objective observation of skin graft recovery on Indonesian local cat with different periods of transplantation time. Vet World 9(5): 481-486. doi: 10.14202/ vetworld.2016.481-486.
Erwin, Gunanti, Handharyani E, Noviana D. 2017. Blood profile of domestic cat (Felis catus) during skin graft recovery with different period. J Veteriner 18(1): 31-37. doi: 10.19087/jveteriner.2017.18.1.31.
Finck C, D'Anjou MA, Alexander K, Specchi S, Beauchamp G. 2014. Radiographic diagnosis of mechanical obstruction in dogs based on relative small intestinal external diameters. Vet Radiol Ultrasound 55 (5): 472-479. doi: 10.1111/vru.12153.
Fossum TW. 2002. Small Animal Surgery. 2nd Ed. Mosby. St. Louis, London. Pp. 20-30
Grimes JA, Schmiedt CW, Cornell KK, Radlinksy MA. 2011. Identification of risk factors for septic peritonitis and failure to survive following gastrointestinal surgery in dogs. JAVMA 238(4): 486-494.
Hugen S, Thomas RR, German AJ, Burgener IA, Mandigers PJ. 2016. Gastric carcinoma in canines and humans, a review. Vet Comp Oncol. Doi: 10.1111/vco.12249.
Kroner KT, Budgeon C, Colopy SA. 2016. Update on surgical principle and equipment. Vet. Clin North Am Exot Anim Pract 19(1):13- 32. doi: 10.1016/j.cvex.2015.08.011.
Le Roux, AB, Granger LA, Wakamatsu N, Kearney MT, Gaschen L. 2016. Ex vivo correlation of ultrasonographic small intestinal wall layering with histology in dogs. Vet Radiol Ultrasound 57(5):534-545.
Monnet E. 2010. Principles of GI surgery. Proceedings veterinary continuing education. UBM Americas. Veterinary Brand, Washington. Pp. 447-450.
Noviana D, Afidatunnisa K, Syafikriatillah AF, Ulum MF, Gunanti, Zaenab S. 2017. Diagnostic imaging and endoscopy of the schnauzer dog with upper gastrointestinal tract disorders. Jurnal Kedokteran Hewan 11(1): 1-5. doi: 10.21157/j.ked.hewan. v11i1.5446.
Noviana D, Aliambar SH, Ulum MF, Siswandi R. 2012. Diagnosis Ultrasonografi pada Hewan Kecil. IPB Press, Bogor. Hlm. 5-25
Ogurtan Z, Gezici M, Kul M, Ceylan C, Alkan F. 2001. Comparative study of bursting and tensile strengths of the digestive tract in the dog. Application to esophagi-intestinal sutures. Revue Méd Vét 152(6): 491-494.
Ruiz GC, Reyes-Gomez E, Hall EJ, Freiche, V. 2016. Comparison of 3 handling techniques for endoscopically obtained gastric and duodenal biopsy specimens: A prospective study in dogs and cats. J Vet Int Med 30(4): 1014-1021.
Smith AL, Wilson AP, Hardie RJ, Krick EL, Schmiedt CW. 2011. Perioperative complications after full-thickness gastrointestinal surgery in cats with alimentary lymphoma. Vet Surg 40(7): 849-852.
Tapia-Araya AE, Martin-Portuges IDG, Bermejo LF, Sanchez-Margallo FM. 2015. Laparoscopic ovariectomy in dogs: comparison between laparo endoscopic single-site and three-portal access. J Vet Sci 16(4): 525-530.
Tarvin KM, Twedt DC, Monnet E. 2016. Prospective controlled study of gastroesophageal reflux in dogs with naturally occurring laryngeal paralysis. VetSurgery 45(7): 916-921.
Terragni R, Vignoli M, Van Bree HJ, Gaschen L, Saunders JH. 2014. Diagnostic imaging and endoscopic finding in dogs and cats with gastric tumors: A review. Schweiz Arch Tierheilkd 156(12): 569-576.
Tilley L, Smith F. 2005. The 5-Minute Veterinary Consult. 2nd ed. Williams & Wilkins, Baltimore, MD. Pp. 1348-1349.
Webb J. 2014. Gastrointestinal and oesophagal foreign bodies in the dog and cat. The RVT Journal 10: 6-10.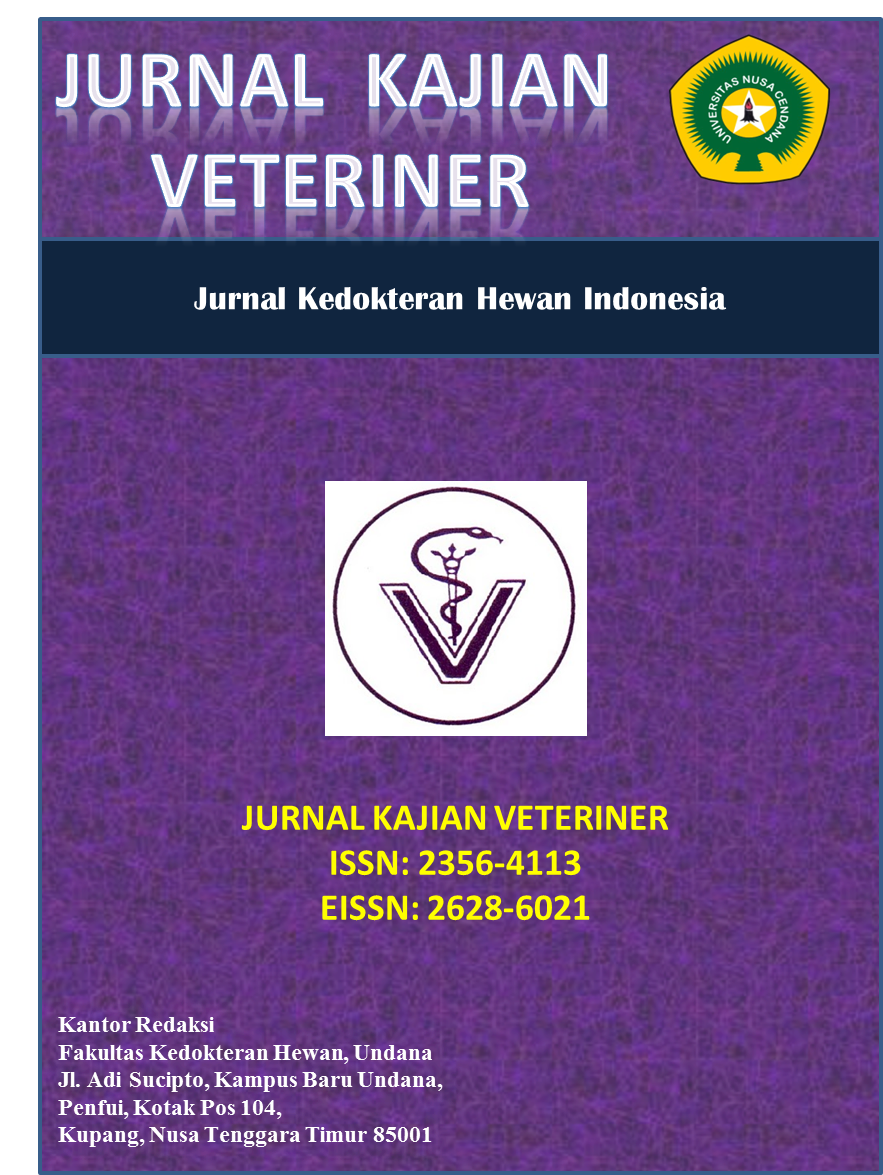 How to Cite
Ludji Pau, P., Simarmata, Y., & Restiati, N. (2021). LAPORAN KASUS : PENANGANAN OBSTRUKSI USUS PADA ANJING DI BALI VETERINARY CLINIC. JURNAL KAJIAN VETERINER, 9(1), 50-61. https://doi.org/10.35508/jkv.v9i1.3899
Copyright (c) 2021 JURNAL KAJIAN VETERINER
This work is licensed under a Creative Commons Attribution-NonCommercial-NoDerivatives 4.0 International License.