STUDY OF HEMOGLOBIN LEVELS CATTLE FED Moringa oleifera AND PREBIOTIC FROM MARE'S MILK
Nemay Ndaong

Fakultas Kedokteran Hewan Universitas Nusa Cendana

Novianty Ndun

Laboratorium Antomi, Fisiologi, Farmakologi dan Biokimia, Fakultas Kedokteran Hewan, Universitas Nusa Cendana

Frans Umbu Datta

Laboratorium Antomi, Fisiologi, Farmakologi dan Biokimia, Fakultas Kedokteran Hewan, Universitas Nusa Cendana

Annytha I. R. Detha

Laboratorium Ilmu Penyakit Hewan dan Kesehatan Masyarakat Veteriner, Fakultas Kedokteran Hewan Universitas Nusa Cendana

Nancy Foeh

Laboratorium Klinik, Reproduksi, Patologi dan Nutrisi, Fakultas Kedokteran Hewan, Universitas Nusa Cendana
Keywords:
bakteri asam laktat, hemoglobin, Moringa oleifera
Abstract
Penelitian ini bertujuan untuk mengetahui perbandingan kadar hemoglobin pada sapi onggole muda yang diberi Moringa oleifera dan susu prebiotik. Penelitian ini menggunakan sembilan ekor pedet Sumba Ongole umur 5-7 bulan dengan berat badan ± 130 kg. Penelitian diawali dengan persiapan alat dan bahan yang dibutuhkan berupa persiapan kandang individu, pembuatan tepung kelor, pembuatan rumput amunisi, pembuatan konsentrat, pembuatan susu, penyiapan prebiotik, adaptasi hewan. Perlakuan pedet dibagi menjadi 3 kelompok yaitu kelompok kontrol (KK), kelompok perlakuan 1 (KP1), kelompok perlakuan 2 (KP2). Kelompok kontrol diberi makan rumput kering amonia, konsentrat, susu sedangkan kelompok perlakuan 1 diberi pakan rumput kering diamoniase, konsentrat, susu, prebiotik, dan kelompok perlakuan 2 diberi pakan rumput kering diamoniase, konsentrat, tepung kelor. Pada setiap penarikan diambil ± 3 mL darah kemudian dimasukkan ke dalam tabung Ethylenediamine Tetraacetic Acid (EDTA) dan masing-masing tabung diberi label sesuai kode sampel. Hasil penelitian menunjukkan pedet pada kelompok kontrol memiliki kisaran nilai Hb 7,7-11,8 g/dl, sedangkan kelompok yang diberi susu prebiotik memiliki kisaran nilai Hb 8,8 hingga 11,4 g/dl. Kelompok yang diberi pakan Moringa oleifera memiliki kisaran nilai Hb 8,8-14,4 g/dl. Hasil tersebut menunjukkan nilai hemoglobin dari ketiga kelompok perlakuan berada dalam kisaran normal nilai hemoglobin sapi yaitu 9,1-15,7 g/dl namun terjadi peningkatan hemoglobin pada kelompok perlakuan yang diberikan susu prebiotik dan kelor. Pakan kelor yang ditambahkan ke KP2 menghasilkan Hb yang lebih tinggi dibandingkan dengan KP1 dan KK. Nilai Hb yang lebih tinggi diduga karena kandungan protein yang tinggi pada tanaman kelor yaitu 27% sehingga dapat meningkatkan produktivitas ternak.
References
Aminah, S., Ramdhan, T, and Yanis, M. (2015). Nutritional Content and Functional Properties of Moringa oleifera Plants Urban Agriculture Bulletin, 5 (2). Urban Agriculture Bulletin.
Astuti, A., Erwanto, E., & Santosa, P. (2015). The Influence Of Provision Of Green Concentrate On The Physiological Response And Performance Of Simmental Foaming Cow. Integrated Animal Husbandry Scientific Journal. https://doi.org/10.23960/jipt.v3i4.1098
Barwa, D., Jain, A., Jain, T., Singh, M., Mukherjee, K., & Ghosh, R. (2018). Hematological Profile in Calves of Kosali Breed of Cattle in Their Native Tract. International Journal of Livestock Research, 8(4), 1. https://doi.org/10.5455/ijlr.20170922064820
Beski, S. S. M., & Al-Sardary, S. Y. T. (2015). Effects of dietary supplementation of probiotic and synbiotic on broiler chickens hematology and intestinal integrity. International Journal of Poultry Science, 14(1), 31–36. https://doi.org/10.3923/ijps.2015.31.36
Dar, A., Singh, S., Palod, J., Ain, K., Kumar, N., Farooq, F., & Khadda, B. (2017). Effect of Probiotic, Prebiotic, and Synbiotic on Hematological Parameters of Crossbred Calves. International Journal of Livestock Research, September, 1. https://doi.org/10.5455/ijlr.20170312053224
Datta FU, Detha A, Rihi D, Foeh N, Ndaong N. 2020. Effect Of Lactic Acid Palm Lactic Bacteria On Silage Quality. Jurnal Kajian Veteriner 8 (2), 211-217
Datta FU, Nolan JV, Rowe JB, Gray GD. 1998. Protein supplementation improves the performance of parasitised sheep fed a straw-based diet. International Journal for Parasitology 28 (8), 1269-1278
Detha A, Beribe E, Foeh N, Ndaong N, Datta FU. 2019. Karakteristik Bakteri Asam Laktat Yang Diisolasi Dari Susu Kuda Sumba. Jurnal Kajian Veteriner 7 (1), 85-92
Detha A, Jo MG, Foeh N, Ndaong N, Datta FU. 2018. Efektivitas Bakteri Asam Laktat yang Diisolasi dari Susu Kuda Sumba terhadap Kualitas Silase Jerami Padi. Jurnal Kajian Veteriner 6 (1), 31-37
Detha A, Jo MG, Foeh N, Ndaong N, Datta FU. 2020. Karakteristik Antimikroba Bakteri Asam Laktat Susu Kuda Sumba Terhadap Bakteri Salmonella Typhimurium. TERNAK TROPIKA Journal of Tropical Animal Production 21 (1), 50-56
Ghiyasi, M., Rezaei, M., Sayyahzadeh, H., Firouzbakhsh, F., & Attar, A. (2008). Effects of prebiotic (Fermacto) in low protein diet on some blood parameters and intestinal microbiota of broiler chicks. Italian Journal of Animal Science, 7(3), 313–319. https://doi.org/10.4081/ijas.2008.313
Grindem, C. B. (2011). Schalm's Veterinary Hematology, 6th edition. Editors: Douglas J. Weiss, K. Jane Wardrop. Veterinary Clinical Pathology. https://doi.org/10.1111/j.1939-165x.2011.00324.x
Hasan, S., Hossain, M., Miah, A., & MER, B. (2014). Influence Of Prebiotic On Growth Performance And Hemato- Biochemical Parameters In Broiler During Heat Stress S. 30(11), 191–195.
Mahmood, K. T., Mugal, T., & Haq, I. U. (2010). Moringa oleifera: A natural gift-a review. Journal of Pharmaceutical Sciences and Research, 2(11), 775–781.

Mardiah. (2017). Analysis of Calcium (Ca) Levels in Moringa (Moringa oleifera) Leaves. Journal of Natural and Environmental Sciences.
Mehena, S., Abdelsalam, M. M., Hashem, N. M., Mansour, M. M., & Azrak, K. (2018). The relevance of probiotic, prebiotic, and synbiotic supplementations on hemato-biochemical parameters, metabolic hormones, biometric measurements and carcass characteristics of sub-tropical Noemi lambs. International Journal of Animal Research. https://doi.org/10.28933/ijar-2017-09-3001
Ndlovu, T., Chimoyo, M., Okoh, A. I., Muchenje, V., Dzama, K., & Raats, J. G. (2007). Assessing the nutritional status of beef cattle: Current practices and future prospects. African Journal of Biotechnology, 6(24), 2727–2734. https://doi.org/10.5897/AJB2007.000-2436
Nisa, D., Achmadi, J., & Wahyono, F. (2017). Degradability organics dan production total Volatile Fatty Acids (VFA) Kelor Leaf (Moringa oleifera) in the rumen in vitro. Jurnal Ilmu-Ilmu Peternakan, 27(1), 12–17. https://doi.org/10.21776/ub.jiip.2017.027.01.02
Radzikowski, D. (2017). Effect of probiotics, prebiotics, and synbiotics on the productivity and health of dairy cows and calves. Wsn, 78, 193–198.
Rosita, A., Mushawwir, A., & Latipudin, D. (2015). Hematological Status (Erythrocytes, Hematocrit, and Temperature Humidity Index) of Laying Hens in Different on Temperature Humidity Index.Fitness), 4(3).
Singh, A., Kerketta, S., Yogi, R., Kumar, A., & Ojha, L. (2017). Prebiotics: The New Feed Supplement for Dairy Calf. International Journal of Livestock Research. https://doi.org/10.5455/ijlr.20170610051314
Uyeno, Y., Shigemori, S., & Shimosato, T. (2015). Effect of Probiotics/Prebiotics on Cattle Health and Productivity. Microbes and EnvironmentsMicrobes and Environments, 30(2), 126–132. https://doi.org/10.1264/jsme2.me14176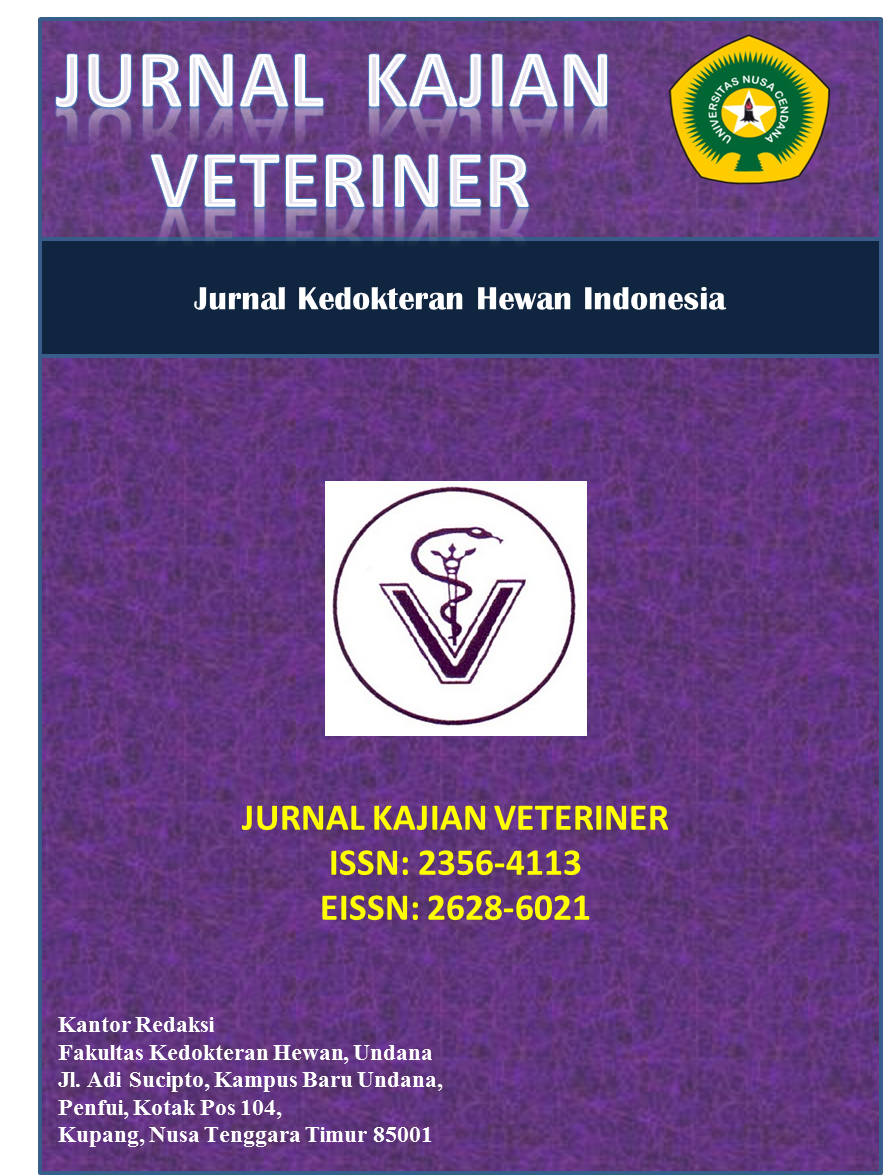 How to Cite
Ndaong, N., Ndun, N., Datta, F., Detha, A., & Foeh, N. (2021). STUDY OF HEMOGLOBIN LEVELS CATTLE FED Moringa oleifera AND PREBIOTIC FROM MARE'S MILK. JURNAL KAJIAN VETERINER, 9(2), 91-97. https://doi.org/10.35508/jkv.v9i2.4371
Copyright (c) 2021 JURNAL KAJIAN VETERINER
This work is licensed under a Creative Commons Attribution-NonCommercial-NoDerivatives 4.0 International License.