PRAKTIK BIOSEKURITI DAN SANITASI PETERNAK BABI TERKAIT PENGENDALIAN HOG CHOLERA DI KECAMATAN KOTA RAJA KOTA KUPANG
Larry Richard Wellem Toha

Laboratorium Ilmu Penyakit Hewan dan Kesehatan Masyarakat Veteriner, Fakultas Kedokteran Hewan Universitas Nusa Cendana

Heru Susetya

Laboratorium Kesehatan Masyarakat Veteriner Fakultas Kedokteran Hewan Universitas Gadjah Mada

Widagdo S. Nugroho

Laboratorium Kesehatan Masyarakat Veteriner Fakultas Kedokteran Hewan Universitas Gadjah Mada
Keywords:
biosecurity and sanitation, hog cholera, pig breeders
Abstract
Pigs have a very important value for the people in NTT. Apart from being farm animals that have economic value, pigs also have an important role in the socio-cultural and religious life in NTT. Given its important role for the community, pigs need serious attention to avoid various disease threats, one of which is Hog cholera (HC). One of the effective ways to prevent HC disease that can be done is by implementing strict biosecurity and sanitation. The purpose of this research is to learn how the practice of biosecurity and sanitation by pig farmers is one of the most important efforts in preventing the spread of HC disease in the Kota Raja Sub-District, Kupang City. The data in this study were obtained through direct interviews with pig farmers in the Kota Raja Sub-District, Kupang City, and analyzed with descriptive statistics. The results showed that the level of HC vaccination was still low at 10.9%, and there were still many farmers who carried out risky practices for HC transmission such as consuming or trading pigs that died from sickness 29.1%, throwing away pig carcasses that died from sickness 5%, back yard slaughtering 40%, disposing of slaughtering waste into the environment 9.1%. In conclusion, the practice of biosecurity and sanitation carried out by pig farmers in the Kota Raja Sub-District, Kupang City still needs to be improved. There are still some pig farmers who practice practices that are risky for disease transmission in pigs, especially Hog cholera.
References
ANTARA. (2017, March 27). Babi Dominasi Populasi Ternak di NTT. Retrieved from https://kupang.antaranews.com/berita/2553/babi-dominasi-populasi-ternak-di-ntt
Leslie, E. E. C., Geong, M., Abdurrahman, M., Ward, M. P., & Toribio, J. A. L. M. L. (2015). A description of smallholder pig production systems in eastern Indonesia. Preventive Veterinary Medicine, 118(4), 319–327. https://doi.org/10.1016/j.prevetmed.2014.12.006
Malo Bulu, Petrus. (2011). The Epidemiology of Classical Swine Fever in the West Timor, Indonesia. Murdoch University.
McLachlan, N. J., & Dubovi, E. J. (Eds.). (2011). Fenner ' S Veterinary Virology. Veterinary Medicine (5th ed.). Academic Press. https://doi.org/10.1016/B978-0-12-375158-4.X0001-6
Murphy, F. A., Gibbs, E. P. J., Horzinek, M. C., & Studdert, M. J. (1999). VETERINARY VIROLOGY (3rd ed.). Academic Press.
Ratundima, E. M., Suartha, I. N., Mahardika, I. G. N. K., 2012, Deteksi Antibodi terhadap Virus Classical Swine Fever dengan Teknik Enzyme-Linked Immunosorbent Assay, Indonesia Medicus Veterinus 1(2) : 217 – 227
Thrusfield, M. (2008). Veterinary Epidemiology. The Canadian Veterinary Journal (Vol. 30). https://doi.org/10.1016/S0167-5877(03)00107-7
Van Oirschot, J. T., Trautwein, V., Enzmann, P. T., Carbrey, E. A., Lies, B., Ehrensperger, F., … Rocder, P. L. (1987). (Development in Veterinary Virology 5) Classical Swine Fever and Related Viral Infection. (B. Liess, Ed.). Boston: Martinus Nijhoff Publishing.
World Organization for Animal Health (OIE). (2009). Classical swine fever. Technical Disease Card, 1–5. Retrieved from http://www.oie.int/fileadmin/Home/eng/Animal_Health_in_the_World/docs/pdf/CLASSICAL_SWINE_FEVER_FINAL.pdf.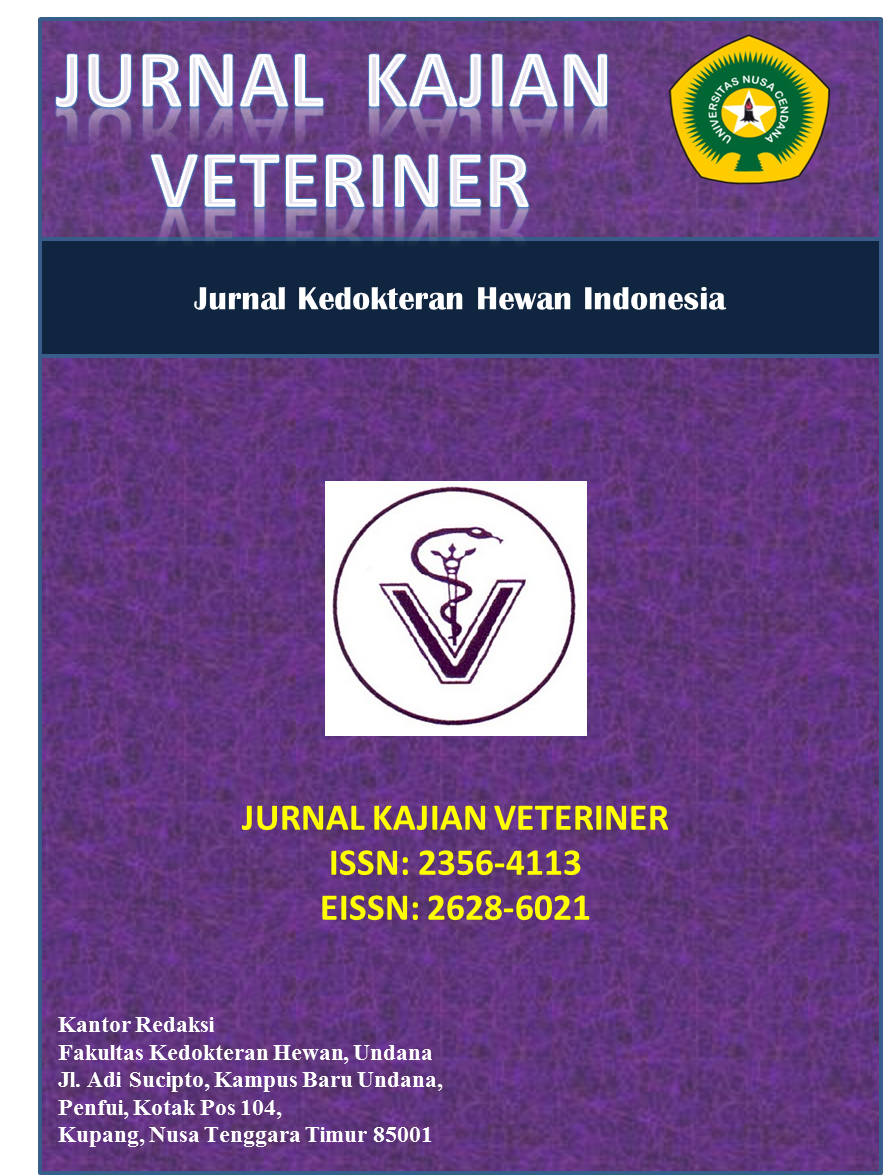 How to Cite
Toha, L., Susetya, H., & Nugroho, W. (2021). PRAKTIK BIOSEKURITI DAN SANITASI PETERNAK BABI TERKAIT PENGENDALIAN HOG CHOLERA DI KECAMATAN KOTA RAJA KOTA KUPANG. JURNAL KAJIAN VETERINER, 9(2), 117-122. https://doi.org/10.35508/jkv.v9i2.4418
Copyright (c) 2021 JURNAL KAJIAN VETERINER
This work is licensed under a Creative Commons Attribution-NonCommercial-NoDerivatives 4.0 International License.