Aktivitas Larvasidal Ekstrak Etanol Biji Pepaya (Carica papaya) dan Daun Mindi (Mella Azedarach)
Larvasidal Activity of Ethanol Extract of Papaya Seeds (Carica papaya) and Mindi Leaf (Mella Azedarach)
Agus Saputra

Laboratorium Anatomi, Fisiologi, Farmakologi dan Biokimia Fakultas Kedokteran Hewan Universitas Nusa Cendana

Dewi Fesbayati Lestari Djungu

Bagian Ilmu Penyakit Hewan dan Kesehatan Masyarakat Veteriner Fakultas Kedokteran Hewan Universitas Nusa Cendana

Emerlinda P. Gelalan

Bagian Ilmu Penyakit Hewan dan Kesehatan Masyarakat Veteriner Fakultas Kedokteran Hewan Universitas Nusa Cendana
Keywords:
larvacidal, papaya, mindi, tanin, anthelmintic
Abstract
Helminthiasis is an adverse disease. This disease is caused by parasites such as trematodes, cestodes, and nematodes. The search for bioactive compounds from various plants that have anthelmintic activity is carried out by various researchers. Papaya seeds and mindi leaf have been known as a good plants for health. Various studies shown that extracts water, ethanol and chloroform have activity for antimicrobial, antilipidemia, antidiabetic and antiparasitic. In this study the extraction of secondary metabolites from mindi leaf and papaya seeds was carried out for larvicidal activity. From the results of extraction with ethanol, the yields of mindi leaf and papaya seeds were obtained 19.97% and 12.97% respectively. Phytochemical analysis shows that both extracts have the same class of compounds tannins, saponins, phenolhydroquinones, flavonoids, and alkaloids. The difference is in the concentration of tannin and saponin mindi leaf higher than papaya seeds. In testing larvicidal activity, the extract of mindi leaf had a stronger activity compared to papaya seeds. Extract mindi leaf 15% has the strongest activity of killing larvae at ± 25 minutes. This activity is stronger than extract papaya seed 15% which is ± 125 minutes or with albendazole 0.03%, ± 46 minutes
References
Aravind G, Bhoumik D, Duraivel S, Harish G. 2013. Traditional and Medicinal Uses of Carica pepaya. Journal of Medicinal Plants Studies. Vol 1 Issue 1 7-15

Coello M J, Eugenia G M, Antonio O P, Salud P G, Karla Y A V. 2013. Assessment of the Anti Protozoal Activity of Crude Carica pepaya Seed Extract against Trypanosoma cruzi. Molecules 18 12621-12632

Dalimartha S. 2003. Atlas Tumbuhan Obat, Cetakan I. Puspaswara Anggota Ikapi.

Djungu DFL. 2003. Pengaruh Infeksi Haemonhus contortus dan Pemberian Daun Mindi Terhadap Nilai Telur Per Gram Tinja, Haemoglobin dan Total protein Plasma Kambing Lokal Jantan. Skripsi. Universitas Nusa Cendana Kupang.

Elgadiri M A, Mohamed S, Aishah A. 2014. Carica Pepaya as a Source of Natural Medicine and its Utilization in Selected Pharmacetical Applications. International Journal of Pharmacy and Pharmaceutical Sciences Vol 6 Issue 1

Feroza S, Anjo A G, Zahid I R. 2017. Effect of pepaya and neem seeds on Ascaridia galli infection in broiler chicken. Pakistan Journal of Nematology 35 (1) 105-111

Kamaraja C., Rahuman AA., Elango A., Bagavan., Zahir AA. 2011. Anthelmintic Activity of Botanical Extracts Against Sheep Gastrointestinal Nematodes, Haemonchus contortus. Parasitol Res. 109:37-45

Okeniyi J A O, Tinuade A O, Oyeku A O, Lateef A A. 2007. Effectivenessof Dried Carica pepaya Seeds Against Human Intestinal Parasitosis: A Pilot Study. J Med Food 10 (1) 194-196

Sabaa T M, Sahar A H S, Nidaa M. 2014. Antiparasitic Activity of Natural Plant Carica pepaya Seed Extract against Gastrointestinal Parasite Entamoeba histolytica. Int J Innovation and Appl Stud Vol 7 (1) 58-64

Sadra N. 2014. Seminar Nasional ke 4 FKH Undana. Kupang NTT

Tiwow D, Widdhi B, Novel S K. 2013. Uji efek antelmintik ekstrak etanol biji pinang (Areca catechu) terhadap cacing ascaris lumbricoides dan ascaridia galli secara in vitro. Pharmacon 2(2)

Widyiantari TL. 2008. Uji Daya Anthelmintik Perasan daun Mindi ( Melia azedarach L) Terhadap Kematian cacing Ascaridia galli shrank Secara In Vitro. Skripsi. Universitas Ahmad Dahlan Yogyakarta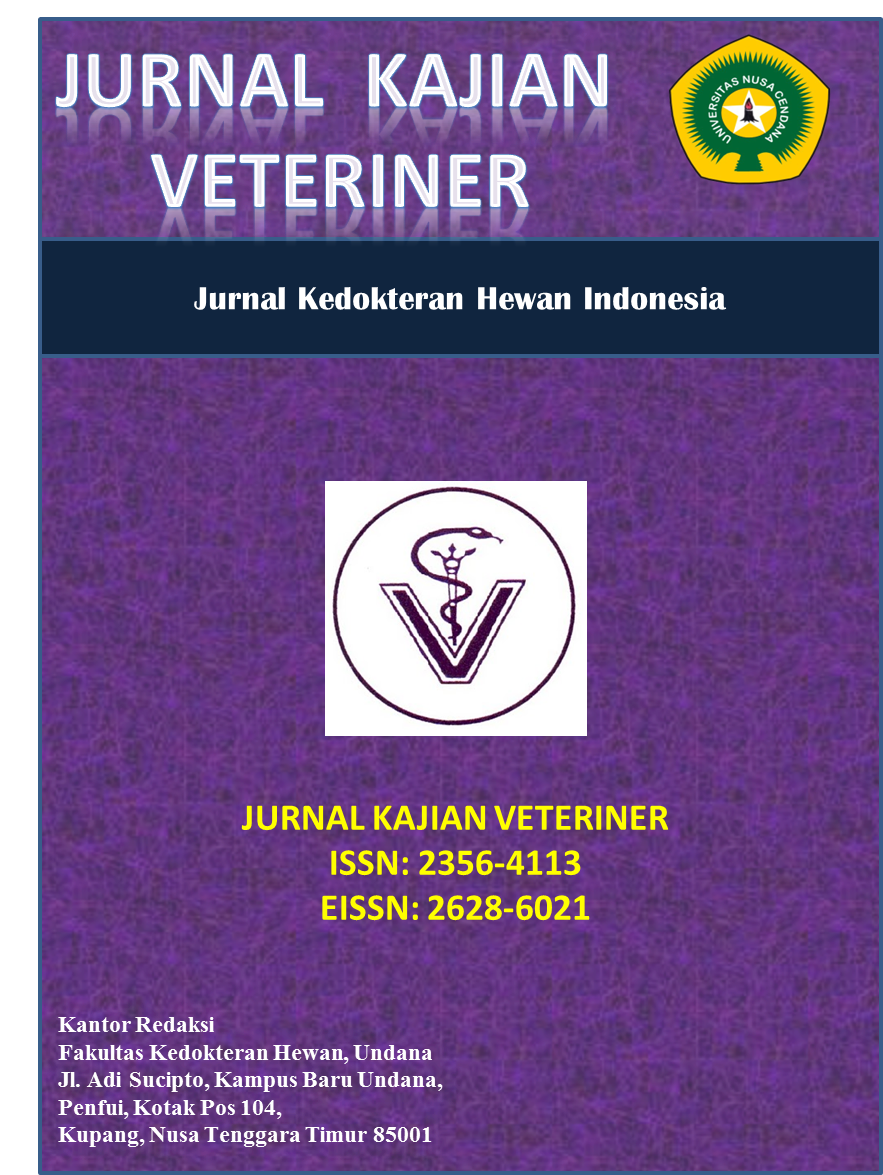 How to Cite
Saputra, A., Djungu, D., & Gelalan, E. (2019). Aktivitas Larvasidal Ekstrak Etanol Biji Pepaya (Carica papaya) dan Daun Mindi (Mella Azedarach). JURNAL KAJIAN VETERINER, 7(1), 53-61. https://doi.org/10.35508/jkv.v7i1.869
Copyright (c) 2019 JURNAL KAJIAN VETERINER
This work is licensed under a Creative Commons Attribution-NonCommercial-NoDerivatives 4.0 International License.