Laporan Kasus: Orchiectomy Pada Anjing Penderita Cryptorrchid Bilateral
Case Report: Orchiectomy in Bilateral Cryptorchid Dogs
Tarsisius Considus Tophianong

Laboratorium Klinik, Reproduksi, Patologi dan Nutrisi Fakultas Kedokteran Hewan Universitas Nusa Cendana

Tri Utami

Laboratorium Klinik, Reproduksi, Patologi dan Nutrisi Fakultas Kedokteran Hewan Universitas Nusa Cendana
Keywords:
Orchiectomy, cryptorrchid bilateral, dog, testicle, inguinal
Abstract
Cryptorrchid is the most common congenital defect found in dogs and cats. Cryptorrchid is a failure condition of one or both testicle to descend into the scrotum. On 2nd March 2019 an examination and treatment of two bilateral cryptorrchid's dogs  were done at the Praktik Dokter Hewan Bersama Grace Vetcare. The first patient's identity is domestic dog, 3 years old, brown hairs, weigh 13 kg called name Iro. The second patient's identity is domestic dog, 1.5 years old, brown hairs, weigh 15.5 kg called name Jacky. Based on physical examination and ultrasound examination, two dogs were diagnosed Bilateral Inguinal Cryptorrchid. Management treatment of both patients were done by orchiectomy operation. Orchiectomies were done by an open method, which is making incision in the left and right lateral inguinal region of the penis. This operation was done to minimize the risk of sertoli cell tumor (sertolioma). Orchiectomy is the only medical procedure that was recommended for cryptorchid treatment.
References
Bright Ronald M. 2011. Cryptorchidism In Dogs and Cats , Saunders.

Brichard Stephen J and Nappier Michael. 2008. Cryptorchidism, CompendiumVet.Com Auburn University College Of Veterinary Medicine.

Ettinger Sj, Feldman EC. 2005. Veterinary Internal Medicine, SWB Saunders, 1694 – 1695.

Hayes HM and Pendergrass TW. 1976. Canine Testicular Tumors: epidemiologic features of 410 dogs. Int J cancer.

Laing J, Harari J, Smith CW. 1983. Spermatic Cord Torsion and Sertoli Cell Tumor in a Dog. Journal of the American Veterinary Medical Association.

Romagnoli SE. 1991. Canine Cryptorchidism. Vet Clin North Am Small Animal Pract.

Tibary and Memon. 2001. Cryptorchidism in Dogs and Cat. Advances in Small Animal Reproduction. International Veterinary Information Service (IVIS) New York, USA.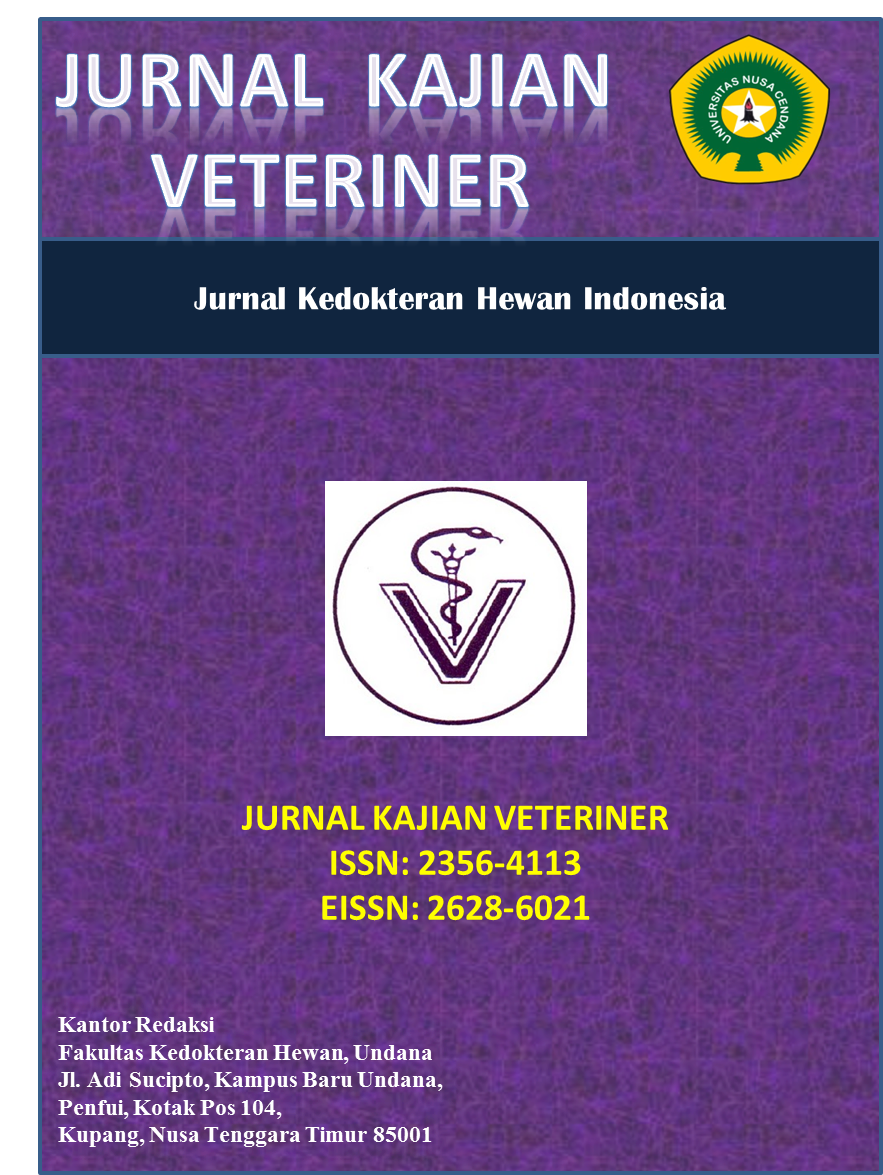 How to Cite
Tophianong, T., & Utami, T. (2019). Laporan Kasus: Orchiectomy Pada Anjing Penderita Cryptorrchid Bilateral. JURNAL KAJIAN VETERINER, 7(1), 62-69. https://doi.org/10.35508/jkv.v7i1.933
Copyright (c) 2019 JURNAL KAJIAN VETERINER
This work is licensed under a Creative Commons Attribution-NonCommercial-NoDerivatives 4.0 International License.