KARAKTERISTIK MORFOLOGI DAN DISTRIBUSI KARBOHIDRAT NETRAL PADA UTERUS KELELAWAR BUAH (Pteropus vampyrus) ASAL PULAU TIMOR
The Anatomy and Neutral Carbohydrate Distribution of The Uterus of Timorese Fruit Bats (Pteropus Vampyrus)
Yulfia Selan

Laboratorium Anatomi, Fisiologi, Farmakologi dan Biokimia Fakultas Kedokteran Hewan Universitas Nusa Cendana

Filphin A. Amalo

Laboratorium Anatomi, Fisiologi, Farmakologi dan Biokimia Fakultas Kedokteran Hewan Universitas Nusa Cendana

Inggrid Trinidad Maha

Laboratorium Anatomi, Fisiologi, Farmakologi dan Biokimia Fakultas Kedokteran Hewan Universitas Nusa Cendana

Antin Y. N. Widi

Laboratorium Klinik, Reproduksi, Patologi dan Nutrisi Fakultas Kedokteran Hewan Universitas Nusa Cendana

Cynthia D. Gaina

Laboratorium Klinik, Reproduksi, Patologi dan Nutrisi Fakultas Kedokteran Hewan Universitas Nusa Cendana

Beatrix Barut

Fakultas Kedokteran Hewan Universitas Nusa Cendana
Keywords:
Kelelawar buah, Pteropus vampyrus, Uterus, H&E, Periodic Acid Schiff (PAS)
Abstract
Timorese fruit bat(Pteropusvampyrus)is the only fly mammalian with its unique behavior which hanging upside down inspite of its pregnancy. This research is aimed to reveal the morphology of the Timorese fruit bats and the distribution of neutral carbohydrate within this organ. Three uterus samples derived from three different Timorese fruit bats were used in the research.Both macroscopical and microscopical examinations using H&E and PAS methods were applied. Macroscopically, Timorese fruit bats showedsoft reddish white duplex uterus. Meanwhile microscopically, endometrium consisted of epithelial layer and lamina propria and was the place where simple tubular glands located. The epithelial layer comprised of simple cylindric secretory cells and ciliated cells. Neutral carbohydrate distribution was seen within this epithelial layer. Myometrium was a thick circular smooth muscle layer which consisted of smooth muscle separated by collagen and elastic fibre. Perimetrium was a visceral layer and consisted of mesothelial cells.
References
Corbet, G. B., dan Hill, J. E. 1992, Mammals of the Indomalayan region: a systematic review. Oxford University Press.
Dumont E.R dan Reilly, O. 2004, Food hardness and Feeding behavior in Old World fruit Bats (Pteropodiae). Journal of Mammalogy 85 (1) : 8-14
Eric van Esch, J. Mark Cline, Eberhard Buse and Gerhard F. Weinbauer. 2008. The Macaque Endometrium, with Special Reference to the Cynomolgus Monkey (Macaca fascicularis) . J.Toxicol Pathol.vol. 36 no. 7 suppl 67S-100S
Hafez, E.S.E. 2000, Reproduction in Farm Animals 7th Ed. Les and Febiger, Pennsylvania USA.
Hafez B, Hafez ESE. 2000. Anatomy of female reproduction. Di dalam: Hafez B, Hafez ESE, editor. Reproduction in Farm Animal Ed ke-5. USA: Lippincott Williams and Wilkins. hlm 13-29.
Morel D, Mina CG. 2008. Equine Reproductive Physiology, Breeding, and Stud Management Ed ke-3. USA: CAB International.


Oklahama University. 1997, Tipe-tipe Uterus Hewan, cit. Kementrterian Pendidikan dan Kebudayaan Republik Indonesia. 2013, Paket Keahlian Kesehatan Hewan : Reproduksi Hewan, Buku Teks Bahan Ajar Siswa.
Pillai, S. B. dan Sastry, M. S. 2012, A mini review of female reproductive asymmetry in microchiropteran bats with a special approach to the leaf -nosed bat, Hipposideros speoris Int, J. Curr. Sci. (USA)4: 96 - 111.
Pineda MH, Dooley MP. 2003. McDonald's Veterynary Endocrinology and Reproduction Ed ke-5. Iowa: Blackwell Publishing Company.
Samuelson DA. 2007. Textbook of Veterynary Histology. Missouri: Saunders Elsevier Inc.
Soehartono, T. dan Mardiastuti , A. 2003, Pelaksanaan konvensi CITES di Indonesia,Japan International Cooperation Agency (JICA), Jakarta.
Suyanto, A. 2001,Kelelawar di Indonesia (Bats ofIndonesia), Seri Buku Panduan LIPI. Puslitbang Biologi-LIPI, Bogor.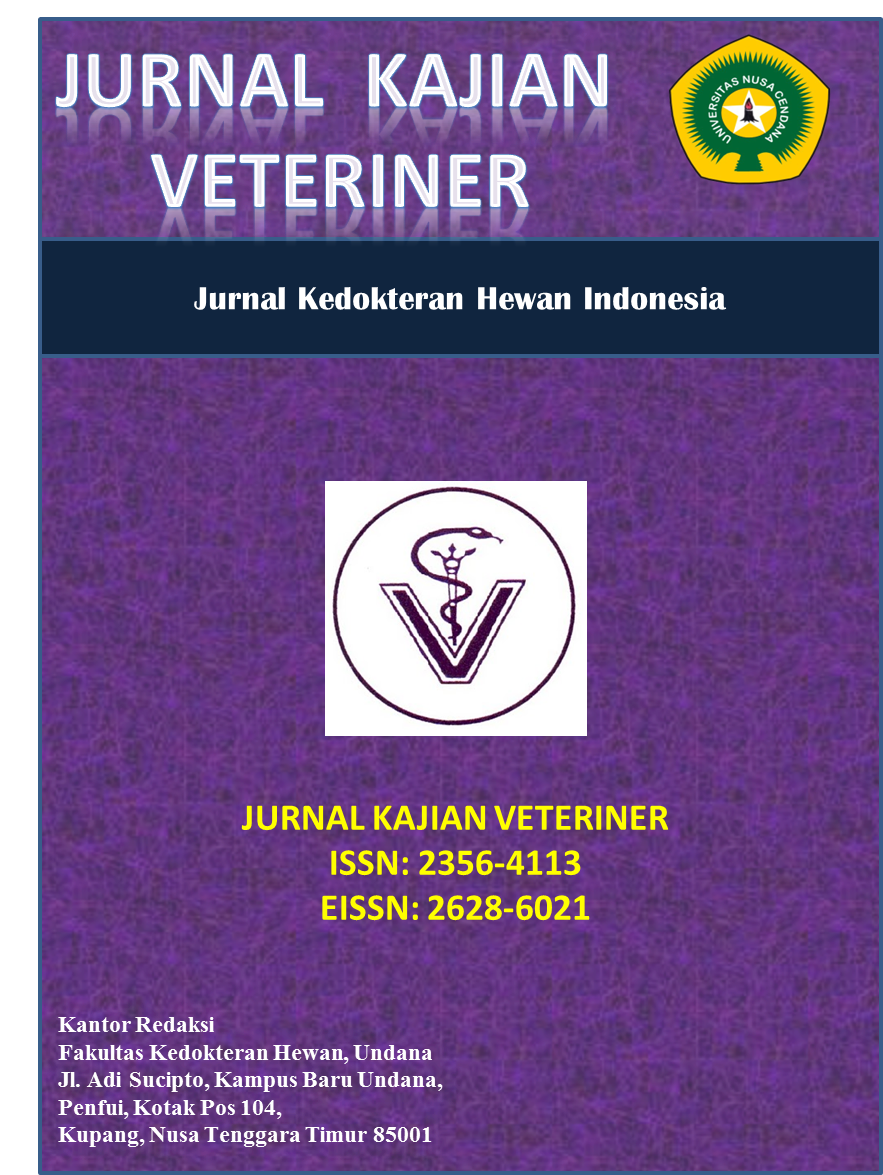 How to Cite
Selan, Y., Amalo, F., Maha, I., Widi, A., Gaina, C., & Barut, B. (2019). KARAKTERISTIK MORFOLOGI DAN DISTRIBUSI KARBOHIDRAT NETRAL PADA UTERUS KELELAWAR BUAH (Pteropus vampyrus) ASAL PULAU TIMOR. JURNAL KAJIAN VETERINER, 7(1), 80-84. https://doi.org/10.35508/jkv.v7i1.948
Copyright (c) 2019 JURNAL KAJIAN VETERINER
This work is licensed under a Creative Commons Attribution-NonCommercial-NoDerivatives 4.0 International License.