MORFOLOGI KELENJAR ANAL MUSANG LUAK BETINA (PARADOXURUS HERMAPHRODITUS)
Inggrid Trinidad Maha

Fakultas Kedokteran Hewan Universitas Nusa Cendana

I Ketut Mudite Adnyane

Divisi Anatomi Histologi dan Embriologi, Departemen Anatomi Fisiologi dan Farmakologi, Fakultas Kedokteran Hewan, Institut Pertanian Bogor

Savitri Novelina

Divisi Anatomi Histologi dan Embriologi, Departemen Anatomi Fisiologi dan Farmakologi, Fakultas Kedokteran Hewan, Institut Pertanian Bogor
Keywords:
common palm civet, anal gland, sebaceous gland, apocrine sweat gland
Abstract
The common palm civet (Paradoxurus hermaphroditus) is one of the mammalian in Indonesia which have anal gland in female and fefemale that located in the lower tail. This research was aimed to describe the morphology of anal gland of common palm civet female. One female of common palm civet was used in this research which observed macroscopic and microscopic.The result showed that common palm civet have a pair of anal gland which hasshaped like ball and located in the anal sacs wall's in the ventrolateral of anus.Each anal gland has a ostium of anal canal dorsolaterally in the cutaneous zone of anal canal . Microscopic observation  showed a well developed sebaceous gland and apocrine sweat gland in the wall of anal sac. Sebaceous and apocrine glands were excreted their product into main ductus to the anal canal.
References
Apriliani F. 2012. Morfologi organ reproduksi betina musang luak (Paradoxurus hermaphroditus). Skripsi. Bogor (ID): Institut Pertanian Bogor.
Bacha WJ, Bacha LM. 2012. Color Atlas of Veterinary Histology Third Edition. John Wiley and Son.
Baker N, Kelvin L. 2008. Wild Animals of Singapore: A Photographic Guide toMammals, Reptiles, Amphibians, and Freshwater Fishes. Singapura:Vertebrate Study Group, Nature Society.
Dellmann HD, Brown EM. 1992. Buku Teks Histologi Veteriner. Penerbit Universitas Indonesia, Jakarta.
Gorman ML, Jenkins D, Harper RJ. 1978. The anal scent sacs of the otter (Lutra lutra). Journal Zoology. London 186: 463-474.
Grzimek's B, Schlager N, Olen dorf D. 2004. Grzimek's Animal Life Encyclopedia. Detroit: Gale.
Hashimoto Y, Eguchi Y, Arakawa A. 1963. Histological observation on the anal sac and its glands of a tiger. Journal Veteriner Science 25: 29-32.
Henrikson RC, Kaye GI, Mazurkiewicz JE. 1997. Histology. Lippincott Williams and Wilkins, USA.
Hong-Fa X, Bing Z, He-Ling Sheng. 1995. A study of the behavior of small civet (Viverricula indica) during the estrus period. Zoological Research 16 (4): 359-364.
Frankel JL, Scott DW, Erb HN. 2008. Gross and cytological characteristic of normal Feline anal sac secretion. Journal of Feline Medicine and Surgery 10:319-323.
Kosim I. 2015. Gambaran Anatomi dan Histologi Lidah Musang Luak (Paradoxurus hermaphroditus). Skripsi. Bogor (ID): Institut PertanianBogor.
Maher MA, El –Sakhway, Hussein MA, Shaker NA. 2015. Morphological studies on the anal canal of adult female cat (Felis domestica).International Journal of Advanced Research in Biological Sciences 2: 195-205.
Nijman V, Spaan D, Rode Margono EJ, Roberts PD, Wirdateti, Nekaris KAI. 2014. Trade in common palm civet Paradoxurus hermaphroditus in Javan and Balinese markets, Indonesia. Small Carnivore Conservation 51:11-17.
Panggabean E. 2011. Mengeruk Untung dari Bisnis Kopi Luak. Jakarta: AgroMedia Pustaka.
Pappalardo E, Martino PA, Noli C. 2002. Macroscopic, cytological and bacteriological evaluation of anal sac content in normal dogs and in dogs with selected dermatological disease. Veterinary Dermatology 13: 315-322.
Putra SM. 2012. Morfologi Organ Reproduksi Musang Luak Betina (Paradoxurushermaphroditus). Skripsi. Bogor (ID): Institut Pertanian Bogor.
Rozhnov VV, Rozhnov YV. 2003. Roles of different types of excretions in mediated communication by scent marks of the common palm civet, Paradoxurus hermaphroditus. Biology Bulletin 30: 584-590.
Suyanto A. 2002. Mammalia di Taman Nasional di Gunung Halimun Jawa Barat. Puslit Biologi-LIPI. Bogor.
Tsukise A, Wilfred M, Daisuke N, Kaori K, Junpei K, Osamu F. 2000. Lectin histochemistry of the canine anal glands. Annals of Anatomy 182:151-159.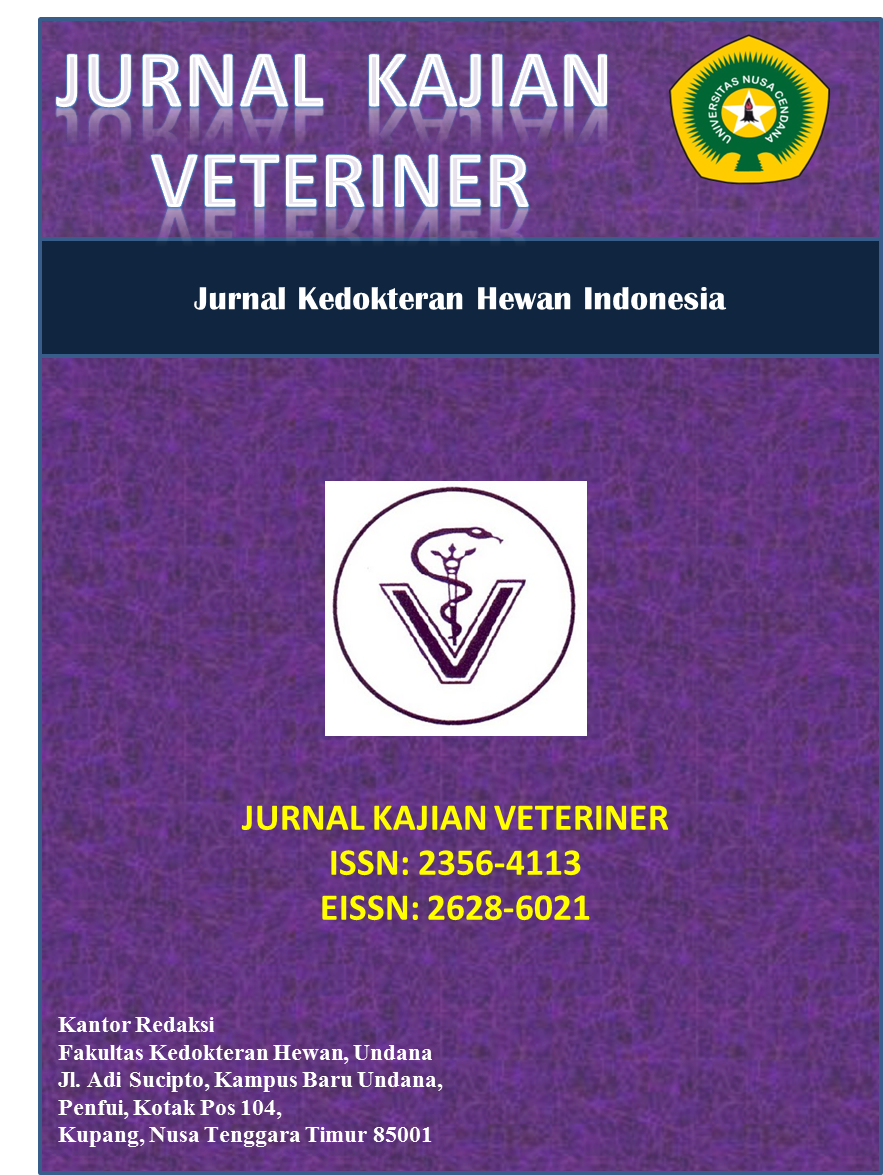 How to Cite
Maha, I., Adnyane, I. K., & Novelina, S. (2018). MORFOLOGI KELENJAR ANAL MUSANG LUAK BETINA (PARADOXURUS HERMAPHRODITUS). JURNAL KAJIAN VETERINER, 6(1), 1-11. https://doi.org/10.35508/jkv.v6i1.959