IDENTIFIKASI TUMBUHAN SUMBER PAKAN DAN TINGKAT PALATABILITAS KUSKUS (FAMILI PHALANGERIDAE) DI DESA LUMOLI, SERAM, MALUKU
Marthinus Usmany

SMA NEGERI 4 AMBON

Pieter Kakisina

Jurusan Biologi, FMIPA, Universitas Pattimura, Ambon
Keywords:
Feed, Cuscus, Famili Phalangeridae, Lumoli Village, Seram, Molucas
Abstract
Cuscus is an Australian animal (marsupial) whose distribution is limited in Indonesia and its population is declining due to threats hunted for consumption, and traded illegally. To overcome the above problems it is necessary to conduct a comprehensive study of the type of feed in the hope of helping the conservation of these animals, especially in captivity. The purpose of this research is to study the types of plants as cuscus that live in captivity of Lumoli Village, West Seram District. This research begins with the observation of the type of kursus that lives in captivity of Lumoli Village. Study of feed type, depiction, and analysis. The results showed 44 species of plants in the village of Lumoli West Seram District, Maluku can be used as cuscus feed in captivity. Very good plant part as Source of Feed is young leaf of 28 species of plant (63,63%), 25 species (56,81%) are fruits, 4 species (9,09%) are flowers, 3 species (6,81 %) is a young shoot. The level of palatability of the cuscus indicates that the brown cuscus and white cuscus correspond to 43 plant species (97.72%) and can not be done 1 plant species (2.27%) (water apple), while the spotted cuscus and the gray magic cuscus 43 (97.72 %) plant types and unlike 1 plant species (2.27%) (Tomi-tomi). The proximate test results showed the highest ash content was available in the gray cuscus (18.95%) and the lowest in brown couscous (11.41%), the highest crude protein content in the gray cuscus (28.01%) and the lowest in white cuscus (23, 64%), crude fat content in cuscus totol (4.92%) and lowest in gray cuscus (2.93%), crude fiber content in gray cuscus (27.99%) and lowest in brown cuscus (21, 68% ). Can be concluded there are 44 types of forest plants that can be consumed either in the form of young leaves, fruit, flowers and young shoots. Further research is needed on additional types of feed for the cuscus in captivity.
References
Dahruddin H, Farida W.R., Rohman A.E. 2005. Jenis-jenis Tumbuhan Sumber Pakan dan tempat bersarang Kuskus (Famili Phalangeridae) di Cagar Alam Biak Utara, Papua. Jurnal Biodiversitas.VI(4) : 253-258.
Farida, W.R., Widyastuti, R., Sigit, N., Khotijah, L. 2001. Konsumsi dan Kemampuan Cerna Pakan pada Kuskus (Spilocuscus maculatus ) dan ( Phalanger sp ). Jurnal Bio. Indonesia. Vol. III (2). 139-149.
Farida, W.R., Semiadi, Dahrudin, H. 2004. Pemilihan jenis – jenis tumbuhan sebagai tempat bersarang dan sumber pakan kuskus (Famili Phalangeridae) di Irian Jaya. Jurnal Bio. Indonesia II (5) : 235-243.
Farida, W.R., Triono, T., Dahrudin. 2005. Pemilihan Jenis Tumbuhan Sumber Pakan dan Tempat Bersarang Kuskus (Phalanger sp ) di Cagar Alam Gunung Mutis, Nusa Tenggara Timur. Jurnal Biodiversitas VI (4) : 253-258.
Flannery, T. 1990. Mammals of New Guinea. Robert Brown and Associates.
Helgen,K.M., Flannery, T.F. 2004. Notes on The Phalangerid Marsupial Genus Spilocuscus, With Description Of A New Species From Papua. Journal Of Mammalogy. Vol. 85(5). 825-833.
Jumaliah, N. 1999. Pola perilaku, estimasi kuantitatif konsumsi dan daya cerna kancil (Tragulus javanicus) terhadap pakan di Kebun Binatang Ragunan Jakarta. Tesis Program Pasca Sarjana IPB, Bogor.
Latinis, K. 1996. Hunting The Cusus in Western Seram. The Role of The Phalanger in Subsistence Economies in Central Maluku. Journal Cakalele. University Of Hawaii.
Latupapua, M.J. 2015. Aplikasi Penggunaan Plot Ukur Permanen dalam Memprediksi Populasi Satwa Kuskus (Phalanger sp ) dan Penggunaan Habitat Pada Hutan Desa Meti Kecamatan Tobelo timur. Politeknik Perdamaian Halmahera. Jurnal Agroforestri. No. 1 (31-38). Tobelo. 31-38.
Nurjaeni. 2001. Konsumsi dan Gambaran Umum Kecernaan Pakan Pada Kuskus Beruang. Institut Pertanian Bogor. Bogor.
Pattiselano, F. 2007. Perburuan Kuskus (Phalangeridae) oleh Masyarakat Napan di Pulau Ratewi, Nabire, Papua. Jurnal Biodiversitas. Vol. 8. No. 4. 274-278.
Pattiselano, F., Koibur, J. F. 2008. Cuscus (Phalangeridae) Hunting by Biak Ethnic Group in Surrounding North Biak Strict Nature Reserve, Papua. Journal of Biosciences. Vol. 15. No. 3. 130-134.
Saragih, E.W. 2010. The Diet Spotted Cuscus (Spilocuscus maculates) in natural and captivity Habitat. Jurnal Bioscience. Vol.2(2). 78-83.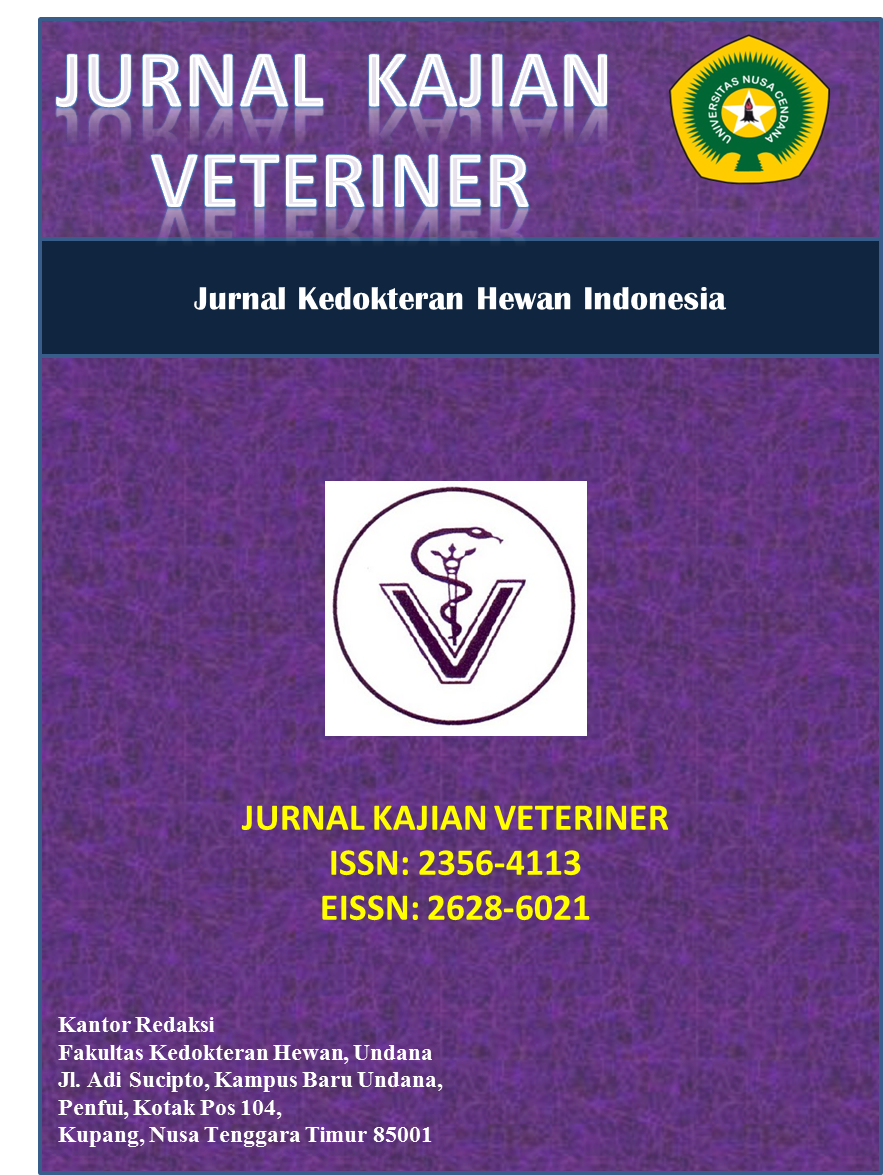 How to Cite
Usmany, M., & Kakisina, P. (2018). IDENTIFIKASI TUMBUHAN SUMBER PAKAN DAN TINGKAT PALATABILITAS KUSKUS (FAMILI PHALANGERIDAE) DI DESA LUMOLI, SERAM, MALUKU. JURNAL KAJIAN VETERINER, 6(1), 17-30. https://doi.org/10.35508/jkv.v6i1.961