Profil Peternakan Babi Di Kota Kupang Dan Potensi Penularan Trichinellosis
Andrijanto Hauferson Angi

Program Studi Kesehatan Hewan Jurusan Peternakan Politeknik Pertanian Negeri Kupang

Fadjar Satrija

Departemen Ilmu Penyakit Hewan dan Kesehatan Masyarakat Veteriner Fakultas Kedokteran Hewan Institut Pertanian Bogor

Denny Widaya Lukman

Departemen Ilmu Penyakit Hewan dan Kesehatan Masyarakat Veteriner Fakultas Kedokteran Hewan Institut Pertanian Bogor

Mirnawati Sudarwanto

Departemen Ilmu Penyakit Hewan dan Kesehatan Masyarakat Veteriner Fakultas Kedokteran Hewan Institut Pertanian Bogor

Etih Sudarnika

Departemen Ilmu Penyakit Hewan dan Kesehatan Masyarakat Veteriner Fakultas Kedokteran Hewan Institut Pertanian Bogor
Keywords:
pig farm, structured questionnaire, trichinellosis
Abstract
Trichinellosis is a parasitic disease of humans caused by eating raw from domestic or game animals infected by Trichinella spp. Human trichinellosis contracted from commercial supplies of meat have been most often linked to infected pigs, wild boar, or horses. Trichinella is a nematode which has an atypical direct life cycle that does not involve stages developing outside of the host. This study was conducted to see the profile of pig farms in the city of Kupang and the potential transmission of trichinellosis. The data was derived from interview 60 farmers in 6 sub districts in city of Kupang by using a structured questionnaire and analyzed descriptively. The results of the questionnaire survey showed that many race of pig from a mixed race, the seeds come from traditional breeding. Feed rest of the home or restaurant are usually directly given to the pigs. The presence of rat in around of the cage often. All respondents were interviewed did not know or hear about trichinellosis disease which can be one cause of the spread of trichinellosis in city of Kupang.
References
[CDC] Center for Disease Control. 2012. Division of Parasitic Diseases. Trichinosis. Web.http://www.cdc.gov/parasites/trichinellosis/. [diunduh 2014 Sept 22].
Craig J, Colin C dan Ian P. 2010. Budidaya ternak babi komersial oleh peternak kecil di NTT-Peluang untuk integrasi pasar yang lebih baik. Laporan Akhir. SMAR/2007/195. ACIAR. Canberra. Australia. [diunduh 2014 Sept 10].
[DISTANNAKBUNHUT Kota Kupang] Dinas Pertanian Peternakan Perkebunan dan Kehutanan Kota Kupang. 2011. Populasi ternak kecil menurut jenis ternak menurut kabupaten/kota. 2011. [diunduh 2014 Mar 16].
Foreyt WJ. 2013. Trichinosis: Reston, Va. US. Geological Survey Circular 1388, 60 p. 2 appendixes, http://dx.doi.org/10.3133/cir1388. [diunduh 2014 Sept 22].
Gamble HR. 2011. Status of Trichinella infection in US. commercial pork and its safety for international trade in pork and pork products. The data presented on Trichinella in US. pigs derive from a variety of sources that include structured USDA-APHIS Swine surveys, USDA-ARS. [diunduh 2014 Jul 14].
Gamble HR, Bush E. 1999. Seroprevalence of Trichinella infection in domestic swine based on the national animal health monitoring system 1990 and 1995 swine surveys. Vet Parasitol. 80: 303-310.
Gamble HR, Brady RC, Bulaga LL, Berthoud CL, Smith WG, Detweiler LA, Miller LE, Lautner EA. 1999. Prevalence and risk association for Trichinella infection in domestic pigs in the northeastern United States. Vet Parasitol. 82: 59-69.
Gottstein, Pozio E, Nockler K. 2009. Epidemiology, diagnosis, treatment, and control of trichinellosis. Clin Microbiol Rev. 22:127–45.
Kaewpitoon N, Kaewpitoon JS, Philasri C, Leksomboon R, Maneenin C, Sirilaph S, Pengsaa P. 2006. Trichinosis: Epidemiology in Thailand. Reviuw. World J Gastroenterol 2006 October 28; 12(40): 6440-6445.www.wjgnet.com World J Gastroenterol ISSN 1007-9327. Meyer RO dan Brendemuhl JH. 2003. Controlling Internal Parasites in Swine. Electronic Data Information Source - UF/IFAS Extension. 01 Apr. 2003. Web. http://edis.ifas.ufl.edu/an039. [diunduh 2014 Sept 22].
Pozio E, La Rosa G, Serrano FJ, Barrat J, Rossi L. 1996. Environmental and human influence on the ecology of Trichinella spiralis and Trichinella britovi in western-Europe. Vet Parasitol. 113: 527–533.
Urquhart GM, Armour J, Duncan JL, Dunn AM, Jenings FW. 1996. Veterinary Parasitology. 2nd ed. London (GB): Blackwell Science.
Van Knapen F. 2000. Control of trichinellosis by inspection and farm management practices. Vet Parasitol. 93: 385–392.
Wang, ZQ, Cui J dan Shen LJ. 2007. The epidemiology of animal trichinellosis in China. Vet J. 173: 391-398.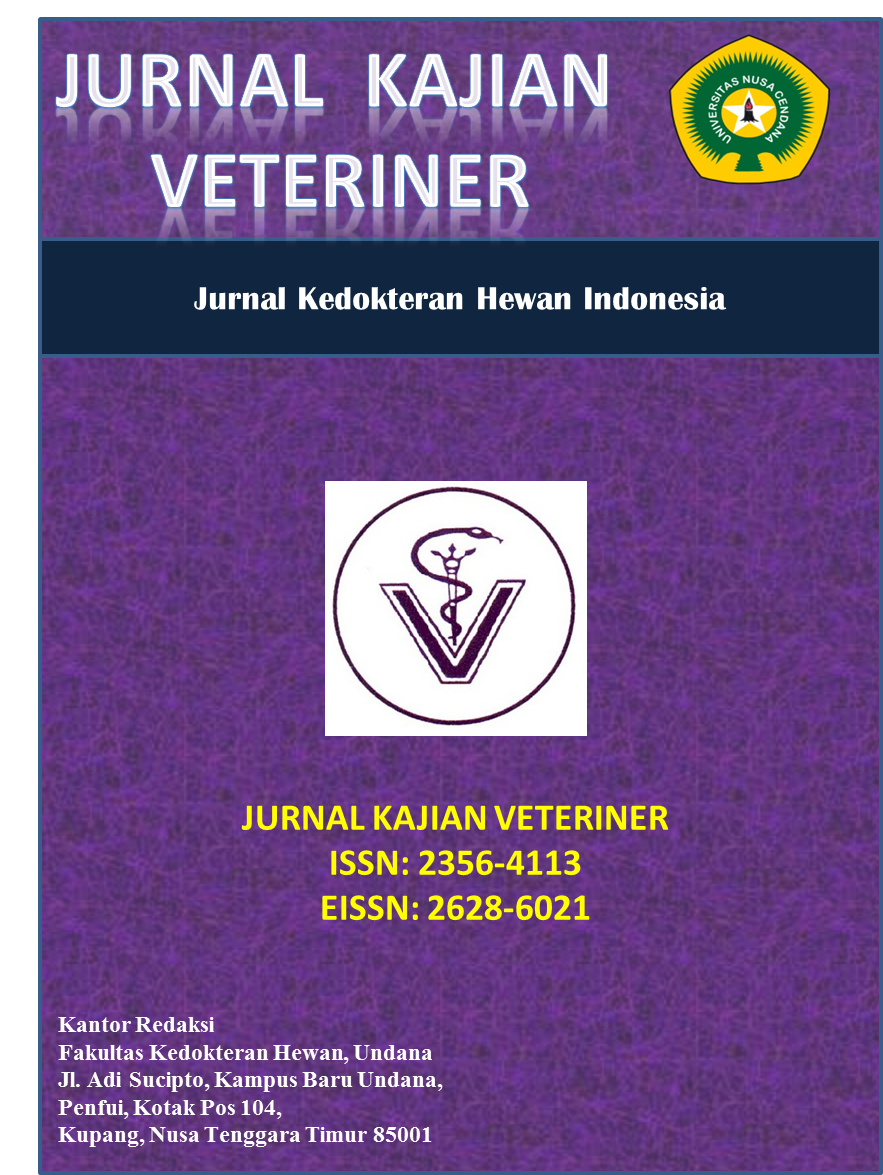 How to Cite
Angi, A., Satrija, F., Lukman, D., Sudarwanto, M., & Sudarnika, E. (2019). Profil Peternakan Babi Di Kota Kupang Dan Potensi Penularan Trichinellosis. JURNAL KAJIAN VETERINER, 2(2), 131-142. https://doi.org/10.35508/jkv.v2i2.997