ANALYSIS DOCKING OF PLASMODIUM FALCIPARUM ENOYL ACYL CARRIER PROTEIN REDUCTASE (PFENR) WITH ORGANIC COMPUNDS FROM VIRTUAL SCREENING OF HERBAL DATABASE
N. D. Malau

Indonesia Christian University

S. T. Azzahara

Indonesia Christian University
Abstract
Malaria is one of problematic infectious diseases worldwide. The absence of an effective vaccine and the spread of drug resistant strains of Plasmodium clearly indicate the necessity for the deveploment of new chemotherapeutic agents. Recent method being developed is searching a new drug of antimalarial using in silico screening, or also known as virtual screening. One of enzyme target that important for growth of the malaria parasite is Plasmodium falciparum Enoyl Acyl Carrier Protein Reductase (PfENR). Inhibition of this enzyme cause the fatty acid biosynthesis type II will be terminated. In this research, in silico screening was performed using AUTODOCK VINA software to find inhibitor candidates of PfENR by using ligands from the database of Medicinal Plants in Indonesia. On the AUTODOCK VINA software moleculer docking experiments were performed between ligands and macromolecule target PfENR. This target that has been optimized with residue removal and charges addition. Ligand is expected to be the PfENR inhibitors.
Keywords: docking,  PfENR, malaria, ligand,  receptors
References
WHO, 2012, World malaria report 2012: Fact Sheet, pp.1-2. AS. Fauci, Kasper DL, Longo DL, Loscalzo J, Braunwald E, Hauser SL, & Jameson JL, 2008 Horrison's principle of internal medicine, 17th Edition, Dalam: White NJ, Breman JG, Malaria, USA: McGraw-Hill Companies Inc, (pp.1280-1281).
A.C. Aguiar, Santos Rde, M. Figueiredo, F.J. Cortopassi, W.A. & Pimentel, A.S. (2012). Antimalarial activity and mechanisms of action of two novel 4- aminoquinolines against chloroquineresistant parasites. PLoS One. 7: e37259.
Kementerian Kesehatan RI. (2011), Epidemiologi Malaria di Indonesia. Buletin Jendela Data dan Informasi Kesehatan. ISSN 2088 – 270X. Volume 1:1-39.
B. G. Katzung (2006) Basic and Clinical Pharmacology 10th Edition New york : McGraw Hill Companies. (1545)
LL. Brunton, 2006, Goodman and Gilman's the pharmacological basis of therapeutics, 11th Edition, Dalam: Shapiro TA, Goldberg DE, Chemotherapy of protozoal infections, USA: McGraw-Hill Companies Inc, (pp.1035-1041).
W. Pribadi, & Muljono, R. (2004). Resistensi Parasit Malaria terhadap Obat Malaria. Dalam S. Gandahusada, H. Ilahude, & W. Pribadi (ed), Parasitologi Kedokteran. Jakarta : Gaya Baru. (197-198).
D. Sullivan, J. & Krishna, S. (2005). Malaria: Drugs, Disease, and Post-genomic Biology. Berlin: Springer.
D. Tasdemir, (2006). Type II Fatty Acid Biosynthesis, a New Approach in Antimalarial Natural Product Discovery. Phytochemistry Reviews, 99-108.
A. H. Pripp, (2006). Docking and virtual screening of ACE inhibitory dipeptides. Eur Food Res Technol, 225, 589-592.
M.E. Wolff, (1996). Burgers Medicinal Chemistry and Drug Discovery 5th Edition Volume 1 : Principles and Practice. New York : Wiley-Interscience http://www.rscb.org, https://pubchem.ncbi.nlm.nih.gov/
R. Perozzo, M. Kuo, A. bir Singh Sidhu, J. T. Valiyaveettil, R. Bittman, W. R. Jacobs, Jr., D.A. Fidock, and J. C. Sacchettini (2002). Structural Elucidation of the Specificity of the Antibacterial Agent Triclosan for Malarial Enoyl Acyl Carrier Protein Reductase*. The Journal of Biological Chemistry. 277 (15) : 13106–13114
GM. Morris, Godsell DS, Halliday RS, Guey R, Hart WE, Belew RK, Olson AJ. 1998. Automated docking pusing lamarckian genetis algoritma and na empirical inding free energy function. J Comp Chem. 19(14): 1639-1662.
D. Nelson, Cox M. 2008. Principle of Biochemistry (5th Edn.). W.H. freeman and company (USA). ISBN-13: 978-0-7176-7108-1.
GA. Jefrey 1997. An introduction to hydrogen bonding. New York: Oxford University Press.
L. Lins, Brasseur R. 1995. The hydrofobic effect in protein folding. Faseb J. 9: 535-540.
KA. Sharp, Honig B. 1990. Electrostatic interactions in macromolecules: theoryand applications. Annu Rev Biophys Biophys Chem. 19: 301-322.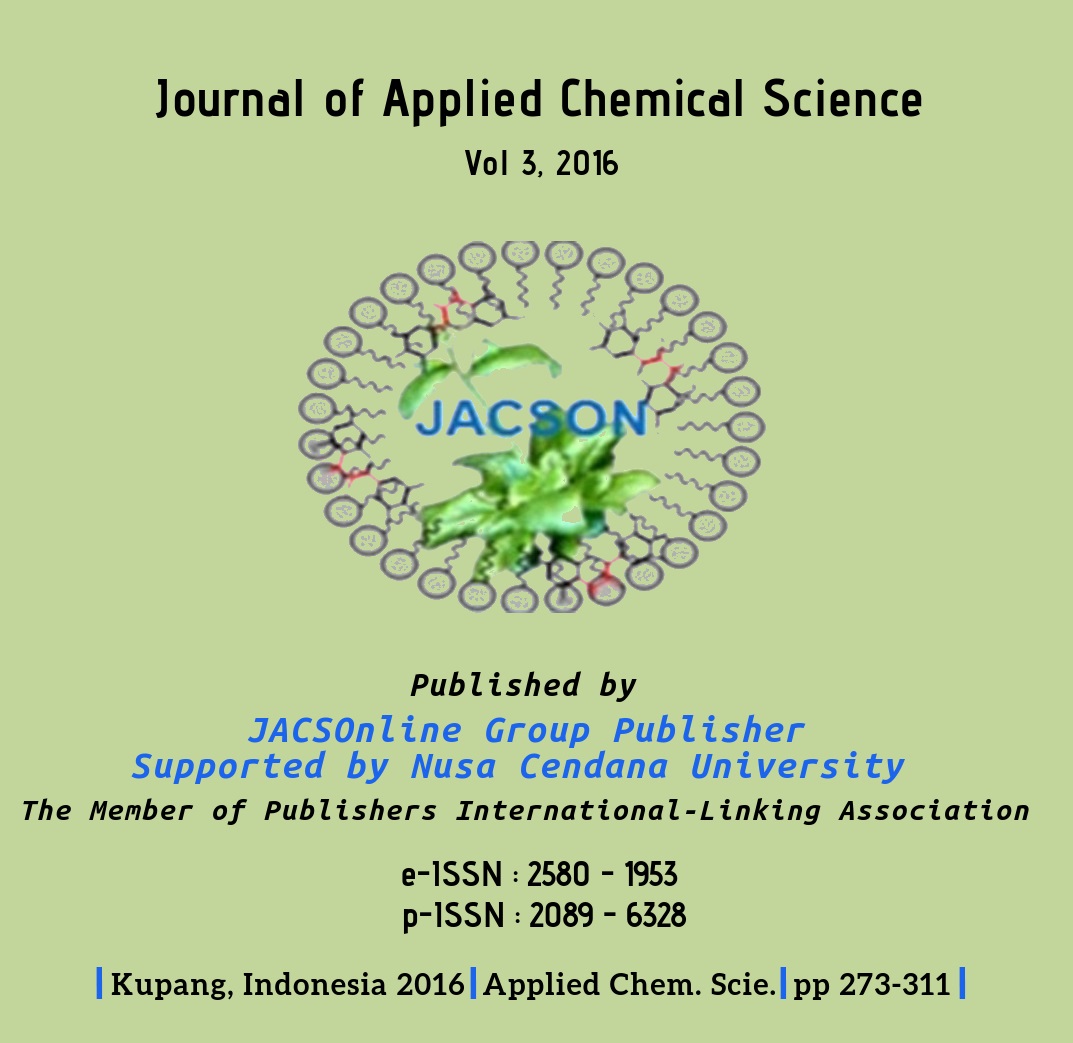 How to Cite
Malau, N., & Azzahara, S. (2018). ANALYSIS DOCKING OF PLASMODIUM FALCIPARUM ENOYL ACYL CARRIER PROTEIN REDUCTASE (PFENR) WITH ORGANIC COMPUNDS FROM VIRTUAL SCREENING OF HERBAL DATABASE. Journal of Applied Chemical Sciences, 5(2), 491-496. https://doi.org/10.35508/jacs.v5i2.2008
Copyright (c) 2018 Universitas Nusa Cendana
This work is licensed under a Creative Commons Attribution-NonCommercial-ShareAlike 4.0 International License.