EFEK PENAMBAHAN AIR REBUSAN DAUN SIRIH DAN DAUN JAMBU BIJI TERHADAP PRODUKSI KARKAS AYAM BROILER (The effect of addition betel leaf stew and guafa leaf to the broiler chicken carcass production)
Alfryano A. Ade

Universitas Nusa Cendana

Ni Putu S. Suryatni

Universitas Nusa Cendana

Jonas F. Theedens

Universitas Nusa Cendana
Keywords:
betel leaf, guafa leaf, cutting weight, carcass percentage, non-carcass percentage, abdominal percentage
Abstract
An experiment had been conducted in the chicken pen of the Faculty of Animal Husbandry, the University of Nusa Cendana for five weeks from 28 November 2019 to January 2020. The aims of this experiment were to know the effect of adding betel leaf stew and guava leaf stew to the broiler chicken carcass production in the starter period. This experiment used 96 broiler chickens strain CP 707 Charon Phokphan. The experimental method used was a complete randomized design consisting of 4 treatments and 6 replication. The treatment that was tried was: P0 = drinking water  without the addition of both ingredients (control), P1 = drinking water plus 50 ml of betel leaf stew /liter, P2 = drinking water plus 50 ml of guafa leaf stew/liter, P3 = drinking water plus 25 ml of betel leaf stew and drinking water plus 25 guafa leaf stew/liter. Variance analysis results showed that the treatment has no significant effect (P>0.05) on cutting weight, carcass percentage, non carcass percentage and abdominal fat percentage. Based on the results of this experiment it can be concluded, that the addition betel leaf stew and guava leaf stew in drinking water at 50 ml solution gives the same effect on the parameters measured.
References
Anggorodi, H. R. 2004. Ilmu Makanan Ternak Umum. Gramedia, Jakarta

Badan Pengawasan Obat dan Makanan (BPOM).2004.Ekstrak Kental Daun Jambu Biji Dalm Monografi Tumbuhan Obat Indonesia. Vol 1, Jakarta: BPOM.

Blakely J, Blade DH, 1991. Ilmu Peternakan. Edisi ke empat. Penerjemah : B. Srigandono.Gadjah Mada University Press, Yogyakarta.

Dalton, J.W., dan B.D. Lott. 1985. Age and dietary energy effect on broiler abdominal fat deposition. Poultry Sci.64: 2161-2164

Fadilah, R. 2004. Ayam Broiler Komersial. Jakarta: Agromedia Pustaka.

Hanafiah, T.H. 2009. Kadar Kolesterol Serum Darah Ayam Petelur Yang Diberi Air Rebusan Daun Sirih. Skripsi. Fakultas Peternakan Institute Pertanian Bogor.

Haris, A. 1997. Pengaruh Imbungan Protein – Energi Dalam Ransum Dan Strain Yang Berbeda Terhadap Berat Karkas Dan Lemak Abdominal.

Hidayatiningtyas, P. 2008. Perbandingan Efek Antibakteri Air Seduhan Daun Sirih (Piper bettle linn) Terhadap Streptococcus Mutans Pada Waktu Kontak Dan Konsentrasi Yang Berbeda. Fakultas Kedokteran Universitas Diponegoro Semarang.
Moreng, R. E, dan J. Avens 1985. Poultry Scince and Production. Reston Publishingcompany Inc., A Prentice Hall Co, Viginia.
Mulyantini, N. G. A. 2010. Ilmu Manajemen Ternak Unggas. Gadjah Madauniversity Press. Yogyakarta.
Resnawati, H. 2010. Organ – organ tubuh pada ayam pedaging yang diberi pakan mengandung minyak biji saga (Adenanthera pavonina L.). Seminar Nasional Teknologi Peternakan dan Veteriner.

Risnajati, D. 2012. Perbandingan bobot akhir, bobot karkas dan persentase karkas berbagai strain broiler. Sains Peterankan. Vol. 10 (1). ISSN 1693 – 8828

Salam, et al. 2013. Bobot Karkas Dan Lemak Abdominal Broiler Yang Diberi Tepung Jintan Hitam (Nigella Sativa) dalam Ransum Selama Musim Panas. Jurnal Sains Peternakan. 11 (2): 84-89
Saptonugroho.A.,2010. Anung saptunugroho'sBlog. Dalam. Anungsaptunugroho. Wordpress.com/category/ayam-broiler. Tanggal 17 Agustus 2012. 23:50
Suprijatna, E., U. Atmomarsono dan R. Kartasudjana. 2005. Ilmu Dasar Ternak Unggas. Penebar Swadaya, Jakarta.
Syamsuhidayat dan Hutapea. 1991. Inventaris Tanaman Obat Indonesia I. Departemen Kesehatan RI Jakarta. pp:484-485
Tama, Cheldra Aji, Dian Septinova, Tintin Kurtini. 2017. Pengaruh Pemberian Jamu Tradisional Terhadap Bobot Hidup, Bobot Karkas, Bobot Giblet Dan Lemak Abdominal Broiler. Jurnal Penelitian Peternakan Indonesia Vol 1 (2):16-21, Agustus 2017.
Winarno MW. 1998. Jambu biji menyetop diare. Http://www.indomedia.com/intisari/1998/November/alternatif.htm [10 Mei 2008].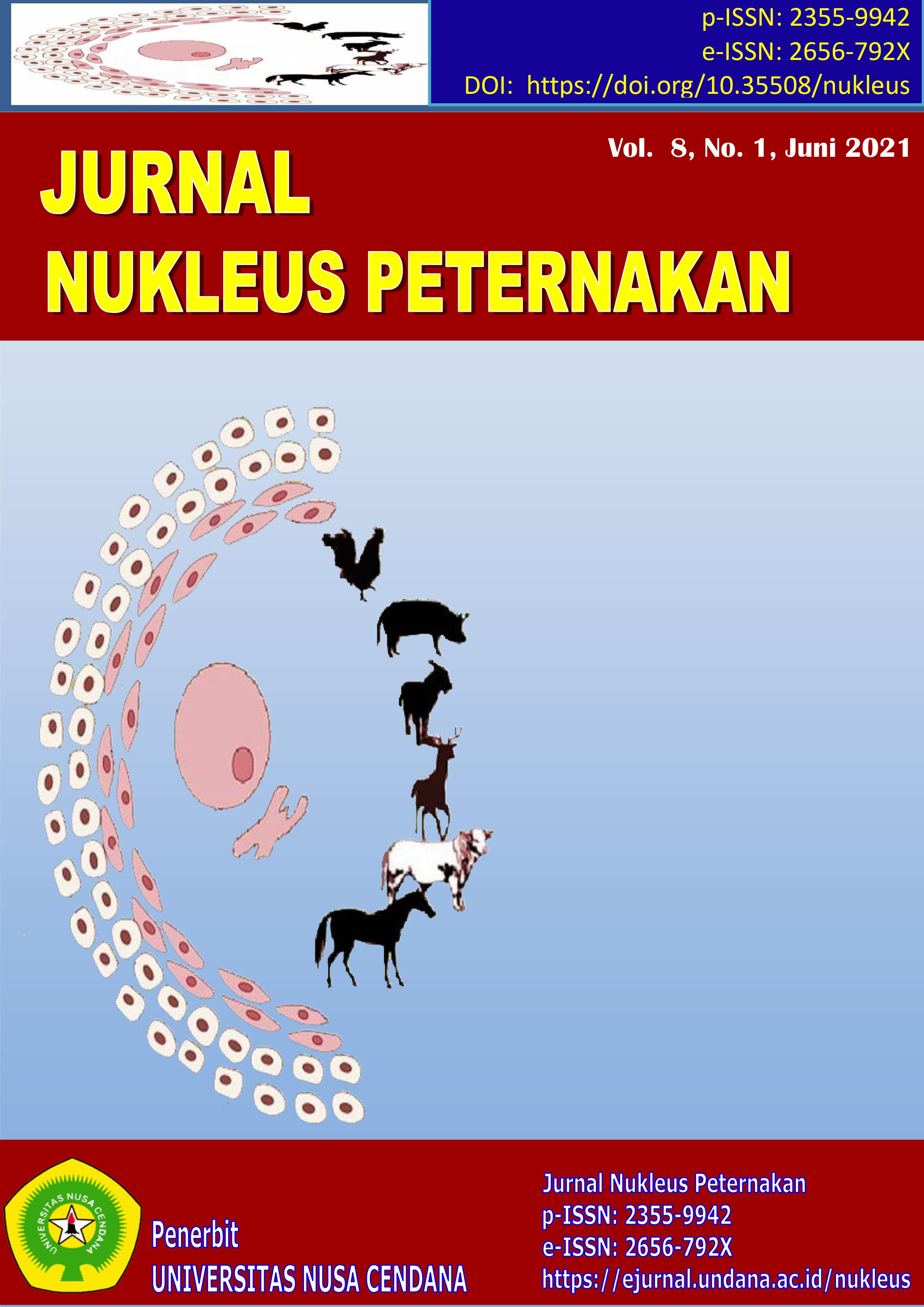 How to Cite
Ade, A., Suryatni, N. P., & Theedens, J. (2021). EFEK PENAMBAHAN AIR REBUSAN DAUN SIRIH DAN DAUN JAMBU BIJI TERHADAP PRODUKSI KARKAS AYAM BROILER (The effect of addition betel leaf stew and guafa leaf to the broiler chicken carcass production). JURNAL NUKLEUS PETERNAKAN, 8(1), 60-66. https://doi.org/10.35508/nukleus.v8i1.4236
Copyright (c) 2021 JURNAL NUKLEUS PETERNAKAN
This work is licensed under a Creative Commons Attribution-NonCommercial-NoDerivatives 4.0 International License.