PENGARUH PANDEMIC COVID 19 TERHADAP NPL BANK PERKREDITAN RAKYAT DI INDONESIA
Maria I. H. Tiwu

Nusa Cendana University
Abstract
ABSTRACT
This study aims to analyze the effect of the Covid 19 pandemic on the NPL of BPR in Indonesia registered with the Financial Services Authority during the study period from January 2017 to July 2020. The analytical method used is multiple regression with the Covid 19 pandemic as a dummy variable before and during the Covid 19 pandemic. The results of this study indicate that the Covid 19 pandemic has a significant and positive effect on the NPL of BPR in Indonesia. The Covid 19 pandemic is an extraordinary event that has caused economies around the world, including Indonesia, to experience a sharp decline. As a result, entrepreneurs, labor and other sectors of the economy lose income and profits, this has resulted in the inability of borrowers consisting of entrepreneurs to return funds to BPR in Indonesia.
Keywords : NPL, Pandemic Covid 19, BPR.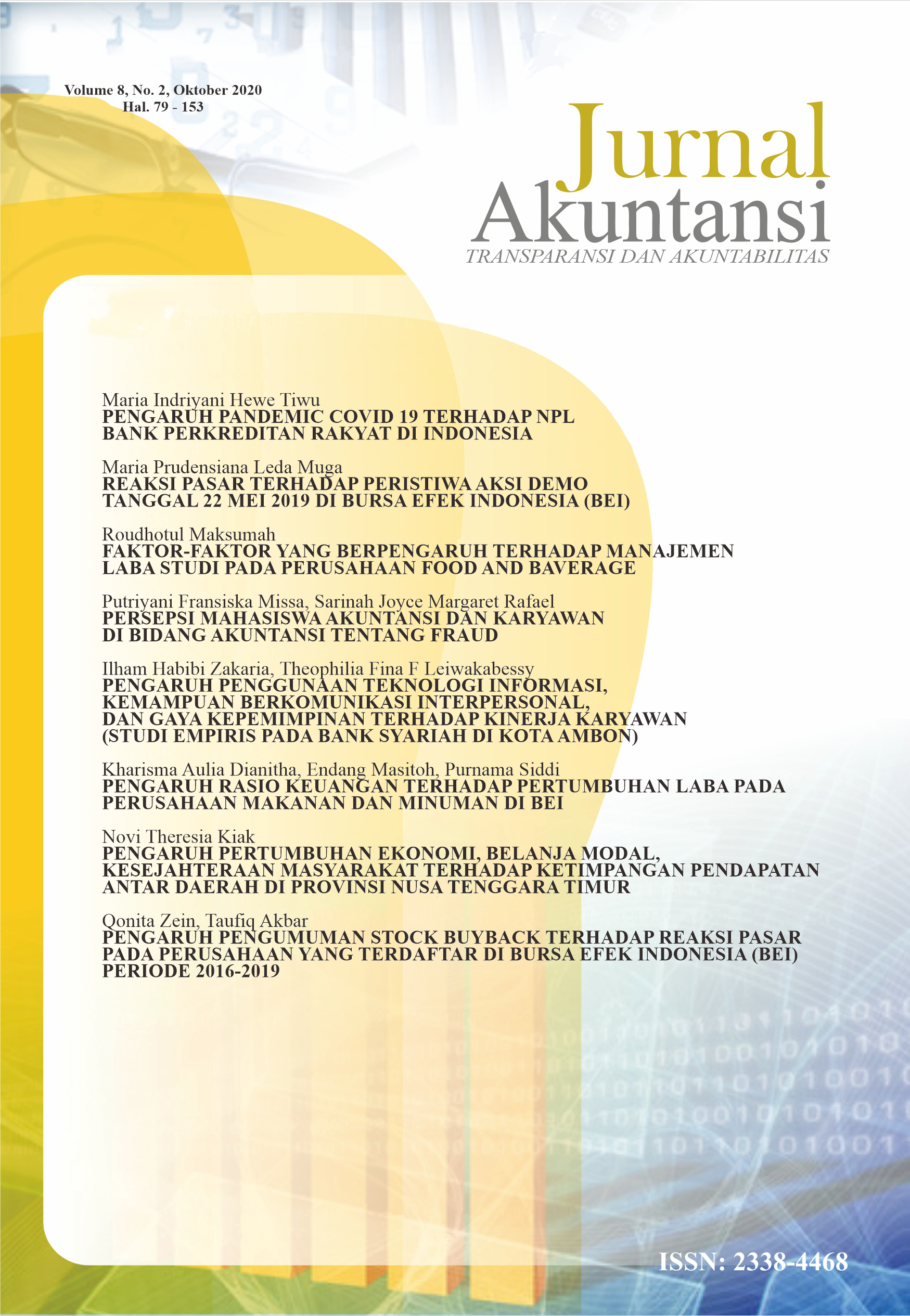 How to Cite
Tiwu, M. (2020). PENGARUH PANDEMIC COVID 19 TERHADAP NPL BANK PERKREDITAN RAKYAT DI INDONESIA. JURNAL AKUNTANSI : TRANSPARANSI DAN AKUNTABILITAS, 8(2), 79-87. https://doi.org/10.35508/jak.v8i2.2869
Copyright (c) 2020 Nusa Cendana University
This work is licensed under a Creative Commons Attribution-NonCommercial-ShareAlike 4.0 International License.