Pengujian Residu Antibiotik Pada Susu
Annytha Ina Rohi Detha

Bagian Ilmu Penyakit Hewan dan Kesehatan Masyarakat Veteriner Fakultas Kedokteran Hewan Universitas Nusa Cendana
Keywords:
antibiotic residues, milk
Abstract
Pengobatan dengan antibiotik yang tidak sesuai prosedur yang tepat seringkali menimbulkan residu dapat menyebabkan masalah yang sangat merugikan peternak sapi perah, industri pengolah susu dan konsumen. Susu yang mengandung antibiotik tidak dapat digunakan untuk pembuatan susu produk fermentasi seperti yogurt dan keju. Penelitian ini bertujuan untuk melakukan pengujian terhadap residu antibiotika dalam susu. Pemeriksaan ini diharapkan dapat mengidentifikasi residu antibiotika sehingga menekan efek samping antibiotika yang ada dalam susu. Sampel yang digunakan berupa susu segar sebanyak 6 sampel yang berasal dari peternakan sapi perah di Kunak, Kecamatan Cibungbulang, Kabupaten Bogor. Pengujian residu dilakukan di Laboratorium Kesehatan Masyarakat Veteriner Fakultas Kedokteran Hewan Institut Pertanian Bogor. Pengujian dilakukan dengan 2 cara yaitu uji residu antibiotika dan uji yoghurt. Berdasarkan hasil pengujian residu antibiotika, diperoleh hasil bahwa keseluruhan sampel susu sapi segara yang diperiksa bebas dari residu antibiotika yang ditandai tidak terbentuknya zona bening di sekitar kertas cakram yang mengandung sampel susu segar. Hasil pemeriksaan residu antibiotika dengan uji yogurt pada keseluruhan sampel yang digunakan memberikan hasil negative yang ditandai dengan konsistensi susu menjadi kental. Hal ini mengindikasikan bahwa sampel susu yang diuji tidak mengandung residu antibiotik sehingga tidak menghambat pertumbuhan starter kombinasi dari Streptococcus termophillus, dan Lactobacillus bulgaris sehingga dapat membentuk yogurt pada sampel susu.
References
Alcaine SD, Sukhnanand SD, Warnick LD, Su WL, McGann P, McDonough P and Wiedmann M. 2005. Ceftiofur-Resistant Salmonella Strains Isolated from Dairy Farms Represent Multiple Widely Distributed Subtypes that Evolved by Independent Horizontal Gene Transfer. Antimicrob Agents Chemother 49:4061-4067.
Althaus R, Berruga M, Montero A, Roca M, Molina M. 2009. Evaluation of a Microbiological Multi-Residue System on the detection of antibacterial substances in ewe milk. Analytica Chimica Acta 632: 156-162.
Andrews AH. 2000. Calf Health. in The Health of Dairy Cattle. A. H. Andrews, ed. Oxford, UK: Blackwell Science.
Berge ACB, Atwill ER and Sischo WM. 2005. Animal and Farm Influences on the Dynamics of Antibiotic Resistance in Faecal Escherichia Coli in Young Calves. Prev Vet Med 69:25-38.
Berruga M, Molina M, Noves B, Roman M, Molina A. 2007. In vitro study about the effect of several penicillins during the fermentation of yogurt made from ewe´s milk. Milchwissenschaft 62: 303-305.
Dodd FH and Booth JM. 2000. Mastitis and Milk Production. in The Health of Dairy Cattle. A. H. Andrews, ed. Oxford, UK: Blackwell Science.
Haagsma N, Pluijmakers H, Aets M, Beek W. 1989. Rapid sample preparation methods for analysis of residues of sulfamethazine and its N4-acetyl and desamino metabolites in swine tissue by HPLC. Biomedical Chromatography 2: 41-45.
Lukman DW, Sudarwanto M, Sanjaya WA, Latif H, Purnawarman T, Soejoedono RR. 2009. Penuntun Praktikum Higiene Pangan. Bagian Kesehatan Masyarakat Veteriner, Departemen Ilmu Penyakit Hewan dan Kesmavet. FKH IPB. Bogor.
Mohsenzadeh and Bahrainipour 2008. The Detection Limits of Antimicrobial Agents in Cow's Milk by a Simple Yoghurt Culture Test. Pakistan Journal of Biological Sciences 11: 2282-2285.
Mudiarti, T. B., 1997. Teknik Deteksi Residu Antimikroba dalam Produk Peternakan, in Seminar Nasional Peternakan dan Veteriner. Bogor: Veterinary Research Center.
Nagel O, Zapata M, Basílico J, Bertero J, Molina M, Althaus R. 2009. Effect of chloramphenicol on a bioassay response for the detection of tetracycline residues in milk. Journal of Food and Drug Analysis 7: 36-42.
Pikkemaat M. 2009. Microbial screening methods for detection of antibiotic residues in slaughter animals. Analytical and Bioanalytical Chemistry 395: 893-905.
Sato KP, Bartlett PC and Saaed MA. 2005. Antimicrobial Susceptibility of E. Coli Isolates from Dairy Farms Using Organic vs. Conventional Methods. J Am Vet Med Assoc 226:589-594.
Sudarwanto M, Sudarnika E. 2008. Hubungan antara pH susu dengan Jumlah Sel Somatik sebagai parameter mastitis subklinis. Media Peternakan 31(2): 107- 113.
Sudarwanto M. 2012. Pemeriksaan Susu dan Produk Olahannya. Bogor: IPB Press.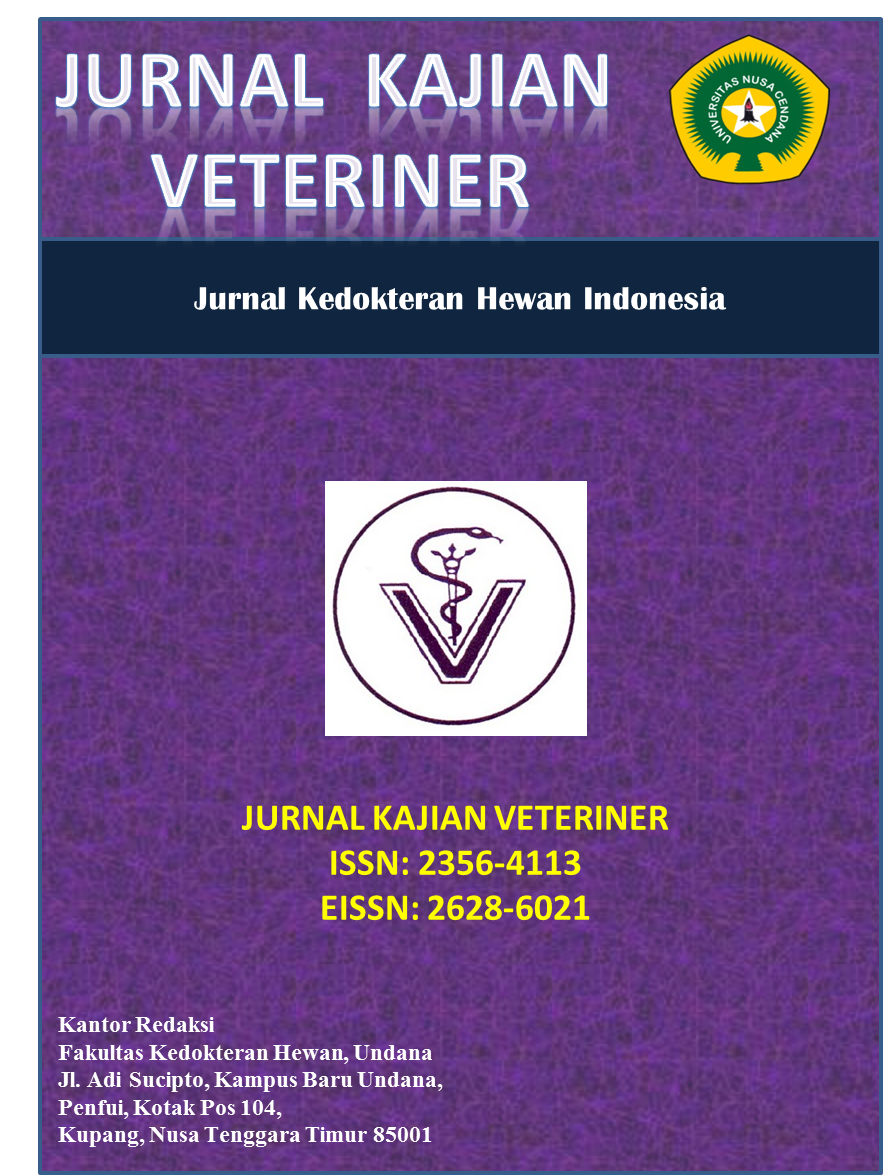 How to Cite
Detha, A. (2019). Pengujian Residu Antibiotik Pada Susu. JURNAL KAJIAN VETERINER, 2(2), 203-208. https://doi.org/10.35508/jkv.v2i2.1005