DAYA TAHAN SPERMATOZOA DALAM SEMEN CAIR BABI LANDRACE PADA METODE PENYIMPANAN BERBEDA
Viability of Landrace Boar Spermatozoa in Different Method of Storage
Nancy Foeh

Laboratorium Klinik, Reproduksi, Patologi dan Nutrisi Fakultas Kedokteran Hewan Universitas Nusa Cendana

Cynthia D. Gaina

Laboratorium Klinik, Reproduksi, Patologi dan Nutrisi Fakultas Kedokteran Hewan Universitas Nusa Cendana

Alan Prima Titong

Fakultas Kedokteran Hewan Universitas Nusa Cendana

Crecentia A. Butta

Fakultas Kedokteran Hewan Universitas Nusa Cendana

Maria S. B. Bei

Fakultas Kedokteran Hewan Universitas Nusa Cendana
Keywords:
lontar, semen babi, viabilitas spermatozoa, water jacket, kuning telur
Abstract
Tujuan dilaksanakan penelitian ini untuk melihat pengaruh metode penyimpanan preservasi yang berbeda terhadap viabilitas spermatozoa semen babi landrace dalam pengencer alami air buah lontar (AL) dengan penambahan kuning telur ayam kampung (KT).  Semen diambil dari 5 ekor pejantan landrace yang telah dewasa kelamin. Setelah itu dilakukan pemeriksaan makros-mikros dari semen segar, semen dengan kriteria  motilitas , konsentrasi dan abnormalitas spermatozoa berturt-turut: >70%, >200 juta spermatozoa/ml, <20% yang layak untuk dijadikan semen cair. Perlakuan dalam penelitian:, P1(AL 95%+5% KT), P2(AL 85%+15% KT), P3(AL 75%+25% KT) yang simpan pada metode water jacket (WJ) dan P4(AL 95%+5% KT), P5(AL 85%+15% KT), P6(AL 75%+25% KT) yang disimpan dengan metode non water jacket (NWJ),  semen dikemas dalam mikrotube 1 ml dan disimpan pada suhu preservasi. Pada penelitian ini menunjukkan bahwa viabilitas spermatozooa dalam pengencer alami air buah lontar yang ditambahkan dengan kuning telur ayam kampung memperlihatkan hasil yang baik pada kombinasi AL 85% dan KT25% pada penyimpanan water jacket.  Semen cair pada pengencer kombinasi tersebut diatas mampu bertahan hingga 28 jam penyimpanan.
Downloads
Download data is not yet available.
References
Bohlooli S., Cedden F., PishJang J., Razzaghzaeh S., Bozoolu S. 2012, The Effect of different extenders on post thaw sperm viability, motilyty and membrane integrity in cryopreserved semen of zandiram. J Basic Appl Sci Res. 2 (2):1120-1123
Foeh, N.D.F.K dan Gaina , C D. 2017, Sari Buah Lontar sebagai Pengencer Alami dalam mempertahankan Kualitas Spermatozoa Babi , Jurnal Kajian Veteriner 5(1):52-58
Garner DL, Hafez ESE. 2000. Spermatozoa and seminal plasma. In: Hafez B, Hafez ESE,
Johnson LA, Weitze KF, Fiser P, Maxwell WMC. 2000. Storage of boar semen. J Anim Reprod Sci.62: 143-172.
Kiwelaa, A. I., Ondho, Y. S., Setiantin, E. T. 2013, Pengaruh Berbagai jeni sPengencer Air Kelapa Muda dengan Penambahan Kuning telur yang Berdeda Terhadap Kualitas Sprematozoa Semen Cair Domba Ekor Tipis (DET) J Agrinimal 3(1):1-9
Knoz, R.V. 2006, "Semen Processing, Extending and Storage for Artificial Insemination in Swine, Departemen of Animal Science, University of Illinois.
Mere, C.Y.L 2017, Air eklapa dan Air Buah Lontar sebagai Modifikasi Pengencer Artenatif pada Semen Babi landrace. Skripsi., Nusa Cendana Kupang.
Pratowo, A. 2006, A Review on Goat Sperm Cryopreservation. Small Ruminant Research Journal. 63:215-224
Robert VK. 2006. Semen processing, extending and storage for artificial insemination in swine. Dep. of Animal Science University of Illinois..
Rodriguez, A.L. 2012, "Boar semen : Quality control and production" Disertation, Ghent University, Belgia.
Rizal, M dan Herdis, 2008, Inseminasi Buatan pada Domba, Rineka Cipta, Jakarta.
Steel RGD, Torrie JH. 1995. Prinsip dan Prosedur Statistika: Suatu Pendekatan Biometrik.
Soler. A.J., Gusman M.D., and Garde D.D. 2003, Storage of Red Deer Epididymides for four Days at 5 oC: Effect Sperm Motility, Viability and Morphology integrity, journal of experimental Zoology. 29A:188-199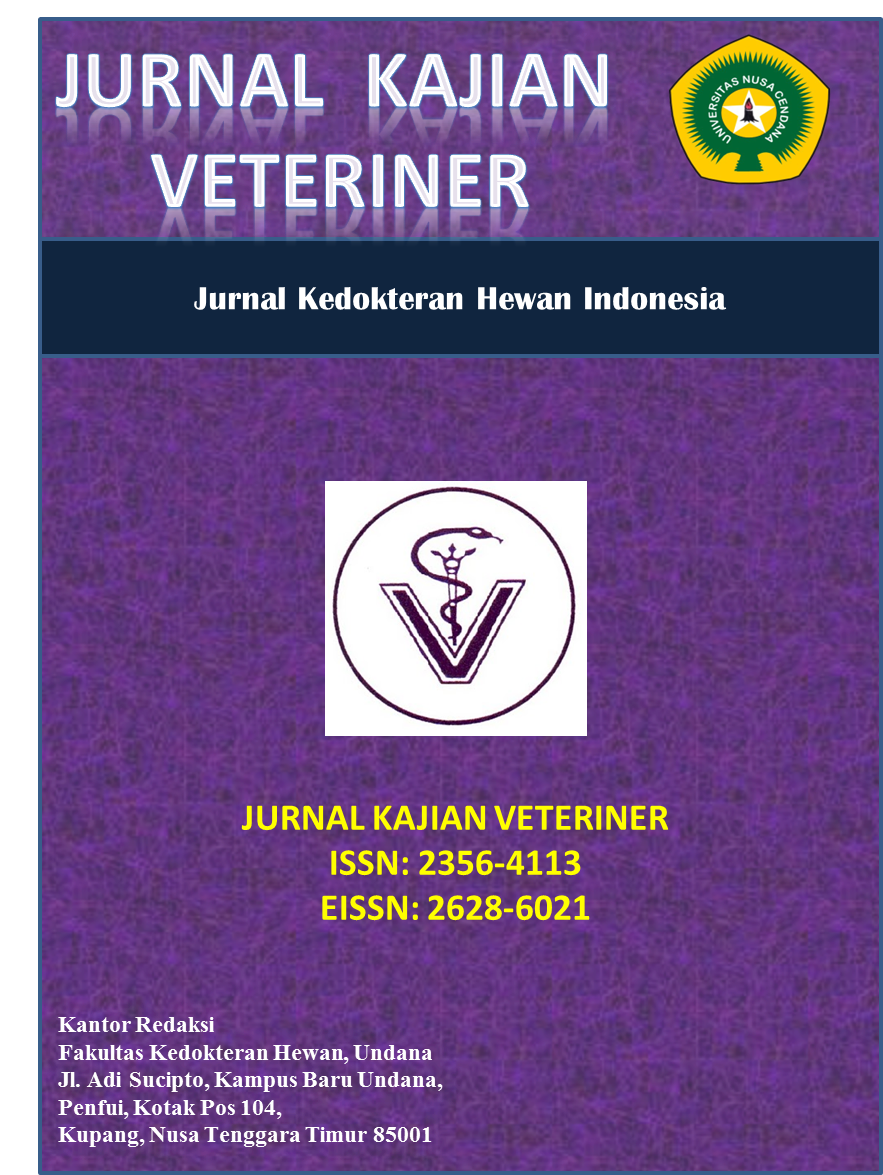 How to Cite
Foeh, N., Gaina, C., Titong, A., Butta, C., & Bei, M. (2019). DAYA TAHAN SPERMATOZOA DALAM SEMEN CAIR BABI LANDRACE PADA METODE PENYIMPANAN BERBEDA. JURNAL KAJIAN VETERINER, 7(1), 47-52. https://doi.org/10.35508/jkv.v7i1.852
Copyright (c) 2019 JURNAL KAJIAN VETERINER
This work is licensed under a Creative Commons Attribution-NonCommercial-NoDerivatives 4.0 International License.