AKUNTABILITAS DAN TRANSPARANSI PENGELOLAAN DANA BANTUAN OPERASIONAL SEKOLAH (Studi Pada Sekolah Di Kota Kupang)
Eka Puteri Sine(1*)


Universitas Nusa Cendana

Maria Elerina Douk Tunti(2)


Universitas Nusa Cendana

Sarinah Joyce Margaret Rafael(3)


Universitas Nusa Cendana

(*) Corresponding Author

Abstract
ABSTRACT
This research is about Accountability and Transparency in the Management of School Operational Assistance (BOS) Funds. The purpose of this study was to determine accountability and transparency of the management of boss funds in school in the Kupang city. the research method used in this study was qualitative descriptive with data collection techniques using interviews, observation and documentation studies. The researcher interviewed several informants, namely the principal, treasurer, teacher, committee, supervisor of the PKPO service in Kupang city and also the parents of the students. The results of the study indicate that the implementation of accountability in the management of BOS funds has gone well seen from the form of accountability that is in accordance with the BOS technical guidelines carried out by the school towards the relevant parties whereas transparency in the management of BOS funds has not run well because there are still shortcomings in the publication stages.
Keywords: BOS Funds Management, Accountability, Transparency
Downloads
Download data is not yet available.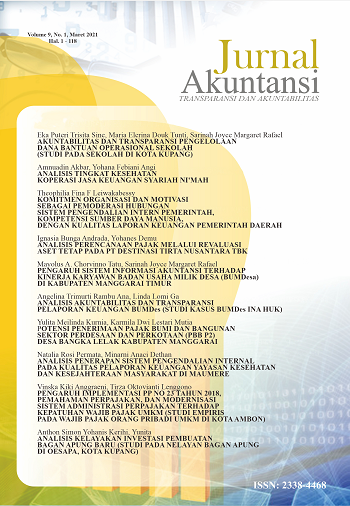 How to Cite
Sine, E., Tunti, M., & Rafael, S. (2021). AKUNTABILITAS DAN TRANSPARANSI PENGELOLAAN DANA BANTUAN OPERASIONAL SEKOLAH (Studi Pada Sekolah Di Kota Kupang). JURNAL AKUNTANSI : TRANSPARANSI DAN AKUNTABILITAS, 9(1), 1-8. https://doi.org/10.35508/jak.v9i1.3925
Copyright (c) 2021 JURNAL AKUNTANSI : TRANSPARANSI DAN AKUNTABILITAS
This work is licensed under a Creative Commons Attribution-NonCommercial-NoDerivatives 4.0 International License.