ANALISIS KELAYAKAN INVESTASI PEMBUATAN BAGAN APUNG BARU (STUDI PADA NELAYAN BAGAN APUNG DI OESAPA, KOTA KUPANG)
Anthon Kerihi(1*)


Universitas Nusa Cendana

Yunita Yunita(2)


Universitas Nusa Cendana

(*) Corresponding Author

Keywords:
Feasibility Analysis, Invesment, Lift Net, Fishing Industri
Abstract
ABSTRACT
 Establishing of a lift net as a business in the field of marine and fisheries, as well as producing fish by following the conditions of the sea and weather which can change and affect production activities so as to provide income that is uncertain and difficult to predict. Therefore, this research was conducted with the aim to find out whether fish production using this lift net can be said to be feasible in the aspects of law, market and marketing, management, technical and operational, economic, social, EIA, and finance. Before recommending to investors, an investment feasibility analysis is needed to determine the level of feasibility. The analysis was carried out with 10-year projections using a pessimistic, moderate and optimistic scenario. Some things that need to be done are, legalizing business activities, designing marketing strategies, knowing technical and operational activities, determining four management functions, knowing the positive economic, social impacts, negative impacts on the environment and determining future sales estimates calculating profit / loss, cash flows, financial feasibility assessment (NPV, IRR, PP and PI) and sensitivity analysis. After the analysis, it was found that this investment is feasible and can be recommended in every scenario and of course the optimistic scenario produces is better level of feasibility compared to other scenarios.
Keyword: Feasibility Analysis, Invesment, Lift Net, Fishing Industri.
Downloads
Download data is not yet available.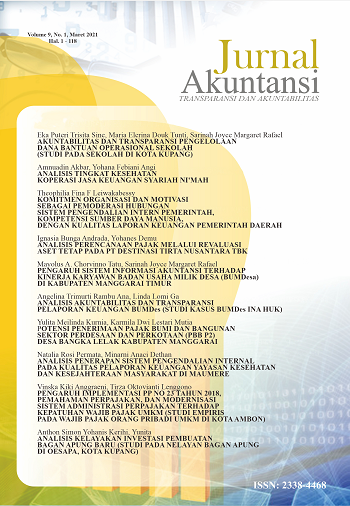 How to Cite
Kerihi, A., & Yunita, Y. (2021). ANALISIS KELAYAKAN INVESTASI PEMBUATAN BAGAN APUNG BARU (STUDI PADA NELAYAN BAGAN APUNG DI OESAPA, KOTA KUPANG). JURNAL AKUNTANSI : TRANSPARANSI DAN AKUNTABILITAS, 9(1), 109-118. https://doi.org/10.35508/jak.v9i1.3984
Copyright (c) 2021 JURNAL AKUNTANSI : TRANSPARANSI DAN AKUNTABILITAS
This work is licensed under a Creative Commons Attribution-NonCommercial-NoDerivatives 4.0 International License.