ANALYSIS OF ACCOUNTABILITY AND TRANSPARENCY OF BUMDES FINANCIAL REPORTING (Case study: BUMDes Ina Huk, Kupang Regency)
Angelina Trimurti Rambu Ana(1*)


Linda Lomi Ga

Linda Lomi Ga(2)


Universitas Nusa Cendana

(*) Corresponding Author

Keywords:
Accountability, Transparency, Financial Report.
Abstract
ABSTRACT
This study aims to analyze the application of accountability and transparency of financial reporting at the Ina Huk Village Millik Business Entity (BUMDes), Mata Air Village, Kupang Regency, Central Kupang District. The principles of accountability used in this study are integrity, disclosure, and adherence to legislation. Meanwhile, transparency uses 2 principles, namely informative with indicators consisting of timely, clear, accurate, comparable, and easy to understand. The next principle of transparency is disclosure with the indicators used, namely financial condition, composition of management, form of planning and results of activities. This type of research is descriptive qualitative. Data collection was carried out by documentation and interviews with several related informants, namely the village head, BUMDes management and several communities. The results showed that BUMDes Ina Huk has not implemented Accountability and Transparency in its financial reporting, this is because the financial reports made do not fully comply with SAK EMKM financial reporting standards.
Keywords: Accountability, Transparency, Financial Report.
Downloads
Download data is not yet available.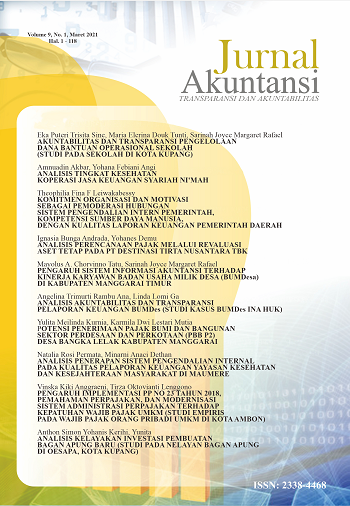 How to Cite
Rambu Ana, A., & Ga, L. (2021). ANALYSIS OF ACCOUNTABILITY AND TRANSPARENCY OF BUMDES FINANCIAL REPORTING (Case study: BUMDes Ina Huk, Kupang Regency). JURNAL AKUNTANSI : TRANSPARANSI DAN AKUNTABILITAS, 9(1), 62-72. https://doi.org/10.35508/jak.v9i1.3991
Copyright (c) 2021 JURNAL AKUNTANSI : TRANSPARANSI DAN AKUNTABILITAS
This work is licensed under a Creative Commons Attribution-NonCommercial-NoDerivatives 4.0 International License.