THE EFFECT OF PEOPLE'S BUSINESS CREDIT (KUR) AND OWN CAPITAL ON CREATIVE ECONOMIC BUSINESS INCOME IN KUPANG CITY
Anthon Kerihi

Universitas Nusa Cendana
Keywords:
Pepole Business Credit, Own capital, Income
Abstract
This study aims to identify and explain how the village fund management in 2017 in the field of empowerment. This will certainly be adjusted based on the Minister of Home Affairs Regulation No. 113 of 2014 concerning Village Financial Management. This research uses qualitative method with interview technique and field documentation on 14 informants as key informants who are trusted to know about village financial management starting from the planning, budgeting, implementation, administration, reporting and accountability stages. The results of the study found that the existence of programs that had not been implemented or carried out well such as BUMDES and Taman Eden due to village fund management in the field of empowerment had not applied the principles of transparency, accountability, participants, and obedience and budget discipline in a good and correct manner. This is caused by several things including; lack of understanding from village officials regarding village fund management, especially in the area of empowerment, lack of level of community participation also in program implementation, lack of supervision from the district or provincial level also causes village governments to neglect in carrying out their duties and responsibilities, lack of training and socialization as one of the obstacles in the village fund management process, on the other hand, there are individuals who want to take advantage of funds sourced from the APBN, and the latter is a classic problem found in almost every village. Human power is less qualified due to the small number of people who have tertiary education.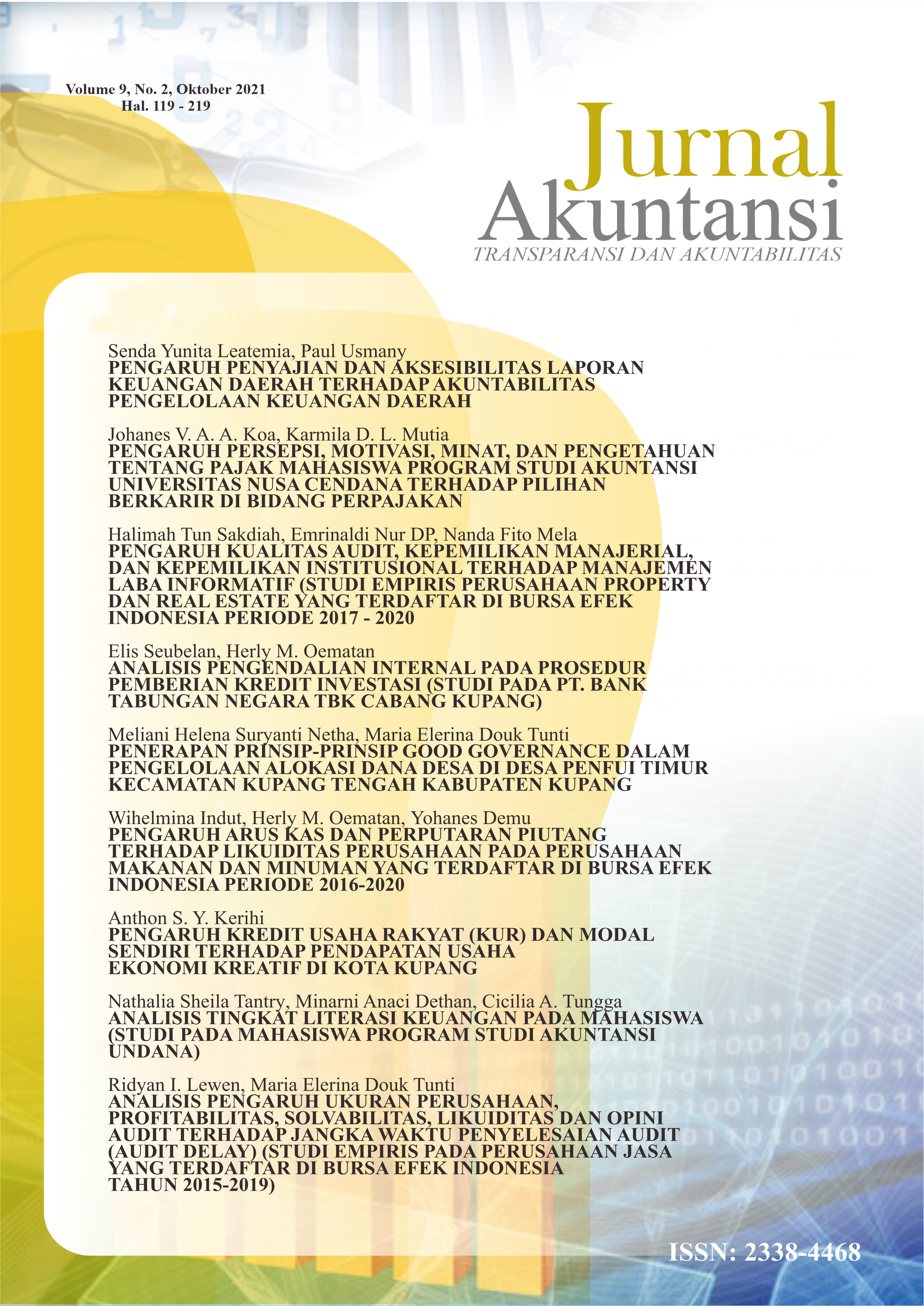 How to Cite
Kerihi, A. (2021). THE EFFECT OF PEOPLE'S BUSINESS CREDIT (KUR) AND OWN CAPITAL ON CREATIVE ECONOMIC BUSINESS INCOME IN KUPANG CITY. JURNAL AKUNTANSI : TRANSPARANSI DAN AKUNTABILITAS, 9(2), 182-193. https://doi.org/10.35508/jak.v9i2.5448
Copyright (c) 2021 Nusa Cendana University
This work is licensed under a Creative Commons Attribution-NonCommercial-ShareAlike 4.0 International License.