ANALISIS TINGKAT LITERASI KEUANGAN PADA MAHASISWA (STUDI PADA MAHASISWA PROGRAM STUDI AKUNTANSI UNDANA)
Nathalia Sheila Tantry

Universitas Nusa Cendana

Minarni Anaci Dethan

Universitas Nusa Cendana

Cicilia A. Tungga

Universitas Nusa Cendana
Keywords:
Literasi Keuangan, Finansial Attitude, Financial Behavior
Abstract
The aims of this research are to find out financial literacy level and the partial and simultaneous influence of financial attitude and financial behavior on the level of student financial literacy. The research is a descriptive quantitative. The sampling technique used is purposive sampling technique. The data are obtained by distributing questionnaires to 83 respondens. The analysis thecnique uses Deskriptive Statistical Analysis, Validity Test, Reliability Test, Multiple Linear Regression and Hypothesis Test. The analytical tool used is Statistical Package for the Social Sciences (SPPS) version 25. The results of this research are (1) the financial attitude influence the student financial literacy level (2) the financial behavior influence the financial literacy level. (3) the financial attitude and the financial behavior influence the financial literacy level partially and simultancously, (4) The level of financial literacy of students of 2016-2019 classes of Accounting Departement, Nusa Cendana University was 64,22%, which if interpreted in Chen and Volpe's financial literacy level criteria was in the medium category (60%-79%)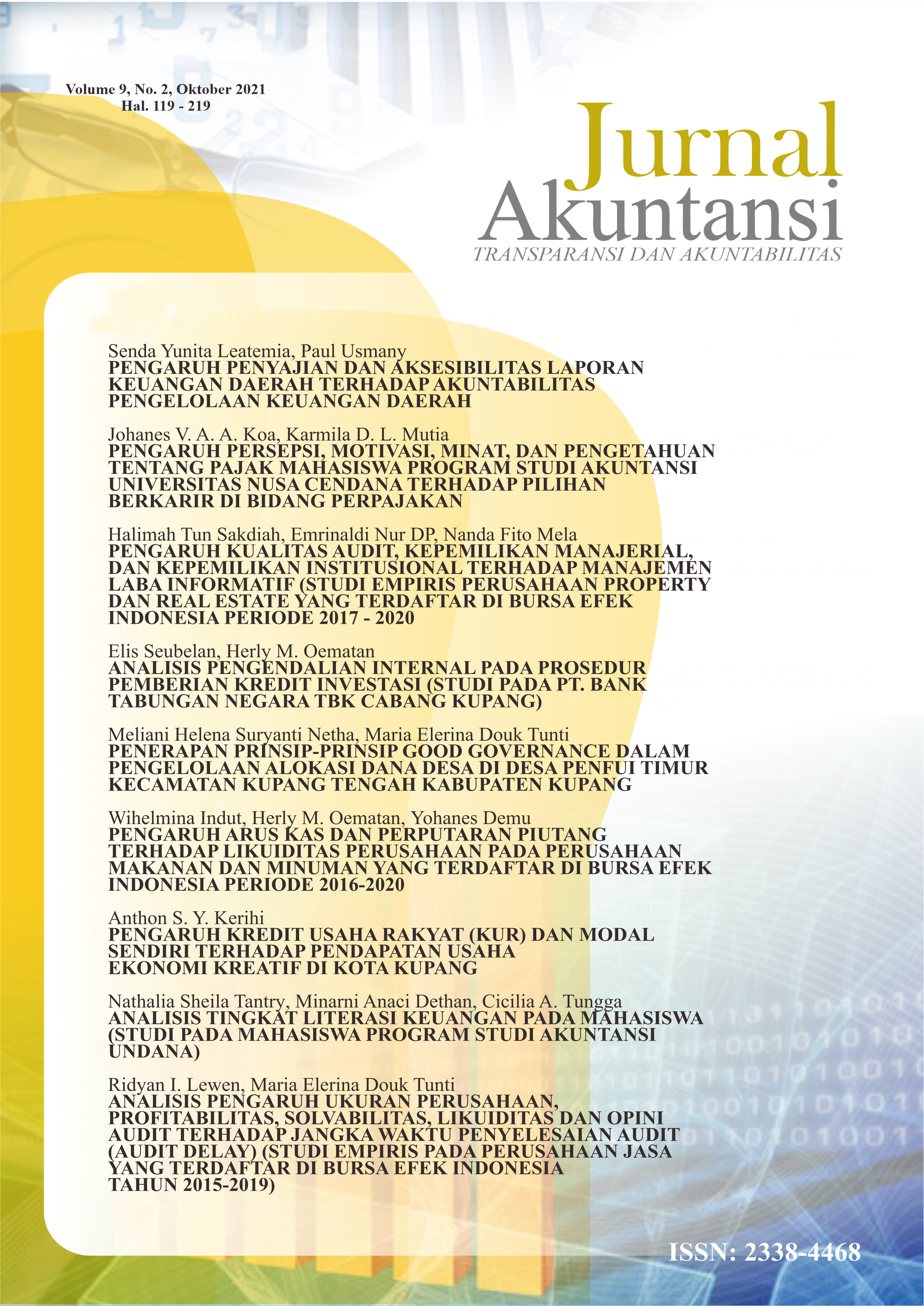 How to Cite
Tantry, N., Dethan, M., & Tungga, C. (2021). ANALISIS TINGKAT LITERASI KEUANGAN PADA MAHASISWA (STUDI PADA MAHASISWA PROGRAM STUDI AKUNTANSI UNDANA). JURNAL AKUNTANSI : TRANSPARANSI DAN AKUNTABILITAS, 9(2), 194-203. https://doi.org/10.35508/jak.v9i2.5458
Copyright (c) 2021 Nusa Cendana University
This work is licensed under a Creative Commons Attribution-NonCommercial-ShareAlike 4.0 International License.