PERAN DAN PENGARUH DARI PEMBERDAYAAN DAN PEMBANGUNAN GENDER TERHADAP PEREKONOMIAN DAERAH PROVINSI KALIMANTAN UTARA
Renta Yustie

Fakultas Ekonomi dan Bisnis, Universitas Wijaya Kusuma Surabaya

Ricky Angga Ariska

Fakultas Ekonomi dan Bisnis, Universitas Wijaya Kusuma Surabaya

Fadilla Purwitasari

Fakultas Ekonomi dan Bisnis, Universitas Wijaya Kusuma Surabaya
Keywords:
Economic Growth, Parliament, Professional Staff, Income per Capita, Expenditure per Capita, Gender Development Index.
Abstract
Gender is one of the current issues and problems in North Kalimantan Province. Focuses on the role and function of women in society and government in their contribution to the regional economy. The role and function of women is measured by involvement in parliament, professional staff, income and expenditure of women on a per capita basis as well as gender balanced development towards economic growth in North Kalimantan Province. This research is a quantitative research with secondary data sourced from BPS North Kalimantan Province. The research sample uses 5 districts / cities in North Kalimantan Province, namely Kab. Malinau, Kab. Bulungan, Kab. Tana Tidung, Kab. Nunukan, Tarakan City. The research method uses the panel method with a period of 2018 to 2020, with a multiple regression model. The analytical tools used to calculate the research data were Eviews 10 and SPSS 25. The alpha value in the study was 5% or 0.05 and the result was that all independent variables in the study were able to influence the dependent variable.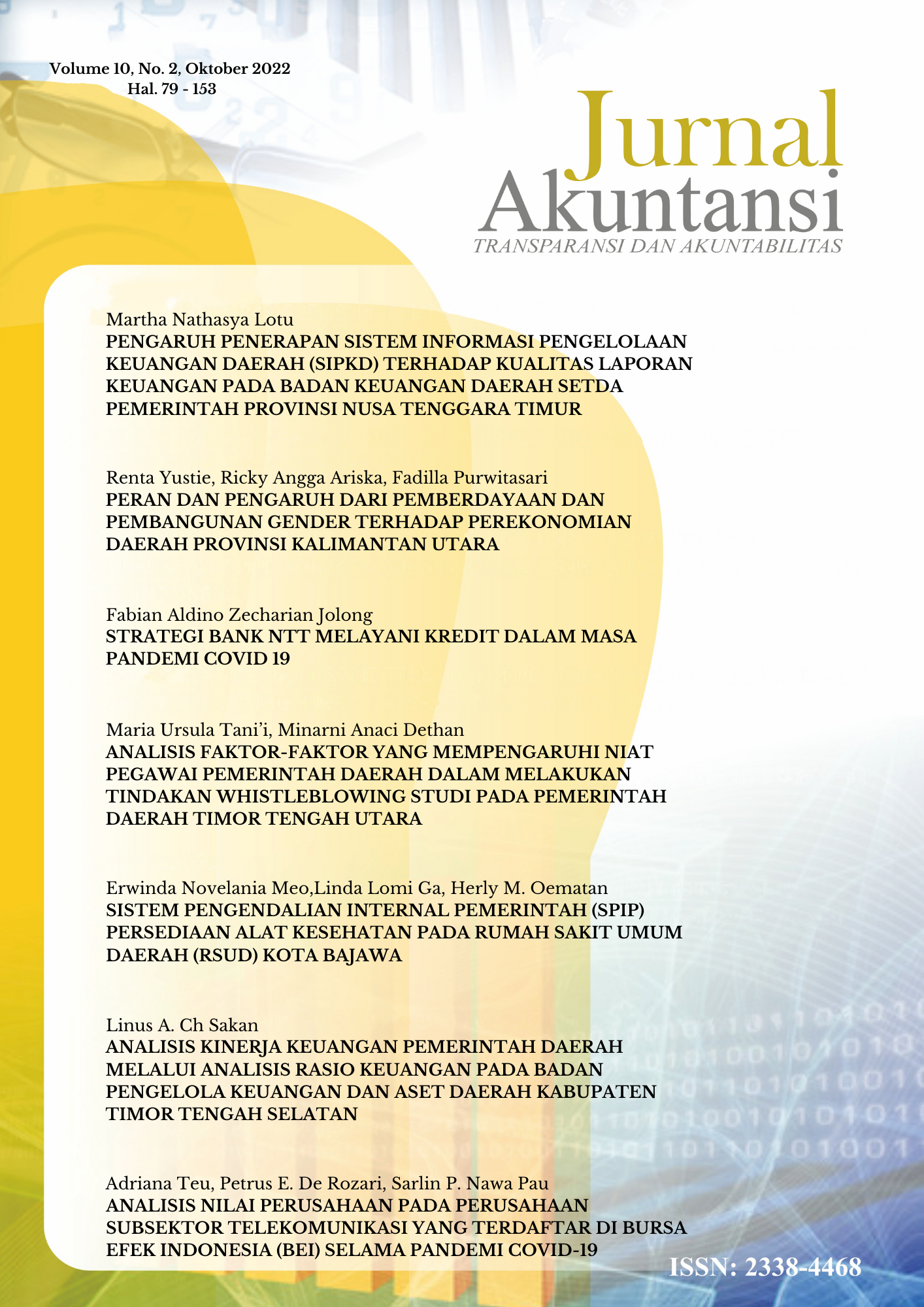 How to Cite
Yustie, R., Ariska, R., & Purwitasari, F. (2022). PERAN DAN PENGARUH DARI PEMBERDAYAAN DAN PEMBANGUNAN GENDER TERHADAP PEREKONOMIAN DAERAH PROVINSI KALIMANTAN UTARA. JURNAL AKUNTANSI : TRANSPARANSI DAN AKUNTABILITAS, 10(2), 89-98. Retrieved from https://ejurnal.undana.ac.id/index.php/JAK/article/view/8720
Copyright (c) 2022 Nusa Cendana University
This work is licensed under a Creative Commons Attribution-NonCommercial-ShareAlike 4.0 International License.