STRATEGI BANK NTT MELAYANI KREDIT DALAM MASA PANDEMI COVID 19
Fabian Aldino Zecharian Jolong

Fakultas Ekonomi dan Bisnis, Universitas Nusa Cendana
Keywords:
Strategy, Credit Service, Covid 19 Pandemic
Abstract
This study aims to formulate a strategy for Bank NTT to provide credit services during the covid 19 pandemic. This study uses a descriptive approach. The data used in this study are primary data and secondary data obtained through interviews, observation, and documentation. Technical analysis of data in this study uses triangulation data analysis and interactive data analysis by Miles and Huberman to formulate the strategy to be achieved. The results of this study indicate that the strategy needed for Bank NTT to maintain or even increase credit income during the COVID-19 pandemic is through mapping its debtors who are in the restructuring period, focusing/prioritizing credit in low-risk sectors and avoiding the red line sector business, using digital banking for its services, requires debtors during the restructuring period to continue to make installments at the maturity date of the debtor not to be burdened with credit arrears and in July 2020 Bank NTT issued independent microloans program to improve people's welfare and increase Bank NTT income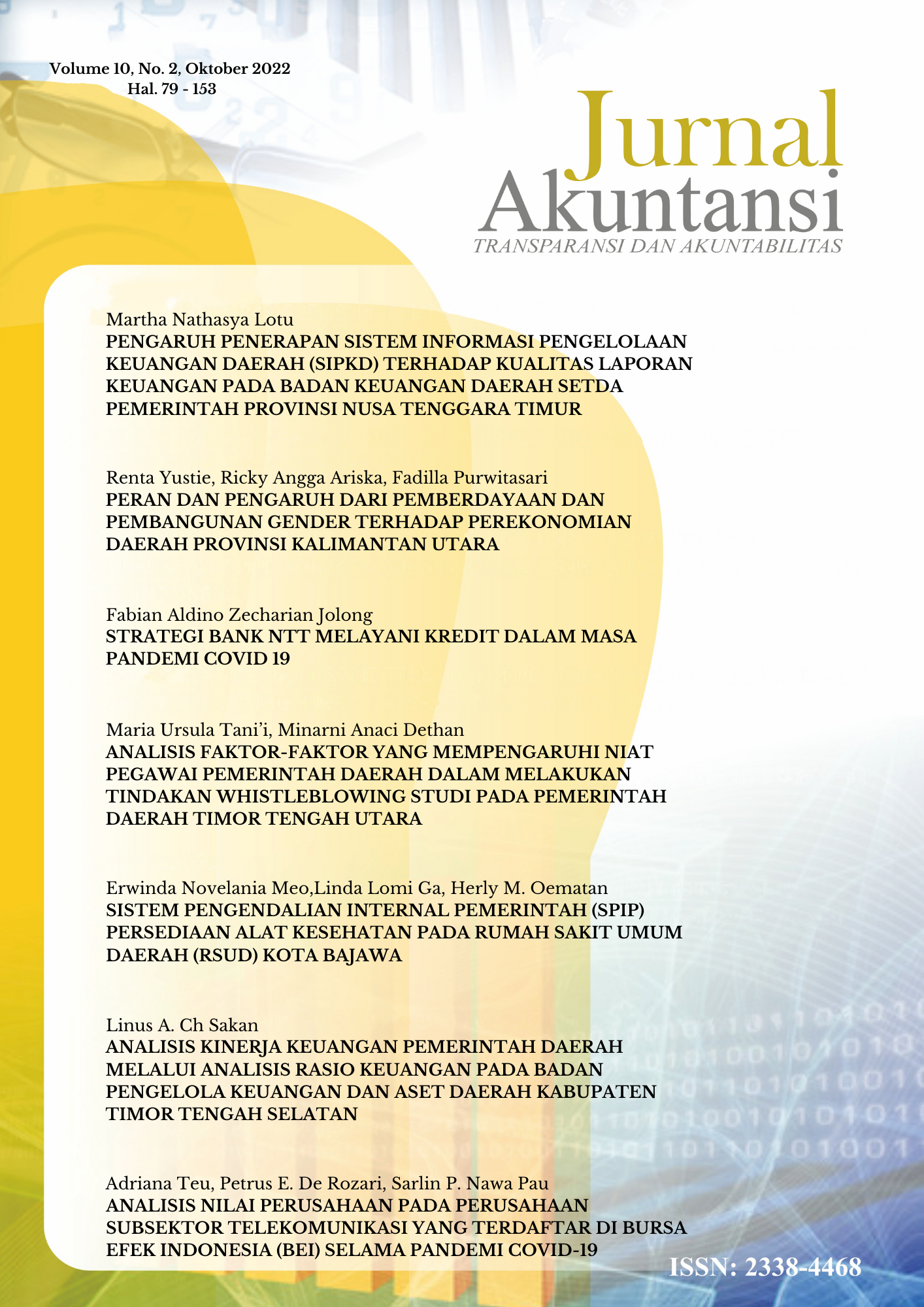 How to Cite
Jolong, F. (2022). STRATEGI BANK NTT MELAYANI KREDIT DALAM MASA PANDEMI COVID 19. JURNAL AKUNTANSI : TRANSPARANSI DAN AKUNTABILITAS, 10(2), 99-107. Retrieved from https://ejurnal.undana.ac.id/index.php/JAK/article/view/8723
Copyright (c) 2022 Nusa Cendana University
This work is licensed under a Creative Commons Attribution-NonCommercial-ShareAlike 4.0 International License.