SISTEM PENGENDALIAN INTERNAL PEMERINTAH (SPIP) PERSEDIAAN ALAT KESEHATAN PADA RUMAH SAKIT UMUM DAERAH (RSUD) KOTA BAJAWA
Erwinda Novelania Meo

Fakultas Ekonomi dan Bisnis

Linda Lomi Ga

Fakultas Ekonomi dan Bisnis

Herly M. Oematan

Fakultas Ekonomi dan Bisnis
Keywords:
Medical Equipment Supply, Government Internal Control System (SPIP).
Abstract
The supply of medical equipment is a factor that greatly effects the quality of service in a hospital. In order to be well coordinated, the implementation of activities, especially regarding the supply of medical devices in the hospital, requires a good and adequate control system to manage inventory so that there is no deviation or shortage of inventory and reliable information about inventory. Therefore, the purpose of this study was to determine the government's internal control system (SPIP) for the supply of medical devices carried out by the Bajawa City Regional General Hospital. The research approach is descriptive qualitative, using qualitative and quantitative data types. To obtain the necessary data, the researchers used primary data and secondary data.
The results of this study indicate that the internal control of inventory, especially the supply of medical equipment at the Bajawa City General Hospital, is quite effective. However, it is still necessary to evaluate and improve the recording system which is still done manually and it is necessary to add members or staffs who has adequate capabilities in the logistics section of the hospital.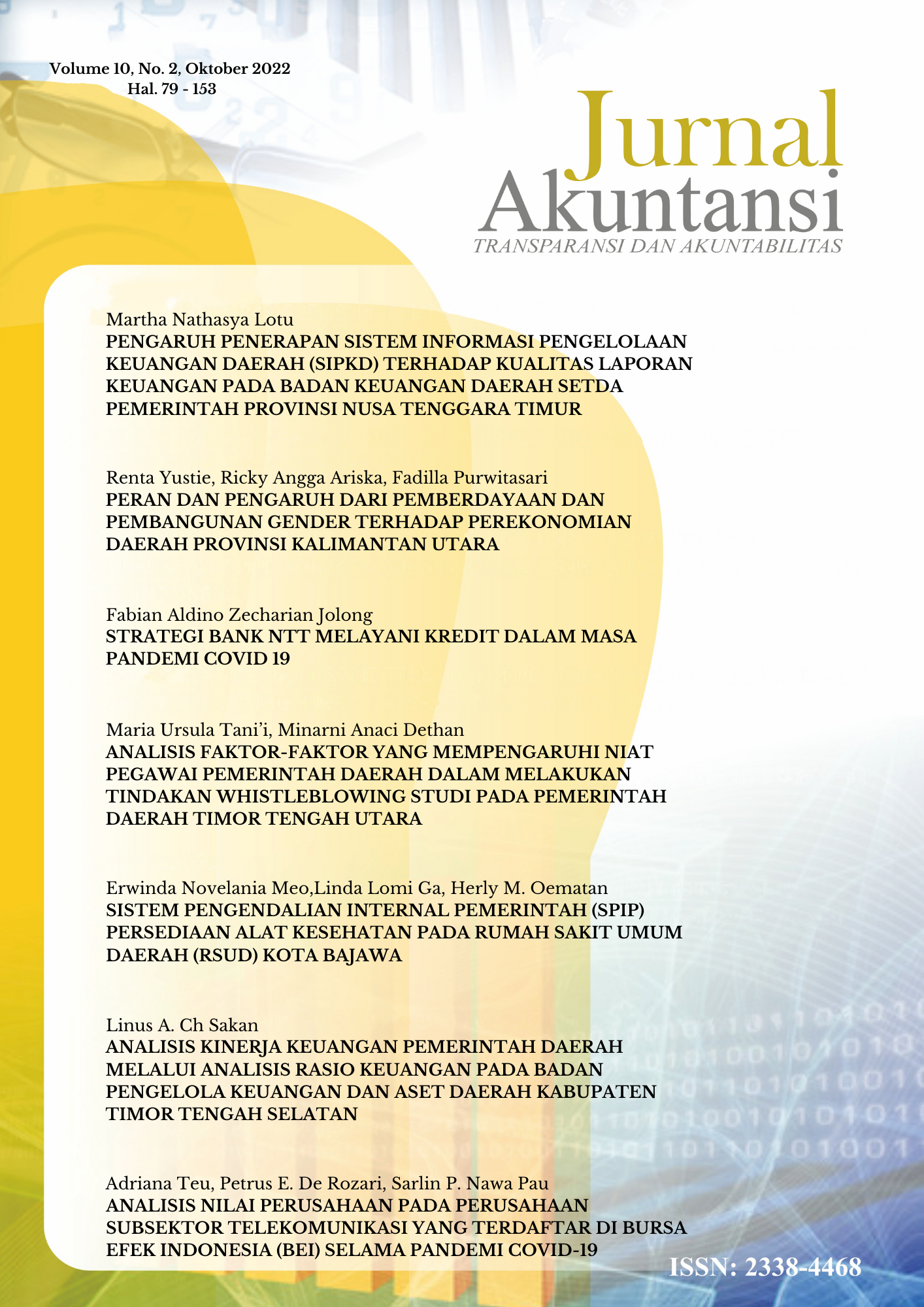 How to Cite
Meo, E., Ga, L., & Oematan, H. (2022). SISTEM PENGENDALIAN INTERNAL PEMERINTAH (SPIP) PERSEDIAAN ALAT KESEHATAN PADA RUMAH SAKIT UMUM DAERAH (RSUD) KOTA BAJAWA. JURNAL AKUNTANSI : TRANSPARANSI DAN AKUNTABILITAS, 10(2), 121-128. Retrieved from https://ejurnal.undana.ac.id/index.php/JAK/article/view/8726
Copyright (c) 2022 Nusa Cendana University
This work is licensed under a Creative Commons Attribution-NonCommercial-ShareAlike 4.0 International License.