ANALISIS NILAI PERUSAHAAN PADA PERUSAHAAN SUBSEKTOR TELEKOMUNIKASI YANG TERDAFTAR DI BURSA EFEK INDONESIA (BEI) SELAMA PANDEMI COVID-19
Adriana Teu

Fakultas Ekonomi Dan Bisnis Universitas Nusa Cendana

Petrus E. De Rozari

Fakultas Ekonomi Dan Bisnis Universitas Nusa Cendana

Sarlin P. Nawa Pau

Fakultas Ekonomi Dan Bisnis Universitas Nusa Cendana
Keywords:
Profitability; Company Size; Capital Structure; The value of the company.
Abstract
Company has the main goal of increasing the prosperity of the owners or shareholders through increasing company value. Firm value is the fair value of the company which describes the investor's perception of a particular issuer, so that the value of the company is the investor's perception of the company which is always associated with the company's stock price. This study aims to determine the effect of profitability which is measured using return on assets, firm size is measured using size, and capital structure is measured using debt to equity ratio on firm value as measured by Tobin's Q. The population in this study are telecommunication sub-sector companies listed in Indonesia's stock market during the covid-19 pandemic. The number of samples used as many as 4 companies selected using the purposive sampling method with a data of 40 observation data. The data analysis technique used is Panel Data Regression Analysis using the E-Views 10 program and Microsoft Excel 2010. The results show that company size and capital structure
have a significant effect on firm value and profitability but not significant effect on firm value.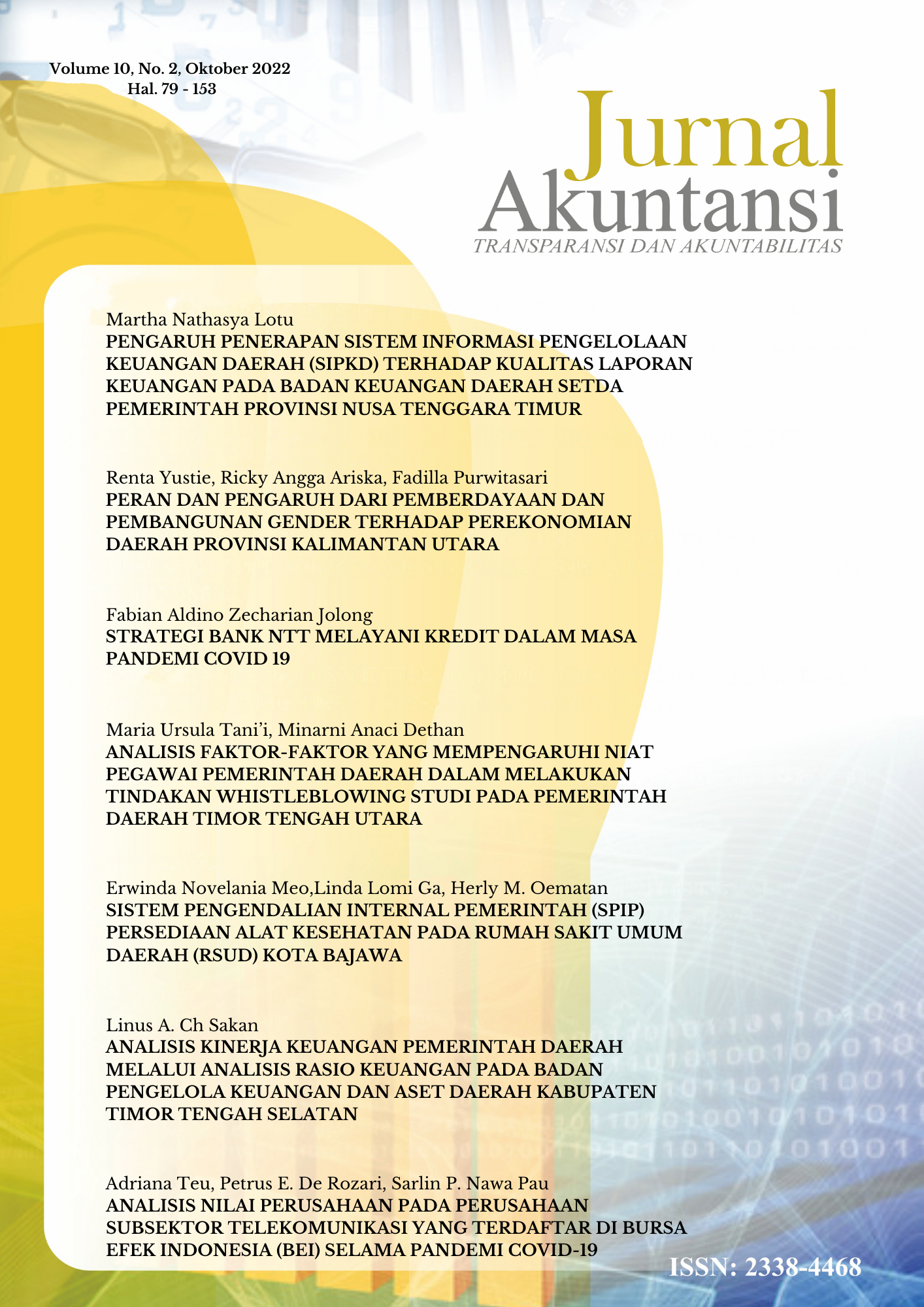 How to Cite
Teu, A., Rozari, P., & Pau, S. (2022). ANALISIS NILAI PERUSAHAAN PADA PERUSAHAAN SUBSEKTOR TELEKOMUNIKASI YANG TERDAFTAR DI BURSA EFEK INDONESIA (BEI) SELAMA PANDEMI COVID-19. JURNAL AKUNTANSI : TRANSPARANSI DAN AKUNTABILITAS, 10(2), 141-153. Retrieved from https://ejurnal.undana.ac.id/index.php/JAK/article/view/8728
Copyright (c) 2022 Nusa Cendana University
This work is licensed under a Creative Commons Attribution-NonCommercial-ShareAlike 4.0 International License.