KAJIAN HISTOKIMIA DISTRIBUSI KARBOHIDRAT PADA TESTIS SAPI SUMBA ONGOLE (Bos indicus)
Histochemical Studies of Carbohydrate Distribution on the Testis of Sumba Ongole Cattle (Bos indicus)
Filphin Adolfin Amalo(1*)


Laboratorium Anatomi, Fisiologi, Farmakologi dan Biokimia, Fakultas Kedokteran dan Kedokteran Hewan, Universitas Nusa Cendana

Inggrid Maha(2)


Laboratorium Anatomi, Fisiologi, Farmakologi dan Biokimia, Fakultas Kedokteran dan Kedokteran Hewan, Universitas Nusa Cendana

Heny Nitbani(3)


Laboratorium Anatomi, Fisiologi, Farmakologi dan Biokimia, Fakultas Kedokteran dan Kedokteran Hewan, Universitas Nusa Cendana

Cynthia Gaina(4)


Laboratorium Klinik, Reproduksi, Patologi dan Nutrisi, Fakultas Kedokteran dan Kedokteran Hewan, Universitas Nusa Cendana

(*) Corresponding Author

Keywords:
carbohydrates, histochemical, sumba ongole cattle, testis
Abstract
Testis is the male reproductive organ that performs both endocrine and exocrine functions. This study aimed to determine the distribution of carbohydrates in the testis of sumba ongole cattle. The sample consisted of six testis were collected from East Sumba Slaughter House, fixed in formalin 10 %, processed histologically, and continued with AB pH 2,5 - PAS staining. The result showed a weak alcian blue intensity (+) in the tunica albuginea and moderate intensity (++) in the interstitial connective tissue, basement membrane, and connective tissue in the lumen of the seminiferous tubules. A strong intensity (+++) to PAS staining was seen in spermatogonia, spermatocytes, and myoid cells. Spermatids, spermatozoa, and sertoli cells showed a negative reaction (-). In the intertubular area, Leydig cells and fibroblasts showed a strong PAS reaction (+++), connective tissue showed a moderate reaction (++). The intensity of the weak reaction (+) is indicated by the basement membrane of the seminiferous tubules. The variation in the distribution of acidic and neutral carbohydrates in the testis of sumba ongole cattle is correlated with the proliferation of different cell types and steroidogenic activity at various stages of testicular development.
Downloads
Download data is not yet available.
References
Aslam B, Bansal N, Uppal V, and Gupta A. 2018. Histochemical Variations in Buffalo Testis During Different Seasons. Indian Journal of Veterinary Anatomy 30 (2): 113-115.
Bancroft J.D. 1967. An Introduction to Histochemical Technique. London:
Appleton Century Crofts. pp 62-63.
Gofur, M.R., Khan, M.Z.I., Karim, M.R. and Islam, M.N. 2008. Histomorphology and histochemistry of testis of indigenous bull (Bos indicus) of Bangladesh. Bangladesh J. Vet. Med. 6(1): 67-74.
Harris SE, Adriaens I, Leese HJ, Gosden RG, Picton HM. 2007. Carbohydrate metabolism by murine ovarian follicles and oocyte grown in vitro. Society for Reproduction and Fertility. Reprod 134: 415-424.
Kaur, M., Bansal, N. and Uppal, V. 2008. Histochemical studies on the testis of buffalo during prenatal life. Indian Journal ofAnimal Sciences 78: 457-460.
Kementerian Pertanian. 2014. 'Keputusan Menteri Pertanian Republik IndonesiaNomor 427/Kpts/Sr.120/3/2014TentangPenetapan Rumpun Sapi Sumba Ongole'. Jakarta: Kementerian Pertanian Republik Indonesia.
Kiernan J. 2016. Histological and Histochemical Methods, Theory and Practice, 5th Edition. New York: Pergamon Press.
Kishore, P.V.S., Ramesh, G. and Basha, S.H. 2008. Histochemistry of carbohydrates in the testis of postnatal Ram. Indian J. Vet. Anat. 20(1): 12-15.
Mescher, A.L. 2012. Junqueira's Basic Histology. 12th edition. The McGraw-Hill Companies, Inc. USA.
Muhamad K, Novelina S, Adnyane IKM. 2001. Morfologi dan kandungan
karbohidrat glandula aksesoris organ reproduksi tikus jantan pada umur sebelum dan setelah pubertas. Hayati 8(4):91-97.
Pyne, S.K. and Sinha, R.D. 1989. Histochemical studies on the testis of goat. Indian J. Vet. Anat. 1(1-2): 6-8.
Ross, Michael H., and Wojciech Pawlina. Histology A Text and Atlas with Correlated Cell and Mollecular Biology 6th edition. China: MPS Limited, A Macmillan Company, 2011.
Shukla, P. and Rajput, R. 2019. Histochemical Studies on Testis and Epididymis of Chamurthi Horse. Haryana Vet. (Dec., 2019) 58(2), 224-227.
Shukla, P. and Rajput, R. 2021. Histochemical Studies on Testis of Gaddi Sheep Foeti. Indian Journal of Small Ruminants 2021, 27(1): 142-145.
Silberstein, G.B. and Daniel, C.W. 1984. Glycosaminoglycans in the basal lamina and extra cellular matrix of serially aged mouse mammary ducts. Mechanism of Ageing and Development 24: 151-162.
Sudhakar, L.S. and Sharma, D.N. 1993. Histomorphological studies on the testis of Spiti ponies. Centaur 10(2): 45-50.
Uppal, V., Bansal, N. and Roy, K.S. 2003. Histomorphochemical studies on testis of Indian donkeys. Centaur 19(4): 65-68.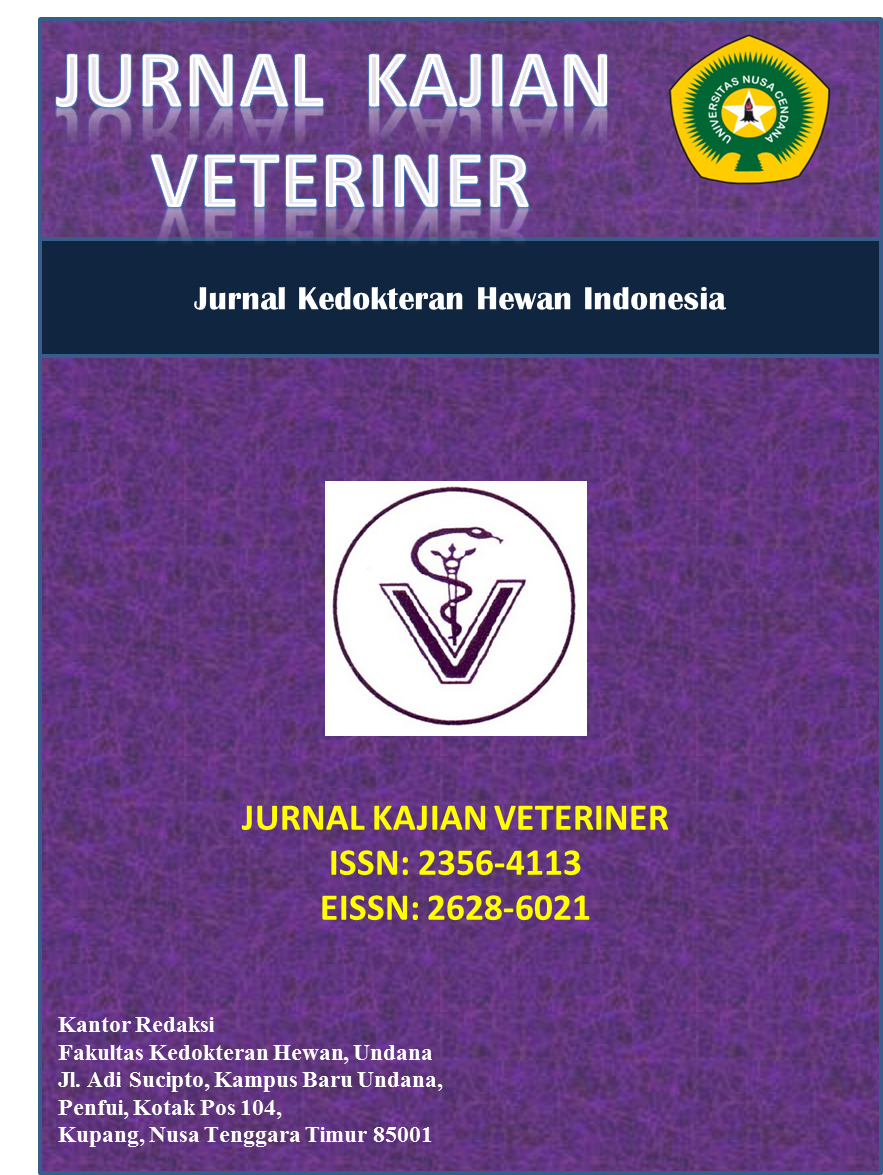 How to Cite
Amalo, F., Maha, I., Nitbani, H., & Gaina, C. (2022). KAJIAN HISTOKIMIA DISTRIBUSI KARBOHIDRAT PADA TESTIS SAPI SUMBA ONGOLE (Bos indicus). JURNAL KAJIAN VETERINER, 10(1), 13-19. https://doi.org/10.35508/jkv.v10i1.5740
Copyright (c) 2022 JURNAL KAJIAN VETERINER
This work is licensed under a Creative Commons Attribution-NonCommercial-NoDerivatives 4.0 International License.