LAPORAN KASUS: KESEMBUHAN ENTERITIS HEMORAGIKA PADA ANAK ANJING KACANG YANG TERINFEKSI CANINE PARVOVIRUS
Healing of Enteritic Hemorrhage in Domestic Puppy Positively Infected with Canine Parvovirus: a Case Report
Made Santi Purwitasari

Pendidikan Profesi Dokter Hewan, Fakultas Kedokteran Hewan, Universitas Udayana

I Gede Soma

Laboratorium Fisiologi, Farmakologi, dan Farmasi Veteriner, Fakultas Kedokteran Hewan, Universitas Udayana

I Wayan Batan

Laboratorium Diagnosis Klinik, Patologi Klinik, dan Radiologi Veteriner, Fakultas Kedokteran Hewan, Universitas Udayana
Keywords:
bloody diarrhea, canine parvovirus, local dog, vomit
Abstract
Canine parvovirus (CPV) is an infectious disease with clinical signs of bloody diarrhea (hemorrhagic enteritis) which is cause of death in infected dogs. A five-month-old female local dog with a weight of 4.3 kg, black and white coat on the ventral side came to the Rumah Sakit Hewan Pendidikan, Faculty of Veterinary Medicine, Udayana University with complaints of weakness, loss of appetite since the day before and vomiting in the morning of the examination. The dog is rescued and never been vaccinated before. Clinical examination showed weakness such as holding pain, pink pale eye mucosae, delayed skin turgor, Capillary Refill Time (CRT) more than two seconds, and increased respiratory rate. Dogs do not respond to handfeeding. On observation the dog experienced clear and foamy vomiting and foul-smelling bloody diarrhea. The native stool faecal examination showed negative results, while the CPV antigen rapid test examination showed positive results. Complete blood count showed that on the first day of hospitalization the dog had leukopenia, granulocytopenia, hyperchromic normocytic anemia and thrombocytopenia. The dog was diagnosed with CPV with a dubious prognosis. Dogs were given fluid therapy using sodium chloride 0.9% infusion and vitamin B complex, anti-emetic ondansetron, antibiotic cefotaxime, and vitamin K. Dogs were also treated with traditional medicine Fu Fang 1 mL and trigona honey 1 mL. Dogs are given a special feed Hills Prescription Diet A/D Urgent Care. The dog's condition improved after offering therapy for seven days and the dog was declared cured and could be sent home on the ninth day.
Downloads
Download data is not yet available.
References
Awad RA, Martens B, Hassan SA. 2019. Research Article Successful Treatment of Canine Parvovirus Infection in Naturally Infected Puppies. Asian J. Sci. Res. 12 (3): 308-315
Dash S, Das M, Senapati S, Patra R, Behera P, Sathapathy S. 2020. Effect of Therapeutic Regimen on the Survivility and Mortality Rates in Canine Parvovirus Infection. J. Entomol. Zool. Stud. 8: 392–395.
Decaro N, Desario C, Campolo M., Elia G, Martella V, Ricci D, Lorusso E, Buonavoglia, C. 2005. Clinical and virological findings in pups naturally infected by canine parvovirus type 2 Glu426 mutant. Journal of Veterinary Diagnostic Investigation 17: 133-138.
Dongre J, Mehta H, Maheshwari P. 2015. Comparative evaluation of two treatment regimens against canine parvovirus infection. Haryana Veterinarian 54: 83-84.
Ernest EW. 2009. Canine parvovirus: Pet health topic in infectious diseases at Michigan Ave Animal Hospital. Michigan Pet focus, animal client centered Hlm 1-2
Gerlach M, Proksch AL, Dörfelt R, Unterer S, Hartmann K. 2020. Therapy of canine parvovirus infection-review and current insights. Tierarztliche Praxis. Ausgabe K, Kleintiere/heimtiere 48(1): 26-37.
Goddard A, Leisewitz AL (2010). Canine parvovirus. Vet. Clin. Small Anim. Pract. 40(6): 1041-1053
Jacobs RM, Weiser MG, Hall RL, Kowalski JJ. 1980. Clinicopathologic features of canine parvoviral enteritis. J. Am. Anim. Hosp. Assoc 16: 809–814.
Judge P. 2015. Management of the patient with canine parvovirus enteritis. Vet Educ 21: 5-11.
Kalli I, Leontides LS, Mylonakis ME, Moraitou KA, Rallis T, Koutinas AF. 2010. Factors affecting the occurrence, duration of hospitalization and final outcome in canine parvovirus infection. Res. Vet. Sci 89(2): 174–178.
Kimoto-Nira, H. and Amano, K. 2008. Antimicrobial activity of honey produced by stingless honey bees. J. Apic. Res., 47(4):325-327
LeFrock JL, Prince RA, Left RD. 1982. Mechanism of action, antimicrobial activity, pharmacology, adverse effects, and clinical efficacy of cefotaxime. Pharmacotherapy: The Journal of Human Pharmacology and Drug Therapy. 2(4): 174-84.
Macintire DK, Smith SC.1997. Canine parvovirus. Part II. Clinical signs, diagnosis and treatment. Comp. Contin. Edu. Prac. Vet 19(3): 291-302.
Mazzaferro EM. 2020. Update on canine parvoviral enteritis. Veterinary Clinics: Small Animal Practice. 50(6): 1307-1325.
Meunier PC, Cooper BJ, Appel MJ, Slauson DO. 1984. Experimental viral myocarditis: parvoviral infection of neonatal pups. Vet Pathol 21(5): 509-515.
Miranda C, Thompson G. 2016. Canine parvovirus: the worldwide occurrence of antigenic variants. J Gen Virol 97(9): 2043-2057
Muzaffar AK, Rabbani M, Muhammad K, Murtaza N, Nazir J. 2006. Isolation and Characterization of Canine parvovirus. International Journal of Agriculture and Biology, 8(6): 898-900
Mylonakis ME, Kalli I, Rallis TS. 2016. Canine parvoviral enteritis: an update on the clinical diagnosis, treatment, and prevention. Veterinary Medicine: Research and Reports. 7: 91-100

Nandi S, Kumar M. 2010. Canine parvovirus: current perspective. Indian Journal of Virology 21(1): 31-44
Odueko FD. 2019. Case report of canine parvoviral enteritis in 12weeks old rottweiler female puppy. Journal of Dairy, Veterinary & Animal Research 8(5): 216-223.
Ogbu KI, Anene BM, Nweze NE, Okoro JI, Danladi M, Ochai SO. 2017. Canine Parvovirus: A Review. International Journal of Science and Applied Research 2(2): 74-95.
Patterson, E. V. (2007). Effect of vaccine on parvovirus antigen testing in kittens. Journal of American Veterinary Medical Association, 230(3): 359-363.
Poudel U, Dahal U, Aryal A. 2020. Canine parvovirus infection in young German Shepherd dog: A Case Report. Hemoglobin 8: 11-19.
Prittie, J. 2004. Canine Parvoviral Enteritis: A review of Diagnosis, Management and Prevention. Journal of Veterinary Emerging Critical Care 14 (3): 167-176.
Salgado-Caxito M, Moreno-Switt AI, Paes AC, Shiva C, Munita JM, Rivas L, Benavides JA. 2021. Higher prevalence of extended-spectrum cephalosporin-resistant enterobacterales in dogs attended for enteric viruses in brazil before and after treatment with cephalosporins. Antibiotics. 10(1): 1-13
Shalsh FJ, Khalaf AM, Hafiz M, Al-Sultan IIA. 2021 Antibacterial Properties of Local Malaysian Trigona Sp. Honey Towards Different of Pathogenic Bacteria in Vitro. Diyala Agricultural Sciences Journal 13(1): 1-9.
Suartha IN, Mustikawati D, Erawan IGMK, Widyastuti SK. 2011. Prevalensi dan faktor risiko penyakit virus parvo pada anjing di Denpasar. Jurnal Veteriner 12(3): 235-240
Suartha, I.N., 2010. Terapi cairan pada anjing dan kucing. Buletin Veteriner Udayana. 2(2): 69-83.
Suartini IGAA, Sendow I. 2015. Prospek pemanfaatan imunoglobulin Y untuk terapi infeksi canine parvovirus pada anjing. Wartazoa 25(2): 55.
Suătean M, Peredi Ca, Olah Di, Niculae M, Potârniche Av, Spînu M, Brudașcă Gf. 2018. Parvovirosis: A Case Report and a Review of Literature. Scientific Works. Series C. Veterinary Medicine 64(2): 73-77.
Suvethika P, Kumar KSV. 2021. Canine parvovirus infection: A case report. The Pharma Innovation Journal 10(1): 141-143
Terzungwe TM. 2018. Hematological Parameters of Dogs Infected with Canine Parvovirus Enteritis in Sumy Ukraine. World Journal of Innovative Research 10(3): 1-5.

Truyen U. 2006. Evolution of canine parvovirus—a need for new vaccines?. Veterinary microbiology. 117(1): 9-13.
Yalcin E, Keser GO. 2017. Comparative efficacy of metoclopramide, ondansetron and maropitant in preventing parvoviral enteritis-induced emesis in dogs. J Vet Pharmacol Ther 40(6): 599–603.
Yilmaz Z, Pratelli A. Torun S. 2005. Distribution of antigen types of canine parvovirus type 2 in dogs with hemorrhagic enteritis in Turkey. Turk Veterinerlik ve hayvancilik Dergisi 29: 1073-1076.
Zhao Z, Liu H, Ding K, Peng C, Xue Q, Yu Z. 2016. Occurrence of canine parvovirus in dogs from Henan province of China in 2009–2014. BMC Vet Res 12(1): 138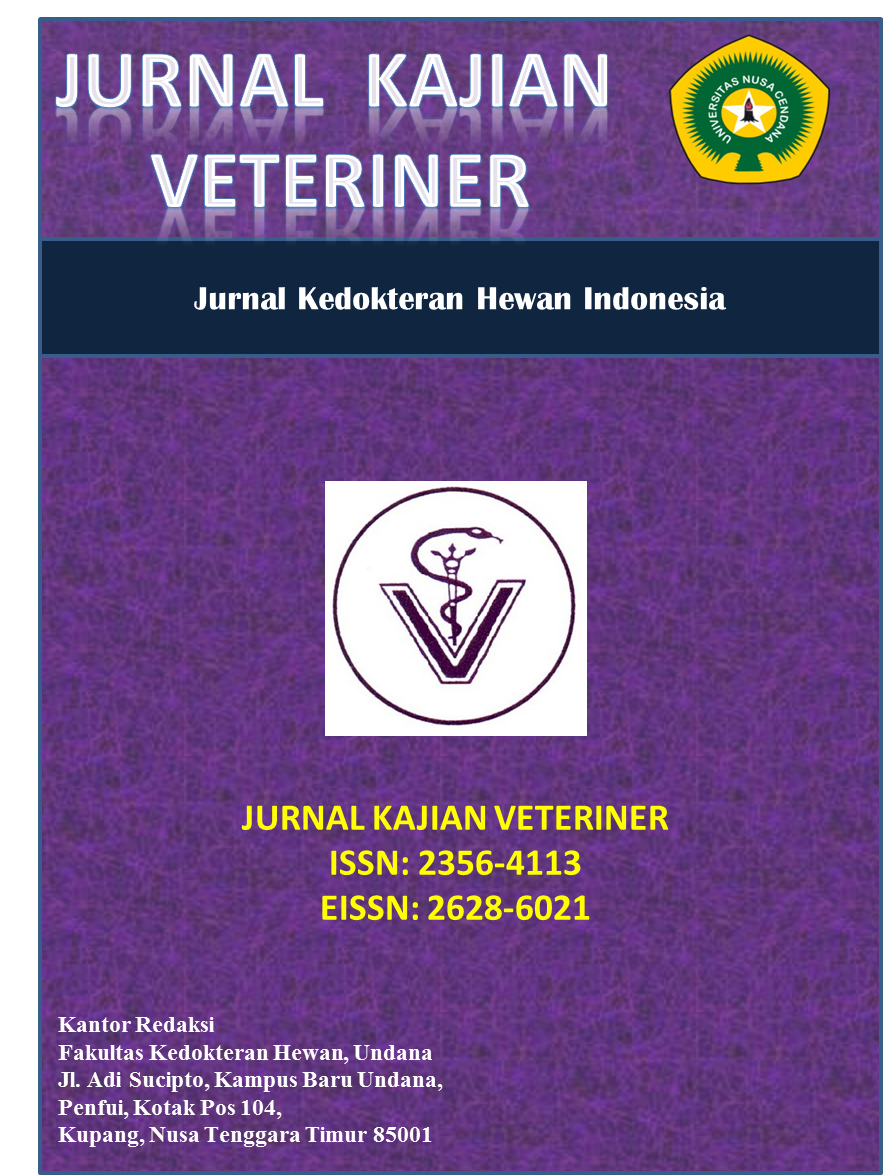 How to Cite
Purwitasari, M., Soma, I., & Batan, I. (2022). LAPORAN KASUS: KESEMBUHAN ENTERITIS HEMORAGIKA PADA ANAK ANJING KACANG YANG TERINFEKSI CANINE PARVOVIRUS. JURNAL KAJIAN VETERINER, 10(1), 67-81. https://doi.org/10.35508/jkv.v10i1.6290
Copyright (c) 2022 JURNAL KAJIAN VETERINER
This work is licensed under a Creative Commons Attribution-NonCommercial-NoDerivatives 4.0 International License.