AKTIVITAS ANTIHIPERGLIKEMIA FRAKSI ETIL ASETAT DAUN SALAM (Syzygium polyanthum) TERHADAP TIKUS PUTIH YANG DIINDUKSI ALOKSAN MONOHIDRAT
Salam Leaf (Syzygium Polyanthum) Antihyperglycmic Activity in White Rats Induced by Alloxan Monohydrate
Dhimas Toni Angger Prambudi

Program Pascasarjana Ilmu penyakit dan Kesehatan Masyarakat Veteriner, Fakultas Kedokteran Hewan, Universitas Airlangga

Dewa Ketut Meles

Departemen Kedokteran Dasar Veteriner, Fakultas Kedokteran Hewan, Universitas Airlangga

Thomas Valentinus Widiyatno

Departemen Patologi Veteriner, Fakultas Kedokteran Hewan, Universitas Airlangga
Keywords:
bay leaves, blood glucose, ethyl acetate fraction, hyperglicemia, insulin
Abstract
Bay leaf (Syzygium polyanthum) is traditionally used for diabetes treatment in Indonesia. It's contains antioxidant that prevent the free radicals due to hyperglycemic condition. The purpose of this study is to demonstrate the ability of the ethyl acetate fraction of bay leaf in male white rats had hyperglycemia due to alloxan administration. This study used laboratory tests in which up to 24 white rats were randomly separated into six groups. Intraperitoneal administration of alloxan at a dose of 170 mg/Kgbw is used to induce hyperglycemia. A group of healthy rats (K-) were administered 0,5% CMC Na suspension 1mL/day. A group of hyperglycemic rats (K+) received metformin at a dose of 45 mg/Kgbw/1mL/day, while a group of hyperglycemic rats (P0) received 0.5% CMC Na suspension at a dose of 1mL/day. Three hyperglycemia treatment groups received different amounts of ethyl acetate fraction of bay leaf  for 14 days. The P1 group received 125 mg/Kgbw/1mL/day of bay leaf ethyl acetate fraction extract, the P2 group received 250 mg/Kgbw/1mL/day, and the P3 group received 500 mg/Kgbw/1mL/day. Blood glucose levels were measured before and after alloxan administration, and then again on day 14. After 14 days of treatment, all rats were euthanized, and blood from the heart was collected to examine the insulin levels. To determine the differences between treatments, statistical analysis utilizing ANOVA was used, followed by Duncan's test. The findings revealed administered an ethyl acetate fraction of bay leaf can lower blood glucose and increased insulin levels in rats had hyperglycemia.
Downloads
Download data is not yet available.
References
Al-Ishaq RK, Abotaleb M, Kubatka P, Kajo K, Büsselberg D. 2019. Flavonoids and Their Anti-Diabetic Effects: Cellular Mechanisms and Effects to Improve Blood Sugar Levels. Biomolecules; 9(9):430.
Aryaeian N, Khorshidi Sedehi S, Arablou T. 2017. Polyphenols and their effects on diabetes management: A review. Med J Islam Repub Iran; 31:134.
Badole, S.L, N.M. Patel, P.A. Thakurdesai and S.L. Bodhankar. 2007. Interaction of Aqueous Extract of Pleurotus pulmonarius (Fr.) Quel-Champ with Glyburide in Alloxan Induced Diabetic Mice. eCAM: 1-6.
Deshmukh, Narendra S. 2016. Safety assessment of McB-E60 (extract of a Momordica sp.): Subchronic toxicity study in rats. Nutritional Health Institute Laboratories LLC. Elsevier Ireland Ltd.
Fiorentino TV, Prioletta A, Zuo P, Folli F. Hyperglycemia-induced oxidative stress and its role in diabetes mellitus related cardiovascular diseases. Curr Pharm Des. 2013;19(32):5695-703. doi: 10.2174/1381612811319320005. PMID: 23448484.
Hidayati, Mutia Devi (2015) Pemisahan Dan Identifikasi Antioksidan Dan Inhibitor α-Glukosidase Dari Daun Salam. Undergraduate thesis, Institut Teknologi Sepuluh Nopember.
Idakwoji, P.A., Ekpo, D.E., Joshua, P.E., Njoku, O.U., Nwodo, O.F.C., 2021. Ethanol extract of Tephrosia bracteolata leaves and its fractions ameliorates alloxan-induced diabetes and its associated complications in Wistar rat model. Int. J. Diabetes Dev. Ctries. 41 (3), 456–468.
Ighodaro, O. M., Adeosun, A. M., Akinloye, O.D. 2017. Alloxan-induced diabetes, a common model for evaluating the glycemic-control potential of therapeutic compounds and plants extracts in experimental studies. Medicina 53(6); 365- 374.
International Diabetes Federation. IDF Diabetes Atlas, 8th Edition. Brussels, Belgium: International Diabetes Federation, 2017.
Mayes PA (2002) Metabolism asam lemak tak jenuh dan eicosanoid. Jakarta: Sikumbang EGC: 242-259
Meles, D.K. 2007. Alkaloid Achyranthes aspera linn Menyebabkan Nekrosis dan Apoptosis Sel Mieloma. Media Kedokteran Hewan. Vol.23.1.
Obasi, D., C. and Ogugua, V., N. 2021. Effect of Ruzu Herbal Bitters on the Liver Function and Lipid Profile Parameters of Alloxan-Induced Diabetic Rats. Journal of Clinical and Experimental Hepatology. 27(10):101057
Shareghi Brojeni M, Salimi M, Mirmohammadsadeghi Z, Haghparast A, Eliassi A. Comparison of Effects of Light Anesthetics, Diethyl Ether and Carbon Dioxide, on Hypothalamic Paraventricular Nucleus D1 and D2 Dopamine Receptors- and Glucosensitive Neurons-Induced Food Intake in Fasted Conscious Rats. Basic Clin Neurosci. 2018;9(4):269-274. doi:10.32598/bcn.9.4.269
Szkudelski, T. 2001. The Mechanism of Alloxan and Streptozotocin Action in B Cells of the Rat Pancreas Physiol. Res. 50: 536-546,
Ullah Asmat, Khan Abad, Khan Ismail, Diabetes mellitus and oxidative stress—A concise review, Saudi Pharmaceutical Journal, Volume 24, Issue 5, 2016, Pages 547-553, ISSN 1319-0164,
Widharna, R.M., Ferawati, Tamayanti, W.D., Hendriati, L., Widjajakusuma, E.C., 2015. Antidiabetic effect of the aqueous extract mixture of Andrographis paniculata and Syzygium polyanthum leaf. Eur. J. Med. Plants 6, 82–91.
Widyawati T, Purnawan WW, Atangwho IJ, Yusoff NA, Ahmad M, Asmawi MZ. ,2015. Anti-diabetic activity of Syzygium polyanthum (Wight) leaf extract, the most commonly used herb among diabetic patients in Medan, North Sumatera, Indonesia. Int J Pharm Sci Res 6:1698.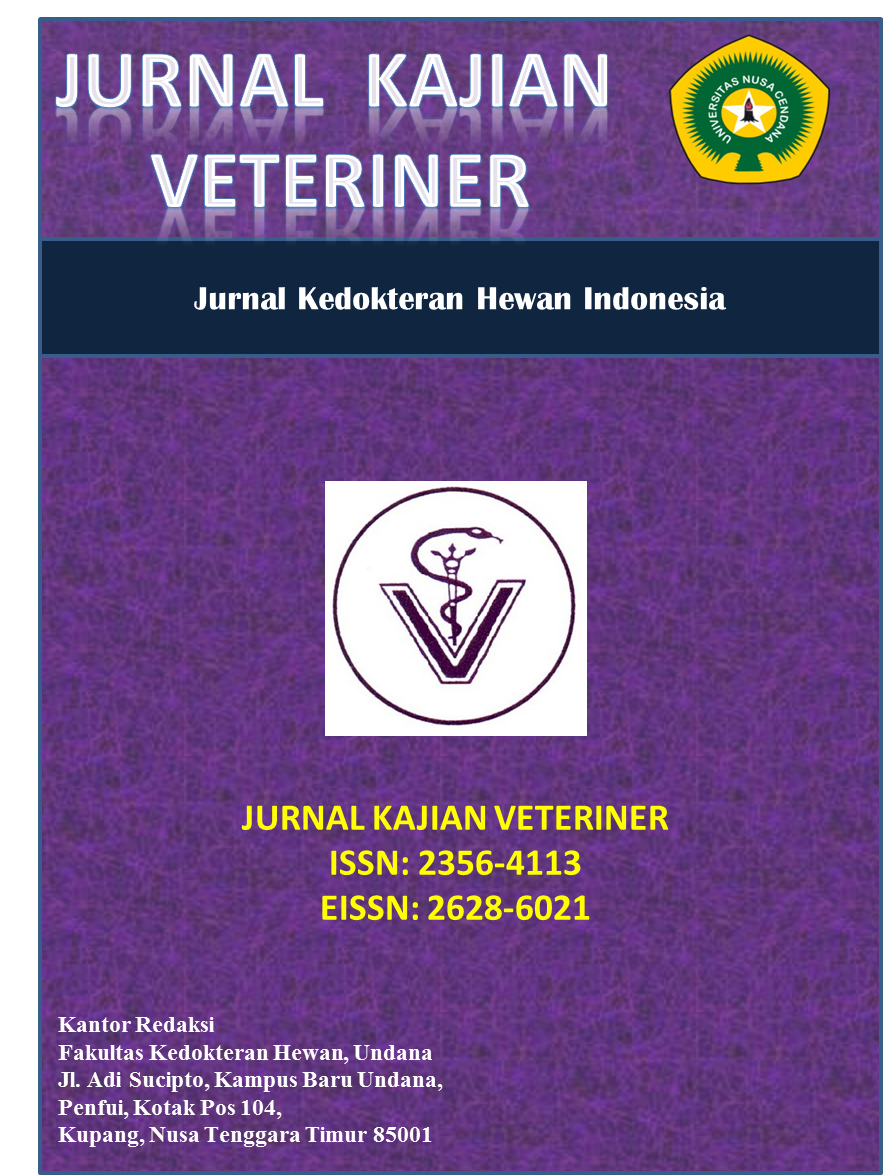 How to Cite
Prambudi, D., Meles, D., & Widiyatno, T. (2022). AKTIVITAS ANTIHIPERGLIKEMIA FRAKSI ETIL ASETAT DAUN SALAM (Syzygium polyanthum) TERHADAP TIKUS PUTIH YANG DIINDUKSI ALOKSAN MONOHIDRAT. JURNAL KAJIAN VETERINER, 10(1), 20-28. https://doi.org/10.35508/jkv.v10i1.6469
Copyright (c) 2022 JURNAL KAJIAN VETERINER
This work is licensed under a Creative Commons Attribution-NonCommercial-NoDerivatives 4.0 International License.