GAMBARAN ULTRASONOGRAFI TESTIS DAN EPIDIDIMIS KAMBING KACANG (Capra hircus) DI WILAYAH LAHAN KERING KEPULAUAN
Ultrasonography Features of Testes and Epididymis of Dry Land's Goat (Capra hircus)
Cynthia Dewi Gaina

Departemen Klinik, Reproduksi, Patologi dan Nutrisi Fakultas Kedokteran dan Kedokteran Hewan, Universitas Nusa Cendana

Nancy D. F. K. Foeh

Departemen Klinik, Reproduksi, Patologi dan Nutrisi Fakultas Kedokteran dan Kedokteran Hewan, Universitas Nusa Cendana

Tarsisius C. Tophianong

Departemen Klinik, Reproduksi, Patologi dan Nutrisi Fakultas Kedokteran dan Kedokteran Hewan, Universitas Nusa Cendana
Keywords:
dry land, epididymis, goat, testis, ultrasonography
Abstract
This research aims to study testis and epididymis of dry land goat (Capra hircus) on B-mode ultrasound imaging. Twelve adult local male goats were examined to study normal testes and epididymis ultrasonic appearances. B-mode real time scanner with a 7.5 MHz, linear array transducer was used to evaluate the echotexture of the testicular parenchyma, mediastinum and the epididymis. The testicular parenchyma was represented uniformly homogenous and moderately echogenic with the mediastinum was more highly echogenic. The epididymal head appeared less echogenic but homogenous in structure, while the epididymal tail was more heterogeneous and less echogenic than the testis. Each structure in male reproductive organ, the testis, head and tail of epididymis can be differentiated using ultrasound imaging, but body epididymis was difficult to identify. It is concluded that ultrasound can be as a valuable diagnostic tool to investigate the health of male goat reproductive organ.
Downloads
Download data is not yet available.
References
Ali, K. M., Ahmad, N., Akhtar, N., Ali, S., Ahmad, M., & Younis, M. (2011). Ultrasound Imaging of Testes and Epididymides of Normal and Infertile Breeding Bulls. Pakistan Veterinary Journal, 31(4).

Andrade, A.K.G., Soares, A.T., Freitas, F.F., Silva, S.V., Pena-Alfaro, C.E., Batista, A.M., Guerra, M.M. P. 2014. Testicular and epididymal ultrasonography in Santa Inês lambs raised in Brazil. Animal Reproduction 11 (110-118)

Chandolia, R.K., Bartlewski, P.M., Omeke, B.C., Beard, A.P., Rawlings, N.C., Pierson, R.A., 1997. Ultrasonography of the developing reproductive tract in ram lambs: effects of a GnRH agonist. Theriogenology, 48, 99–117.

Pechman, R.D., Eilts, B.E.1987. B-mode ultrasonography of the bull testicle. Theriogenology, 27, (431-441)

Ülker, H., Kanter, M., Gökdal, Ö., Aygün, T., Karakuş, F., Sakarya, M. E., & Reeves, J. J. (2005). Testicular development, ultrasonographic and histological appearance of the testis in ram lambs immunized against recombinant LHRH fusion proteins. Animal reproduction science, 86(3-4), 205-219.

Ulum, M.F., Paramitha, D., Muttaqin Z., Utami N.F., Utami, N.D., Gunanti., Noviana, D. Pencitraan ultrasonografi organ reproduksi domba jantan ekor tipis Indonesia. Acta Veterinaria Indonesiana. 1(2), 54-59.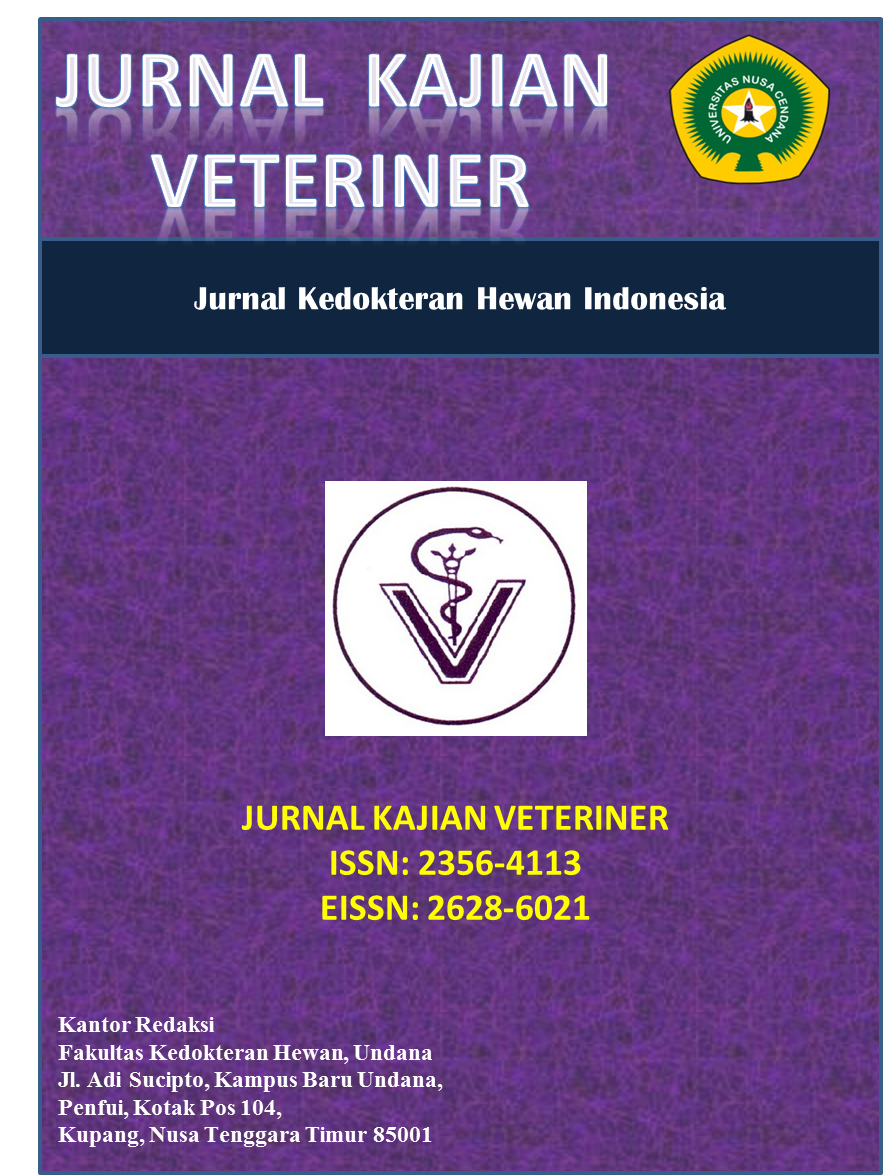 How to Cite
Gaina, C., Foeh, N., & Tophianong, T. (2022). GAMBARAN ULTRASONOGRAFI TESTIS DAN EPIDIDIMIS KAMBING KACANG (Capra hircus) DI WILAYAH LAHAN KERING KEPULAUAN. JURNAL KAJIAN VETERINER, 10(1), 91-96. https://doi.org/10.35508/jkv.v10i1.6665
Copyright (c) 2022 JURNAL KAJIAN VETERINER
This work is licensed under a Creative Commons Attribution-NonCommercial-NoDerivatives 4.0 International License.