ANALISIS HUBUNGAN TINGKAT PENGETAHUAN, SIKAP DAN PRAKTIK PENGENDALIAN PENYAKIT HOG CHOLERA PETERNAK BABI DI KECAMATAN KOTA RAJA – KOTA KUPANG
Larry Richard Wellem Toha

Laboratorium Ilmu Penyakit Hewan dan Kesehatan Masyarakat Veteriner, Fakultas Kedokteran Hewan, Universitas Nusa Cendana

Heru Susetya

Laboratorium Kesehatan Masyarakat Veteriner, Fakultas Kedokteran Hewan, Universitas Gadjah Mada

Widagdo S. Nugroho

Laboratorium Kesehatan Masyarakat Veteriner, Fakultas Kedokteran Hewan, Universitas Gadjah Mada
Keywords:
Hog Cholera, Kota Raja Sub-district, Pig Farmers
Abstract
For the people of East Nusa Tenggara, pigs do not only have economic value but also have social and cultural values. For this reason, it is necessary to perform a good farming management to keep the pigs free from diseases such as Hog cholera (HC). The aim of this study is to measure the association between pig farmers knowledge and attitude and practice regarding HC controlling in Kota Raja Sub-district, Kupang City. In this study, data was obtained by questionnaire and interview of pig farmers which was done in Kota Raja Sub-district from August until October 2018. Data was analyzed with chi square (χ2) analyses to measure the association between variables. The result of this study show that the knowledge variable is associated with attitude variable with P<0,05 (OR:6,3), but is not significantly associated with practice variable. The attitude variable is associated with practice variable with P<0,01 (OR:0,1). In conclusion, pig farmers in Kota Raja Sub-district need to improve practice regarding HC controlling by improvingnowledge about HC disease, which will improve farmers attitude toward HC controlling programs.
Downloads
Download data is not yet available.
References
Al-Hawamdeh, S. (2003). Knowledge Management. Oxford (GB): Chandos Pub.
ANTARA. (2017, March 27). Babi Dominasi Populasi Ternak di NTT. Retrieved from https://kupang.antaranews.com/berita/2553/babi-dominasi-populasi-ternak-di-ntt
Arif, S., Thomson, P. C., Hernandez-Jover, M., McGill, D. M., Warriach, H. M., & Heller, J. (2017). Knowledge, attitudes and practices (KAP) relating to brucellosis in smallholder dairy farmers in two provinces in Pakistan. PLoS ONE, 12(3), 1–20. https://doi.org/10.1371/journal.pone.0173365
Christie, B.M., 2007. A Review of Animal Health Research Opportunities in Nusa Tenggara Timur and Nusa Tenggara Barat Provinces, Eastern Indonesia. Australian Centre for International Agricultural Research.
Fabrigar, L. R., Smith, S. M., Petty, R. E., Crites, S. L. (2006). Understanding knowledgeeffects on attitude-behavior consistency: the role of relevance, complexity, and amount of knowledge. Journal of Personality and Social Psychology, 90(4), 556–577.
Giangaspero, M., Kumar, S. K., & Zhang, S. Q. (2017). Classical swine fever virus in cattle. Veterinary Record, 181, 73. https://doi.org/10.1136/vr.j3369
Leslie, E. E. C., Geong, M., Abdurrahman, M., Ward, M. P., & Toribio, J. A. L. M. L. 2015. A description of smallholder pig production systems in eastern Indonesia. Preventive Veterinary Medicine, 118(4), 319–327. http://doi.org/10.1016/j.prevetmed.2014.12.006
Nazarea-Sandoval, V.D. and Rhoades, R. E. (1994). Rice, reason, and resistance: a comparative study of farmers' vs. scientists' perceptions and strategies. Rice Blast Disease, CAB International, 559–575.
Randusari, P. (2007). Faktor-faktor yang mempengaruhi perilaku masyarakatdalam upaya pengendalian penyakit flu burung (studi terhadap pemilikunggas perumahan di Kecamatan Bogor Utara) (Thesis). ProgramPascasarjana Manajemen Pembangunan Sosial, Universitas Indonesia.
Santhia, K., Dibia, N., Purnatha, N., Sutami, N., 1997. Incidence of Hog Cholera in Bali. (Bureau of Investigation of Animal Diseases, Reginal VI, Denpasar, Bali- Indonesia).
Santhia, K., Dibia, N., Purnatha, N., Sutami, N., 1998. Detection of Hog Cholera Virus Antigen by Complex Trapping Blocking ELISA. (Bureau of Investigation of Animal Diseases, Reginal
VI, Denpasar, Bali- Indonesia).
Satya, P. N. T. H. & Santhia, A. P. K. 2009. The Distribution and Control Strategies of Classical Swine Fever in Indonesia. ACIAR Proceedings, 2000- aciar.gov.au. pp. 111-115. http://www.aciar.gov.au/files/node/318/PR094part8.pdf.
Wicaksono, A., Sudarnika, E., Basri, C. (2017). Kondisi Biosekuriti Tempat Penjualan Burung Terkait Avian Influenza di Wilayah Jakarta. Jurnal Sain Veteriner, 35(2), 269–276.
World Organization for Animal Health (OIE). (2009). Classical swine fever. Technical Disease Card, 1–5. Retrieved from http://www.oie.int/fileadmin/Home/eng/Animal_Health_in_the_World/docs/pdf/CLASSICAL_SWINE_FEVER_FINAL.pdf.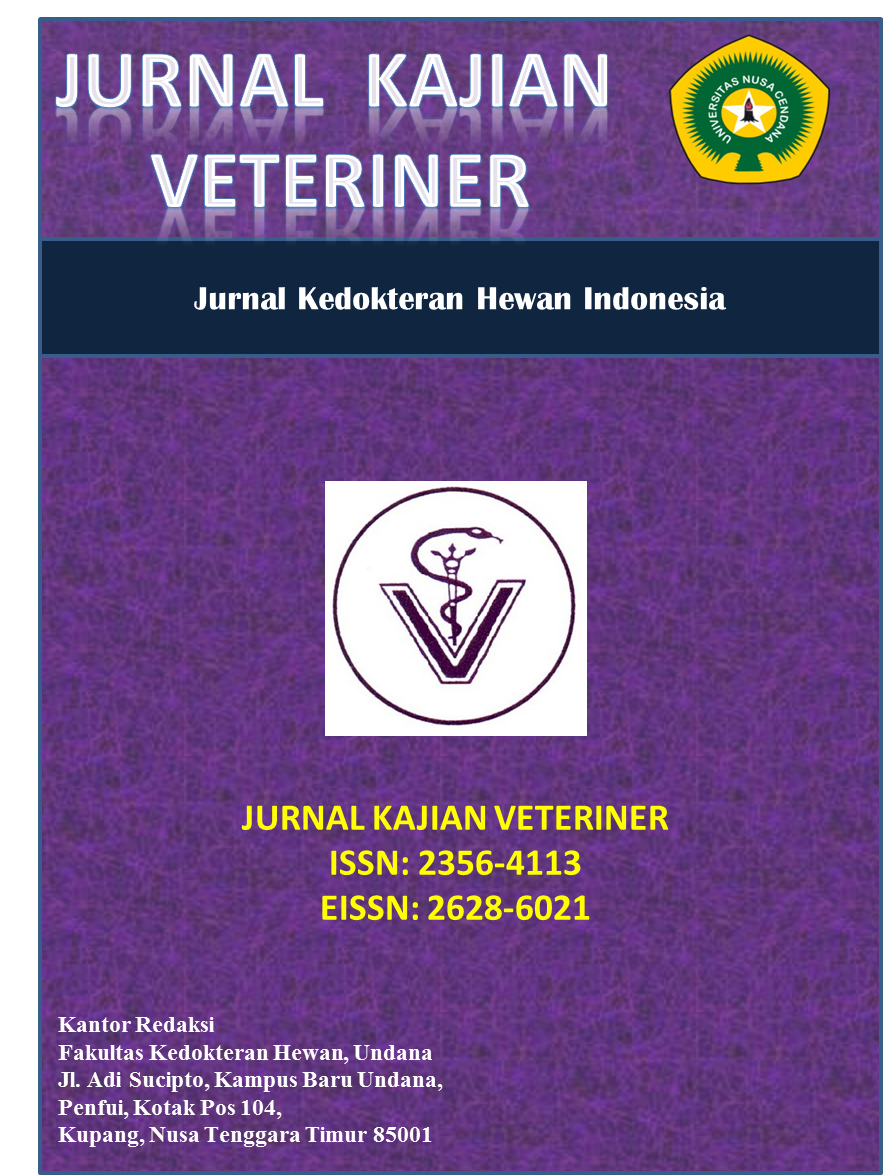 How to Cite
Toha, L., Susetya, H., & Nugroho, W. (2022). ANALISIS HUBUNGAN TINGKAT PENGETAHUAN, SIKAP DAN PRAKTIK PENGENDALIAN PENYAKIT HOG CHOLERA PETERNAK BABI DI KECAMATAN KOTA RAJA – KOTA KUPANG. JURNAL KAJIAN VETERINER, 10(1), 82-90. https://doi.org/10.35508/jkv.v10i1.6686
Copyright (c) 2022 JURNAL KAJIAN VETERINER
This work is licensed under a Creative Commons Attribution-NonCommercial-NoDerivatives 4.0 International License.